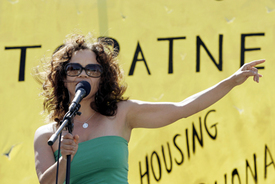 BROOKLYN, N.Y. — An estimated 4,000 people gathered here July 16 to protest a $3.5 billion development deal that critics charge would lead to "instant gentrification" and radically alter the political landscape of this borough.
The project, Atlantic Yards, would be built by mega-developer Forest City Ratner. It would put 16 residential towers and an arena in downtown Brooklyn. The proposed residential units are mostly luxury apartments. Residents fear their presence would drive rental prices in the area sky-high.
Chris Owens, Democratic Party primary candidate for Congress in Brooklyn's 11th District, recalled that three years ago, when the project was first announced, hardly anyone was against it. "It was very lonely," he said. Now, though, there is a growing movement to stop Atlantic Yards, despite Ratner's claims that the project is a "done deal."
Local entrepreneur and activist Bob Law said the project has had no real community input. The developer bypased the "white, Black and Brown" City Council, preferring to work with the Republican mayor and governor. "This fight is not just about development," Law said, but also about "power for the people."
NYC Councilmember Charles Barron noted that much of the development would be done through use of eminent domain, or the threat of it. Ratner has been threatening residents that if they do not sell their property to the developer, their homes will simply be taken through eminent domain for less.
Ratner has implied that the project will benefit African Americans in the area by providing jobs and affordable housing, but "their attempt at what amounts to a hostile takeover of our community will not win in its efforts to divide us racially," said Councilmember Letitia James.
Ratner claims that the project will deliver affordable housing. However, the definition of "affordable" is up for grabs: 2,250 units will be set aside for this purpose, representing 32.8 percent of new housing. However, only 225 of those apartments will be available to families earning less than $28,000 per year — while 900 will be given to families earning more than $70,000.
The demographic change that would accompany this project would likely undermine a long history of progressive African American elected officials, many say. They note that Ratner dollars have been given to opponents of progressive candidates such as James, Owens and State Senator Velmanette Montgomery.
"The community should not have to stand at the gate," said Montgomery, "while the rich developer" pours money into the campaign of a "puppet candidate" running against her.
Ratner claims that Atlantic Yards will create thousands of jobs. But developers made that promise before, and, according to Councilmember James, each time the promises have proven empty.
If the project is approved, the public will pay $2 billion of the total $3.5 billion cost. Bill Batson, candidate for N.Y. State Assembly in Brooklyn's 57th District, said, "The commitment of these substantial public funds without a substantial public review is an affront to the blessing of democracy."
Daniel Goldstein, leader of Develop Don't Destroy Brooklyn, the main organizer of the rally, expressed confidence the project could be defeated.