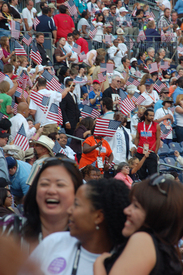 DENVER — History. That's what everyone was saying at Invesco Field. All 80,000 of us had a seat at history. Turns out at least 38 million people viewed history too — according to the Nielsen ratings — which broke all records, including more viewers than for the opening of the Beijing Olympics and final of "American Idol."
Listening to the speeches and music, texting to 62262 (spells O-B-A-M-A), taking photos and video of people cheering or just carrying their pop and pizza to their seats, I had two thoughts: what is going on in this country, and this is a quintessential American experience.
The whole day-long rally was mass, progressive politics at its best. There was the substantive yet entertaining political stagecraft of the speakers and musicians. The giant TV screens which projected images of who was on the stage and then shots of the audience, like at baseball games when fans get on the screen. We did a dozen "waves," probably from this time forward going to be known as the O'wave or bamawave.
You could have the sporting event experience but without the sport. Democratic politics replaced football at Invesco, yet the exuberance you experience when your hometown team wins a championship was there. And thinking about it, that's what an American mass, progressive political movement has to embody: a mass experience for Americans. What more mass can you get than sports? Maybe rock concerts, and this had that quality too.
The only thing that was missing that you'd have at professional sports events was the constant bombardment of commercials or in your face corporate sponsorship. No corporate logos all around the stage, no announcements that "this speech is sponsored by GM." No. The emphasis was on ordinary Americans, working class experiences and that being the embodiment of the American dream. As Republican Barney Smith from Indiana, who spoke from the stage as part of the "ordinary American voices," said, "We need a president who puts Barney Smith before Smith Barney."
The place exploded with laughter and cheers. Stomping feet shook the house to that great line and many a good line in Obama's and other speeches.
The whole night what people were expressing was that for the first time in a long, long time they could be proud of their political leaders. And, thereby, proud of their country. Even the U-S-A chants took on another quality in this stadium. When you see working people of all colors, shapes and sizes chanting U-S-A, it takes you to another dimension than when young Republicans do it.
The right-wingers rile themselves up, frothing at the mouth, intimidating people who may not agree with their jingoistic chants.
But here, it was people concerned about not just themselves, but their neighbors, and the whole of society. Concerned and hungry to hear politicians talk meaningfully about real life issues like the economy, the Iraq war and health care.
Like the local union president from Wyoming who drove 350 miles to be there. "This is history. Obama is going to be a great president when we elect him," said Harold Giberson, from Local 127 of the Utility Workers union. "Whole labor movement supports him." Giberson said Obama would sign into law the Employee Free Choice Act that would "open doors to so many people oppressed by employers."
Or Sean Yancy of Highland's Ranch, Colo., who also felt the weight of history on him. "I've been crying all weekend. It's so emotional to see everybody coming together." Yancy, who came with his fraternity brothers, said he didn't grow up in the civil rights movement era like his parents. But the unity of the people for Obama and the Democrats has moved him emotionally and politically. "This is the first time I've been active in grassroots politics." He said his neighbors are supporting Obama. "They aren't looking at his race. They are looking at the issues," he said.
Michele Majeune, from Colorado, came with her two sons, age 16 and 19, to be part of history too. Majeune was a Hillary Clinton supporter. While disappointed that Clinton didn't win the nomination, she is soundly backing Obama. "I don't agree with everything the Democrats say," but they have have made inroads in the state, she said, and their message of alternative energy development has really resonated amongst the state's farmers and ranchers. "Alternative energy provides an economic opportunity. If a field is laying fallow, maybe the farmer can try switchback grass." Her sons — who are white — feel totally part of what's being called now the "Obama generation."
"This is an important event and I'm glad to be here," said 19-year-old Matt. "It's pretty democratic to open the convention up to other people."
Asked for his reaction to the argument that Obama supposedly lacks experience, Matt said the Bush administration "had Cheney and Rumsfeld who worked for previous administrations," and look where that got us. "It's also about character," he said.
Riley, his brother, noted that Abraham Lincoln was in the Illinois Legislature only a few years before making his way to the presidency, an analogy that Al Gore also used in his speech later in the evening. When Gore said it we all looked at Riley and smiled.
Skip Mason, Yancy's fraternity brother and the president-elect* of Alpha Phi Alpha, the nation's oldest fraternity for African Americans, said he had been looking for the word to describe how he felt in the historic setting. "Blessed," he said, to be here and to witness this "changing of the guard" in the nation's political landscape.
"I was born in 1962, so I didn't have to sit in the back of the bus. Somebody else did that and fought that fight," he said. But this is a "shattering of a ceiling" too, he added. "So my children know the sky's the limit."
As a Black man, Mason said, Obama is rewriting the negative image of Black men that so many folks see, like being a "threat." He said, "Here you have an intelligent, articulate, political and honest man. Not all Black men are musicians and athletes. Some have the power to change the fabric of the world."
Mason talked about the significance of the diversity of the crowd. "Look at the rainbow of people. Being together is part of the American Dream. Martin Luther King's 'I Have a Dream' speech is deeply rooted in the American Dream and amongst African Americans. From slavery we fought for the American Dream — freedom. We believe in the words 'All men are created equal' and the sentiment behind them."
For the first time in this generation, he said, all Americans are having to come to grips with the ugly face of racism. "We may have a long way to go, but people are looking it square in the face."
As the video of Obama's life hit the big screen, there was total silence in the audience. Only the voice of the narrator could be heard. Enraptured with the story and anxious to hear their candidate, people sat at the edge of their seats. Then they erupted in a massive cheer when Obama walked on stage.
After his perfect-pitch acceptance speech, people filed out of the Mile-High Stadium. Talking in low voices with an almost subdued feel about them, they said in a thousand different ways that change for the betterment of all is coming. They looked at the future square in the eye and knew they are part of history. That is what's going on in this country.
talbano @ pww.org
*In a previous copy of this story, Mr. Skip Mason was identified as the president of Alpha Phi Alpha. That is incorrect. Mr. Mason identified himself as the president-elect. We regret the error.