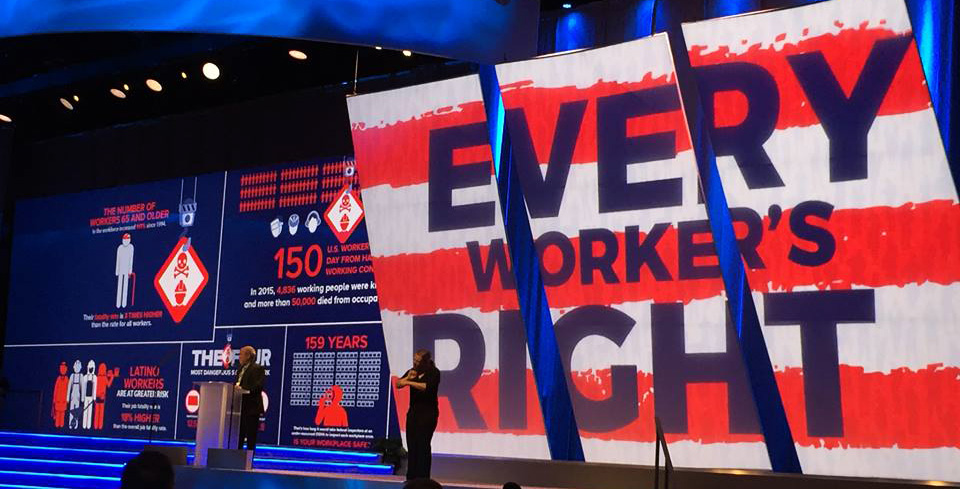 ST. LOUIS—In a country of "the too rich and the rest of us," says AFL-CIO President Richard Trumka, we need a new Workers' Bill of Rights. Fittingly, that was Resolution 1 at the federation's recently concluded national convention, "a tool," as Cecil Roberts of the United Mine Workers put it, "to support our organizing and our political work."
The Bill of Rights, which passed unanimously on the last day of convention, Oct. 25, calls for the right to join a union, fair wages, flexible schedules, secure retirement, quality health care, and more.
The Workers' Bill of Rights has a history. Elizabeth Shuler, just re-elected secretary-treasurer of the AFL-CIO, reported on a survey of union members, three-quarters of whom said they supported a Bill of Rights. Also just re-elected Executive Vice President of the AFL-CIO Tefere Gebre stood in support of Resolution 1 by reading off most of its text to the delegates.
Perhaps the most famous updating of the Bill of Rights was articulated in 1944 by President Franklin D. Roosevelt, who put forward what could be considered the blueprint for a social welfare state. Unfortunately, he died shortly after winning his fourth election to the White House. The Cold War started under his successor, Harry S. Truman, and FDR's new Bill of Rights was safely forgotten.
Over the years, other new versions have appeared. In New York, a Domestic Workers' Bill of Rights has come to define the working relationship between employers and home workers. In 2015, the city of Spokane, Wash., had a new Bill of Rights on its ballot. And in the 2016 Democratic primary campaign, Maryland Gov. Martin O'Malley put out a Workers' Bill of Rights from which the AFL-CIO clearly has borrowed some points and language. O'Malley's had 11 points, whereas the AFL-CIO Bill has nine. One item O'Malley had, that curiously the AFL-CIO misses, is the right of the labor movement to approve proposed international trade deals before they become law.
Utility worker Reggie Davis recalled how his mom had been exploited and overworked. "But that was years ago," he said, "and today it's pretty much the same—corporate profit above human lives. No one should have to choose between going to work, eating, or going to the doctor."
Lynne Dodson of the Washington State Labor Council cited the 1971 memo to the Chamber of Commerce by Lewis Powell, a future Supreme Court justice, which outlined a demonic strategy detailing how to transfer wealth and power from the working and middle class to the one percent.
Jorge Ramirez, president of the Chicago Federation of Labor, said, "No one who is willing to work full time should live in poverty. No victim of domestic violence should lose a day's pay if they stay home to recover." And he urged especially his male co-workers to speak up when they hear demeaning putdowns of women. He concluded saying, "No retiree should ever go hungry or homeless."
Kooper Caraway, 26, of the Aberdeen Central Labor Council, spoke about the dissolution of the American promise that if you work hard and play by the rules you will be rewarded with a secure old age. "Instead," Caraway said, "America throws their elders away, the only measure of their value the labor that can be exploited by some boss. We can no longer tolerate the disrespect of our elders."
Other speakers told moving stories of how the abuse of workers' rights damages our society and nation. Stuart Appelbaum, head of RWDSU/UFCW, related how on the day he publicly came out late in life as a gay man, Rich Trumka called to congratulate him. He hailed "what this body is doing for all working people in this country."
The final speaker was the passionate Witold Swierczynski of AFGE, who imagined a Workers' Bill of Rights far beyond what Resolution 1 actually states. He spoke of "today's rigged economy" with, for too many workers, "no pension, low wages, no vacation time or sick leave. This is not acceptable and cannot continue. It's a stacked deck for American workers. Workers' rights have become human rights. Change the economic rules."
He ticked off items that are not specifically included in the resolution: "We need a $15 minimum wage with inflation index; Medicare for All; metal detectors in government offices in our gun-crazed society; paid vacation and sick leave; maternity and paternity leave; remove 'at will' from our vocabulary; enhance Social Security and pensions; free public high school, college, and vocational training; remove voting barriers, universal registration, voting day a federal holiday." Unions, he said, want to see that "wealth and power are shifted to workers."
Also unmentioned in so many words are the right to strike, workers' councils on the job to ensure safety adherence and a share in governance, immigrant rights, and equal pay for equal work.
The Workers' Bill of Rights preamble says, "We refuse to accept the reality of struggling to make ends meet in the richest country in the world at its richest point in history. We can do better. We must do better. And so we demand rights that ensure we are able, through our work, to lead better lives…."
Following are the points in the new AFL-CIO Workers' Bill of Rights:
All working people have the right to:
A Good Job with Fair Wages: Everyone who wants to work has the right to a good job where we earn a fair return on our work and receive a wage that allows us to support ourselves and our families.
Quality Health Care: Regardless of income, job, or a pre-existing condition.
A Safe Job free from harassment and violence.
Paid Time Off and Flexible Predictable Scheduling to spend time with family or care for ourselves or a loved one.
Freedom from Discrimination in hiring, firing, and promotions.
Retire with Dignity and financial security.
Education: Public K-12, higher education, and career training that advances our knowledge and skills without leaving us in debt.
Freedom to Join Together with our co-workers for better wages and working conditions, whether we are in a union or not.
A Voice in Democracy to freely exercise our democratic voice through voting and civic participation so that we can make sure our government stands up for this Workers' Bill of Rights.