From its opening moments, U.S. composer-baritone saxophonist Ben Barson's suite for this "epic jazz opera," Mirror Butterfly: The Migrant Liberation Movement Suite, speaks of the revolutionary politics from which it derived. With a firm grasp on the canon of liberation music before him, Barson (a student of and collaborator with the late Fred Ho) has crafted a work for these times, but one deserving of a lifespan well beyond the reach of Trumpian politics. Here's a work that never sacrifices art for statement, so rich is it in composition, voicings, arrangement, improvisation and the sheer talent of the principals.
Afro Yaqui Music Collective has released it on a new CD (Innova 2019). The librettist is Ruth Margraff, with lyrics by Nejma Nefertiti on tracks 7-8.
Margraff's libretto is based on the Maya parable of a sword which is symbolic of the people's resistance over centuries. The tale has survived through teachings of the Zapatistas as told by women warriors, thus rife with events current and historic by way of Mexican culture, ancient and contemporary. Add to this the voices of African and the Middle Eastern activists, and Mirror Butterfly is truly internationalist in scope.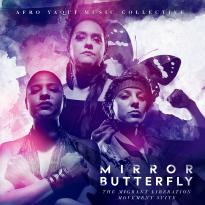 Barson's music, too, brings together a world of divergent sounds, seamlessly casting something even beyond what Ho referred to as Afro-Asian music. Jazz, particularly of the Free variety, is ever present but scored with an orchestral vision informed by the far reaches of Mingus and Gil Evans. Mixing three outstanding lead vocalists, two voice actors, a four-part chorus, four saxophones (including Barson's) with one doubling bass clarinet, a string quartet that unites the Chinese pipa lute and ancient Kazakh bowed kobyz with standard violin and cello. These instruments are most apparent within the strains of "The Four-Mirrored Butterfly," an almost hypnotic segment culminating in a behind-the-beat waltz with the soaring operatic voice (at points more Brecht/Weill opera) of Gizelxanath Rodriguez and a riveting obbligato by bari sax. Rodriguez really comes to the fore on "Sisters Unite" which bridges spoken word to several voice stylings.
The rhythm section is just as varied: two keyboard players, an electric bassist, guitarist, electronics player and three percussionists who command a phalanx of drums and percussion instruments from around the world. The latter are put to great effect on "The Workers March," wherein vocalist Nejma Nefertiti adds strong, effective hip hop. She is featured on "Stoneflower Requiem," with a revolutionary lyric over a funk rhythm and Bernard Grobman's sinewy electric guitar, reminiscent of Pete Cosey's noted work. Bassist Beni Rossman, too, adds simmering fire to every backbeat.
Overall, the suite is artful, gripping, relevant, highly listenable and surely indicative of a composer and librettist whose work must be widely heard. The full opera was staged in Pittsburgh recently and will see its New York City premiere in late autumn.
More information, including videos, can be seen here.