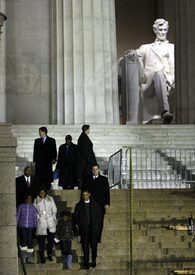 Four million expected for Obama swearing-in, parade
WASHINGTON—Unprecedented. That's what people are saying about the "people's inauguration" of Barack Obama.
As many as 4 million people are expected to pack the nation's capital Jan. 20 to celebrate Obama's swearing-in as 44th president of the United States, the first African American chief executive in history.
The people are arriving on 10,000 chartered buses, by rail, air and auto from every state in the union. Many of them are veterans of the vast grassroots movement that elected Obama last Nov. 4, a landslide victory over the politics of fear and division. Millions more will participate in inaugural celebration parties in towns and neighborhoods across the country and in Martin Luther King Day of Service events on Jan. 19, King's national holiday.
Fred Mason, president of the Maryland-District of Columbia AFL-CIO, will lead a contingent of 250 trade unionists in the Inaugural Parade marching behind a huge float that depicts workers lifting up the nation with their shoulders and arms.
"For the first time in history, there will be a contingent of workers in the Inaugural Parade, marching in their own names," Mason told the World by phone from his office in Annapolis. "We made the application to march and permission was given. We will all be wearing the same colors, as close to United Nations blue as we could get. This effort has brought together unions affiliated with the AFL-CIO, Change to Win, and the National Education Association," Mason continued. "We will carry a banner that says, 'American Workers United for Change.'"
Mason said it is appropriate that unions be represented in the parade given the huge role played by the labor movement in Obama's victory.
The contingent will also dramatize that workers are determined to win enactment of a program that provides millions of "good jobs, green jobs" to counteract the worst economic crisis since the Great Depression, universal health care, quality public education and expanded union organizing rights.
Of course tens of thousands of additional union members will come on chartered buses. It includes Luisa Sanchez of New Britain, Conn., a janitor and member of the Service Employees International Union. She is going on a bus chartered by the New Haven People's Center and the New Growth Praise Center of God in Christ.
"I am going to Washington for the inauguration because I worked for two-and-a-half months in the Obama campaign in Virginia," she told the World by phone. "My job was to knock on doors to get people to register and get out to vote. It was 44 years since a Democrat for president won in Virginia. But this year, Obama won."
She added, "It is historic that an African American is going to be president. We need a change. The economy is so bad! So many people have lost their jobs, their houses, their health care. People have their kids to support and no job. What are they going to do?"
Marcia Farrell, a social worker, is coming to the inauguration from Port Angeles, Wash., one of several from the Evergreen State. Last summer and autumn, Farrell was a regular participant in a project of holding up "Vote Obama-Biden" placards and waving at motorists at busy intersections in downtown Port Angeles and Sequim. "Those waves were so awesome because so many people honked and waved back at us," she told the World. "Clallam County has been pretty conservative but I had my little part in helping Obama carry the county last November."
As a young woman in 1963, Farrell attended a YMCA conference on civil rights. She marched in a protest against segregation in Chicago that was bombarded with bricks thrown by Ku Klux Klansmen. True to form, this past summer, she and her husband joined a march protesting ICE-Border Patrol checkpoints on Olympic Peninsula highways. Immigrants, some of whom have lived since infancy in the U.S. have been arrested and deported overnight and a climate of fear has been spread throughout the community.
"My hope with Barack Obama is that we can win racial unity and not be ruled by our petty fears but rather what we can do together," she said. "Attending Obama's inauguration is a once in a lifetime opportunity."
The Rev. Scott Marks is a Unite-Here union organizer in Mississippi. He too will be in D.C. to attend the inauguration.
"My home is a 20-minute drive across the Mississippi River from Memphis where Dr. King was assassinated in 1968," he told the World. "I am going to be on the Mall Jan. 20. Some people are still in shock who cannot believe we have an African American president.
"All kinds of unity is coming together, an opportunity for the people. What we do with that opportunity is the question. We can't make the changes we need unless enough people come together to make it happen. People are coming together on the Mall that day, committing to organize like never before. This is a call to action. We're going back to the Mall where Dr. King delivered his 'I Have a Dream' speech to bring the dream to life."
greenerpastures21212@yahoo.com