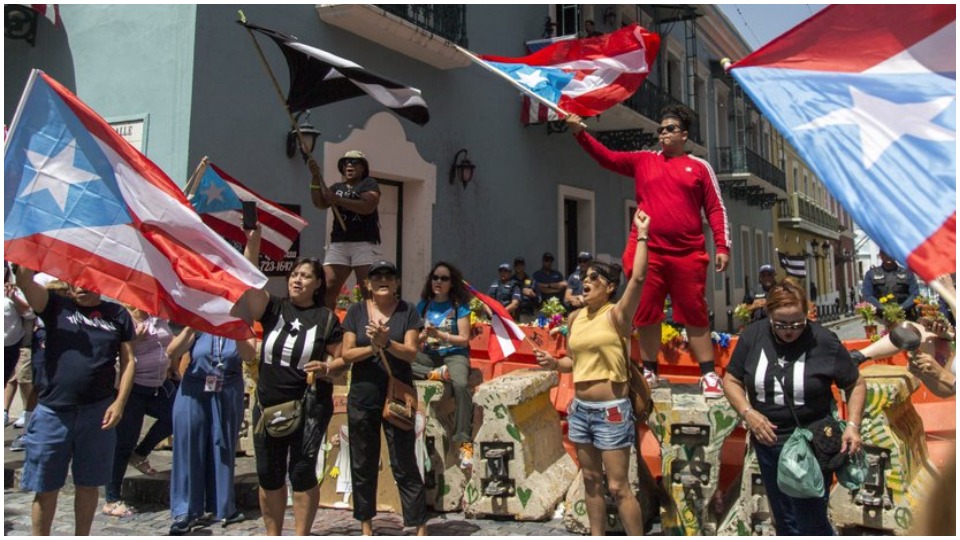 As this article went to press, news broke that Gov. Ricardo Rosselló had resigned in response to massive protests that have rocked Puerto Rico for over two weeks. Conflicting reports then suggested he may not yet have left office. UPDATE: It is now confirmed that the demonstrations have forced Rosselló from his post.
SAN JUAN, Puerto Rico—Way past the midnight hours in Old San Juan, dense smoke engulfs the area around the capital. Hundreds of undaunted protestors, mostly youth, fill the streets as police launch tear gas canisters to drive them away.
This scenario continues with no sign of abating as protests continue day and night for the fourteenth straight day. The most massive protest and general strike in Puerto Rican history paralyzed the country on July 22 with 500,000 demonstrators swelling the streets to demand the resignation of Gov. Ricardo Rosselló.
The non-profit Puerto Rican Center for Investigative Journalism (CPIPR) used geographic engineering tools to reach this calculation, which, in a country of about 3 million, represents about one-sixth of the total population. Yet, beyond the massive numbers, the protests and marches reveal a lot about the political outlook and collective thinking of the country.
They are an expression of a people fed up with economic austerity, disrespect, misogyny, and injustice; they are a movement being led by militant unions and an organized working class. The demand "Ricky renuncia—el pueblo te repudia" (Ricky resign—the people reject you) are the makings of a people's impeachment.
The CPIPR broke the story of the rampant corruption and pillaging of public money by the Rosselló administration. Two weeks ago, it also leaked hundreds of pages of Telegram chats in which the governor and his staffers denigrated women, LGBTQ people, and mocked the victims killed by Hurricane Maria. This triggered the protests, and within hours, hundreds of thousands of Puerto Ricans began to pour onto the cobblestone streets of San Juan leading up to La Fortaleza (governor's mansion) in a massive show of unity and indignation to demand Rosselló's resignation.
"Basta ya—Enough!" exclaimed the Workers Central Union. "Today, we show the indignation of a people. With a unified voice, we demand that Rosselló resign."
As tens of thousands poured into the streets and the crowds swelled on Monday, caravans of transport workers jammed the highways in trucks, freighters, tractors, and 18-wheelers, shutting down the country's major highway of Las Américas, which connects San Juan to the rest of the island.
Protesters arrived by plane from the U.S. mainland, and from across the island by bus, on foot, and even on horseback. Pulsating rhythms emanated from drums, tambourines, pots and pans, and kitchen utensils as the throngs of people danced, sang, chanted, and marched for hours on end in the streets. They were uplifted, unified, and determined to force the removal of the corrupt, slanderous, and profane governor.
The strong and influential Federation of Teachers of Puerto Rico, while categorically calling for Rosselló to resign, also broadened the demand to "Ricky renuncia y llévate La Junta"—Ricky resign and take the Junta with you. This slogan, emblazoned on their banners and repeatedly chanted by protesters, merged the repudiation of the governor and the "Junta," as the Fiscal Control Board appointed by Washington is known.
The Junta was imposed by the U.S. government in 2016 to resolve the country's crushing public debt, but its members all represent the banking sector, hedge funds, finance capital interests, and wealth. The board has imposed severe austerity measures that cut wages, pensions, social and health services, and educational programs.
The ire and outrage with the Junta's policies of protecting corporate profits and resolving the debt crisis on the backs of workers and families give the protests a political depth and breadth that validates arguments of the independence movement against the colonialist control of the U.S. over Puerto Rico.
This became especially poignant after Hurricane Maria decimated the island and Puerto Ricans endured hardships with lack of food and medical services, and no electrical power for nearly a year. Both Rosselló and Trump repeatedly and hugely undercounted the fatalities due to the hurricane. Seared in the collective memory, no Puerto Rican can forget that repugnant scene of Trump throwing paper towels at the crowd in San Juan shortly after the hurricane.
The CPIPR revelations stirred up the fury and frustration which had been mounting for more than a decade. Communities had waited decades for funding for public projects and infrastructure improvements which never materialized due to government pillaging of public funds.
The CPIPR had reported on far-reaching corruption schemes such as the one by Puerto Rico's Resident Commissioner in Washington, Jennifer Gonzalez. She claimed as an achievement for the island's development including Puerto Rico in the investors' exemption program, part of Trump's tax reform scam. It was revealed that the chief lobbyists for the program were her donors, although she claimed she was not aware of any lobbying efforts.
After Hurricane Maria, a $300 million contract awarded to a small, two-employee Montana company, Whitefish Energy, to rebuild Puerto Rio's electrical infrastructure, shocked many. Whitefish was primarily financed by a large donor to Trump with close ties to Ryan Zinke, Trump's Secretary of the Interior. While the connections and suspicions of corruption were raised, so wers the frustration and ire of the people, who spent sweltering months waiting for power to be restored.
Recently, Puerto Rico's Secretary of Education, Julia Keleher, whose policies of closing public schools and pushing for privatization of the public educational system closely paralleled those of Trump Education Secretary Betsy Devos, stepped down amid growing, daily protests by parents seeking to protect and guarantee Special Education programs. She was recently arrested on federal corruption charges.
The list went on endlessly, generating mounting discontent and indignation until the final straw came when the CPIPR published the hundreds of pages of leaked chats, which have been dubbed "Rickyleaks." They unleashed the fury of the Puerto Rican people.
The governor's apologies and his announcement not to seek re-election did nothing to placate the popular uprising which Puerto Ricans of all political affiliations, communities, religious denominations, labor unions, youth, and elderly pensioners, pledged to continue until Rosselló stepped down.
Throngs of Puerto Ricans have continued to fill the streets day and night with thunderous, reverberating chants and upbeat rhythms. Nothing less than a forceful, intense, and unified uprising will begin to address their demands for justice, democracy, and transparency in governance.
As the days wore on, for each obstacle that cropped up, whether natural or imposed by law enforcement, protestors created a chant, a beat, or a dance and continued moving forward. When the rain started to pour, they shouted, "Estamos ensopados, pero no arrodillados" (We are soaking wet, but we're not on our knees).
As the hours wore on and weariness began to set in, they chanted, "No nos vamos a cansar, te vamos a sacar" (We will not tire, we will remove you). As the marchers approached La Fortaleza (the governor's mansion), they shouted "Dónde está Ricky? No está aquí – Ricky está vendiendo lo que queda del país" (Where is Ricky? He's not here—Ricky is off selling off what's left of the country).
The energy and perseverance of the crowds were testimony to the Workers Central Union's declaration that "this movement cannot be stopped, we will take not one step back."
"I'm here because I have a daughter and she needs a future with good government," a demonstrator told reporters.
"We are here as one group—no parties, no colors—just Puerto Ricans fighting for our rights," said another.
Last week, San Juan Mayor Carmen Yulín Cruz, emphatically declared Puerto Ricans are not waiting for political proceedings amid rumors that major players in Rosselló's party were scrambling behind closed doors to determine if, how, and with whom to replace the governor.
"This is the People's Impeachment!" she said.