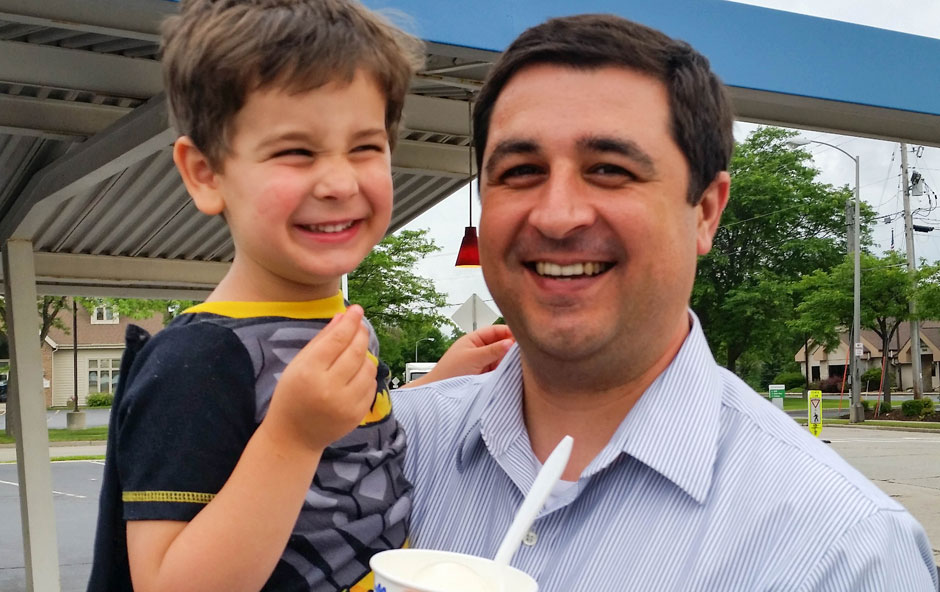 For 12 years Wisconsin has been deprived of a people's lawyer at the top of its justice ladder, lacking a clear defender of open records, civil rights and basic access to justice for everyday people. It is an irony not much noted and deliberately not advertised by the candidate that the likely Democratic replacement for this elected office in November 2018 is the son of the previous people's lawyer who occupied the state's most important justice job.
The late Peg Lautenschlager, a favorite of organized labor and of people's campaigns throughout the state for her feisty speaking style and down-home politics, occupied the state attorney general's office until early 2007 when done-in by internal Democratic politics and her own unfortunate brush with the law. She had too much wine, drove off the road and fell asleep on her frequent nightly journeys from Madison to her home across the state in Fond du Lac. She was arrested by police for drunken driving – or parking in this case.
Before her tenure as AG, where she defended many principles today considered commonplace, she had served as a state representative, a local district attorney and the U.S. attorney for the Western District of Wisconsin.
Gov. Jim Doyle, who had previously been attorney general under Republican administrations, requiring a metronomic approach to morality and political tactics, had never wanted Peg as his successor but was overruled in 2002 by the voters. His revenge was running a primary opponent against her in 2006, who won but then was defeated immediately by the GOP's  J.B. Van Hollen, who passed the job along to his Waukesha partner in GOP thinking, Brad Schimel, considered by many the "worst AG" in Wisconsin history – which may explain why so much dark money has been rushed in to his bid for re-election.
To the rescue in 2018 comes Josh Kaul, who was a 21-year-old law student when his mother became AG. Raised in Fond du Lac by his lawyer Mom and police officer stepfather, he graduated with honors from Stanford, worked in Baltimore as assistant US attorney, led successful lawsuits on voter right, handled cases before the nation's highest courts and now, in his late thirties, wants to restore Wisconsin law enforcement to common sense.
He is hardly alone.  A legion of Democratic attorneys general in many states is as eager for him to join them as he is. They have successfully brought lawsuits as a group based on basic moral principles as opposed to Schimel's knee-jerk devotion to GOP causes and his refusal to join sensible national AG efforts, partisanship ruling all his choices.
Consider.  Schimel refused to join the AGs in their lawsuit to stop Education Secretary Betsy DeVos' blatant gift of repressive student loan practices to for-profit schools.   The AGs just won the lawsuit Schimel refused to join.  DeVos was stopped.
The Democratic AGs lawsuit also stopped cold the Trump administration approval of 3-D printer guns without serial numbers.  And there are many other cases that look beyond the money saved to the ethical principles involved that these AGs would like to see Wisconsin become a part of.
Another for instance. While Gov. Walker insists on the campaign trail that he will protect those with pre-existing conditions, he has encouraged Schimel to join the Texas lawsuit that aims to remove such illnesses from protection as it kills the ACA.  This flies in the face of voter wishes in both camps, but Schimel is obedient to his GOP masters.
The state AG is supposed to bring in special counsel when he or she finds defending a state political demand immoral or contradictory.  Schimel time and again has not. Most recently he pretended that his department could represent both Walker and Evers, Walker's opponent for governor, in a lawsuit Walker brought against Evers' freedom as state superintendent of schools.  The usually knee-jerk GOP state supreme court agreed with Evers against Schimel that he should hire his own lawyer – a conclusion so obvious that only slavishness to his GOP masters could explain Schimel's refusal to agree.
As if all that was not enough, massive numbers of former assistant attorneys have publicly attacked Schimel's failure to handle the duties of his own department of justice – not doing right on environmental protection laws, rape kits and other evidence collection he is in charge of, or protecting the people's daily business. No one for the last 12 years of corporate ownership of the justice agency believes they can get a fair shake.
Lautenschlager died after a long battle with breast cancer in March of this year and Kaul has grieved in private, not making a big deal about her tragic death at age 62.  Even in retirement she won major civic awards and continued to give him and other Wisconsinites sound advice on legal issues.
Kaul has just been quietly working the grassroots for over a year, holding meet and greets and seeking advice on how best to carry out the duties of his anticipated office.  Today he is getting the media attention and financial support that offers a clear path to victory. (Doyle and virtually every other distinguished public official endorse Kaul.)
His style is quite different than his mother's.  But the basic principle – a people's lawyer – remains the same.