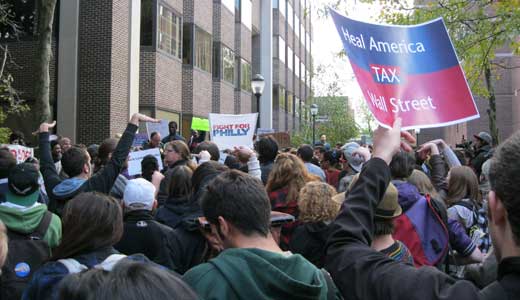 A dense crowd packed Locust Walk on the University of Pennsylvania campus Oct. 21 afternoon to protest the planned speech by House majority leader Eric Cantor, R-Va., at the prestigious Wharton Business School. Cantor's appearance had been planned for 4:30, but the news came earlier in the day that the Congressman had cancelled when told that the general public would be admitted as well as Penn students.
The protesters represented a broad and diverse cross section of the community. Penn students were joined by union activists, members of the West Philadelphia community, students from Temple University who had marched from their campus in North Philadelphia, and a large delegation from Occupy Philadelphia who had come from City Hall.
The news that the Congressman had decided not to appear further energized the crowd which was addressed by several speakers representing the various groups who had joined the protest. Pedro Rodriguez, organizer for the National Committee to Protect Social Security and Medicare (NCPSSM), one of the groups involved in the planning, told the World after the rally, "I guess he was afraid of the fitting Philly style welcome he was going to receive. Our main goal was to let Cantor know that we are sick and tired of his pro-Wall Street policies, and we are taking the fight everywhere he goes. We are not going to stop until we reverse the policies that are bringing the country down."
Groups who joined the protest included, in addition to NCPSSM, Keystone Progress, the Philadelphia AFL-CIO, AFSCME, SEIU, Fight for Philly, and Occupy Philadelphia. Cantor has been quoted as referring the Occupy Wall Street movement and the occupations around the country as a "mob". The crowd, in fact, was peaceful and orderly but exuberant as chants of "We are the 99 percent!" and "Get up, get down; there's revolution in this town!" filled the air.
Photo: Ben Sears/PW