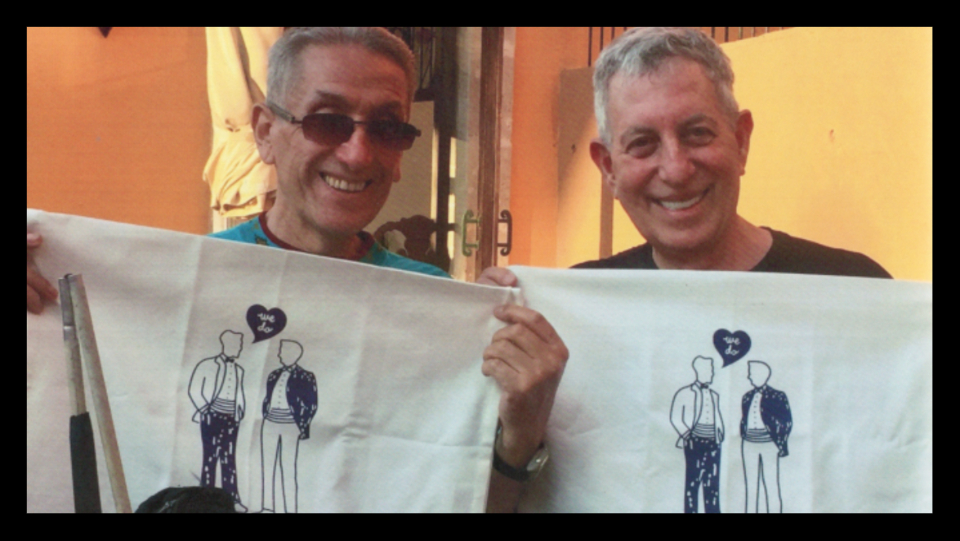 Juan José Guerrero Ibarra, known to many friends as Ruben Parga, the husband of People's World staff member Eric Gordon, died in November 2021. In this article, Eric writes about their memories and the progressive mementos he had stitched together in a quilt after Ruben died. To read more about their life together and Ruben's work, check out this feature in the Los Angeles Times. An obituary is also available here.
LOS ANGELES—How do we remember our loved ones? How do we memorialize them?
One way is to make a quilt, and that's one thing I've done to keep the spirit of my late husband Ruben close to me. (Ruben Parga was his immigrant name by which I first got to know him. His legal name was Juan José Guerrero Ibarra.)
I'd commissioned an earlier quilt back in 2009 to auction off at the Workers Circle, made of protest t-shirts, and I was more than satisfied with the job Campus Quilts did. It was huge—42 panels, six across and seven down, suitable for a king-size bed. I didn't want anything that big for Ruben. A 4×4 would be quite sufficient to cuddle up with or spread on top of my bed to help keep me warm.
Ruben was an artist so I wanted to make something a little offbeat about this quilt. I didn't want there to be a top or bottom with the designs all facing the same direction. From t-shirts, and a couple of other materials, the story of our lives together could be constructed.
1          2          3          4
5          6          7          8
9          10        11        12
13        14        15        16
Starting with 1 in the upper left corner of this photo we have the gray Workers Circle t-shirt with the slogan "far a shenerer un beserer velt" (for a more beautiful, better world) and our organizational logo at the time. It was in our A Shenere Velt Gallery in L.A. that I organized a one-man exhibition of Ruben's artwork, mostly ceramics but some earlier paintings as well from the time he could see, and some prints. Ruben sang with his choral group from the Braille Institute at the opening, and he attended many events with me at Workers Circle (then known as Workmen's Circle/Arbeter Ring). He also sang in our Voices of Conscience Chorus and participated in our tribute to Joe Hill on the 2015 centennial of his death. The rest of the chorus read from our musical scores; Ruben memorized the words and the harmony line.
2 The Statue of Liberty draped in the rainbow colors dates from the L.A. Pride march, redubbed the (anti-Trump) Resistance march in 2017. We joined the ACLU contingent and got this t-shirt.
3 This is the illustration by Jon Lau in the Los Angeles Times, Aug. 5, 2022, for the L.A. Affairs column I wrote about our relationship and marriage and, alas, his untimely death. Campus Quilts took that image and printed it on cloth for inclusion in this quilt.
4 The Ibarra Family Reunion took place in Aguascalientes, Mexico (Ags), in 2021, just a few weeks before Ruben died. The Ibarras are Ruben's mother's side. Ruben told me many stories about growing up in the home of his abuela Emma, who with her husband Federico had 12 children. Only four of them are still living, and I met three of them, Elsa, Elda, and Leticia. It was actually Leticia's home in Ags where Ruben was living for the last two years, that city being flat and more easily negotiated by a blind person. I stayed with him there twice, in December 2019 (before COVID), and was able to return only in July-August 2021. Ruben was the only member of his immediate family at the Reunion. His three sisters and brother, and their children and grandchildren, had no interest in attending. To his surprise, Ruben actually had a good time there, reconnecting with family members from his youth, and he spoke as the representative of his Guerrero-Ibarra family. I found the t-shirt among his things when I went to Zacatecas to be with his family right after Christmas 2021. No one else wanted it, so I took it back with me—Ruben's last t-shirt!
5 The green South Africa FIFA World Cup from 2010. This shirt belonged to Ruben, and I often saw him wearing it. Someone must have given it to him. I visited South Africa in 2013, and it was right after that trip that Ruben and I started seeing each other.
6 A Zacatecas t-shirt with symbols of the city. For our wedding on May 23, 2019, he asked a souvenir shop in the city to produce one of their little 5-inch bas-relief plates with symbols of the city with our names and the date of our marriage. We purchased 50 of them to give to our wedding guests and other friends who could not be there. When he got them from the shop a few weeks before the wedding, he held a sample up for me to see on FaceTime, and contrary to his explicit instructions when he ordered them, they wrote my name on every one as "Erick." So he had to return them all and get them altered. But he kept one of the misspelled plates, and I have that one now as a fond memory.
7 AMLO 2018, when Andrés Manuel López Obrador was elected Presidente de México. This is not actually from a t-shirt, but from the Morena group in the exterior, a little banner that wasn't quite big enough for the square, so Campus Quilts tastefully sewed it onto a gray background. The slogan "Juntos haremos historia" is very appropriate. "Together we will make history." I purposely scheduled my first visit to see Ruben in Mexico for late November-early December 2018 so I could be there for AMLO's inauguration, which I wrote about for People's World. It was on that first visit that he asked me to marry him and take him back to the States. I had to mull it over for a few weeks, but I had seen how constricted his life had become in Mexico compared to the rich friendships and community (and love) that he had in L.A. So I said yes.
8 A t-shirt of Amsterdam that belonged to Ruben. I imagine he acquired it on a visit there in the early 1990s when he lived in Europe, based in Paris. He wore it often. Amsterdam is one of my favorite cities too, and I actually lived there for months at a time in 1971 and 1972 researching my dissertation. It's where I came out.
9 The international Humanist symbol superimposed on the Pride flag. I'm an endorsed Humanist celebrant, and Ruben attended some of the weddings I conducted under that title. I acquired this shirt at the 2017 Pride festival in Stavanger, Norway, where the local Humanists had a booth. On my travels abroad, I was almost always able to speak with Ruben every day using FaceTime so he could follow my journeys and we could catch up. Even far apart, we both liked the reassurance we had someone else in our lives.
10 We do. This panel is very special to me. It's not from a t-shirt, but a kitchen towel! On the eve of our wedding—the first in Zacatecas for a same-gender couple—my visiting family members (sisters Nina and Ilse and brother Fred with my sister-in-law Kathie) joined Ruben and me for sangría at an elegant hotel in town. We sat overlooking the old bull ring, around which they built the hotel, a venue used today for large parties and gatherings. Nina reached into her bag and pulled out these two towels, one for each of us. (See lead photo above.) Ruben kept one, and I brought the other home. The pair would eventually be reunited when the two of us would be reunited. When I visited Mexico after his death, I found the other towel and brought it back, so I still have one, and the other went into the quilt. The following day was the wedding, and it was the last time all four of us Gordon siblings were together, and the last time I ever saw my sister Nina. She died unexpectedly about ten weeks later on a trip to Alaska with her family.
11 This abstract art is based on ancient Nordic runes, and there's some barely perceptible lettering in it as well. It's from my 2016 Sierra Club trip to Iceland, and it was my gift to Ruben. I know he liked it a lot, as he told me people would always comment on it. When he crossed from El Paso into Mexico in November 2017 in his "self-deportation" move, re-entering Mexico after more than 25 years, he was wearing that shirt. I was told this by his sister Silvia because on his funeral card, featuring the Virgin de Guadalupe and a beautiful farewell statement to the world, the photo of Ruben has him in that shirt from that day. That shirt sums up, for me, all the poignancy of his sad ending. It's almost like he floated into eternity wearing it.
12 Ruben and I marched together on several AIDS Walks, raising contributions for Being Alive, an HIV service group which helped him when he first started making ceramics. The footprints on the shirt indicate it came from the march. Those marches were about 10K right down the middle of the West Hollywood and Los Angeles streets. Ruben was expert at using his cane, but for these marches, there were no obstacles or stairs, so Ruben would fold up his cane, tuck it into his backpack, and we would hold hands and saunter free for miles without a care. We went on several May Day marches too, and attended many gatherings at CPUSA headquarters, the Red House, in L.A. He met both Sam Webb and John Bachtell there. One year, he catered our Awards Luncheon with a chicken mole of his own making. I never ceased to marvel at his abilities. On one of the AIDS Walks, a choir of UCLA students stood on the sidelines, organized into four sections, each one with a slogan or chant, and they invited passersby to "conduct" the choir. I indicated to him where each section was located, and Ruben pointed to the sections he wanted to hear from, and how soft or loud they should perform, and they produced a splendid cacophony of his own creation and a cherished memory. A blind conductor—why not?
13 A t-shirt from a Vietnamese folk opera production I attended in Hanoi at Tet in 2019, just a few weeks before we married. Again, from Vietnam I called Ruben on FaceTime and told him about each day's adventures. For me, visiting Vietnam was a kind of pilgrimage, a rite of passage having been so active in the anti-war movement in the 1960s and '70s. And within a few weeks, I would experience another life-changing rite of passage in Mexico.
14 Our former National Writers Union t-shirt with the slogan "Workers of the word, unite!" (I am proud to say I came up with that, with a little help from Dr. Marx.) I had been the chair of the Southern California Chapter, and Ruben often attended our functions to hear speakers and writers. We had a Peruvian fiction writer who gave us a vivid expression we never forgot. It means "Don't mess with me!" and in Spanish it's "No pises en mi poncho!" (Don't step on my poncho!) I always wanted Ruben to write out some of his enchanting stories from his growing up in the 1950s and '60s, but though he was an avid reader, he had trouble writing. I'm sorry I never recorded him telling some of his tales. We thought we had forever. All I have, I think, are recordings of the last few of his phone messages.
15 The Hanukkah shirt captures the design of, I believe, the first of such stamps from the USPS. Ruben loved the Jewish traditions and songs that I introduced to him, and we actually incorporated a couple of Jewish elements into our wedding. One year he created an incredible Hanukkah menorah for me out of ceramic and tile. The candle holders are calla lily flowers, and for year-round display he created yellow ceramic inserts resembling the finger-like spadix in the flower. When I visited him at the end of the years 2018 and 2019, we lit a cheap little tin menorah I brought with me and enjoyed the warm glow and waxy aroma. Even if he could not see the candles, he could sniff when they burnt out.
16 Someone visited Brazil and gave Ruben this soccer club shirt. He liked the satiny feel of it, and of course Brazil—its history, language, literature, music—means a great deal to me. When I was translating the Manuel Tiago novels and stories, I'd read them to him as I completed a chapter, so even from afar he was able to follow my literary career and offer encouragement. He enjoyed hearing Portuguese and trying to figure it out in comparison to Spanish, and he was actually pretty good at pronouncing it. His favorite nickname for me was a Portuguese diminutive, Eriquinho—eh-ree-KEEN-yoo. Fortunately, I have him saying it on some of his phone messages.
What's left of a person? In my Jewish tradition, we don't give much attention to an afterlife. But we say a person lives on in the memory of those who knew them, and they're finally gone when no one remembers them any more. Maybe the quilt will help to preserve his memory after I'm gone. It can serve as my quilt too, because we're both there, stitched together always. And if it ends up in a thrift shop one day, someone can invent their own story about this strange multi-colored, multi-lingual, one-of-a-kind piece of fabric.