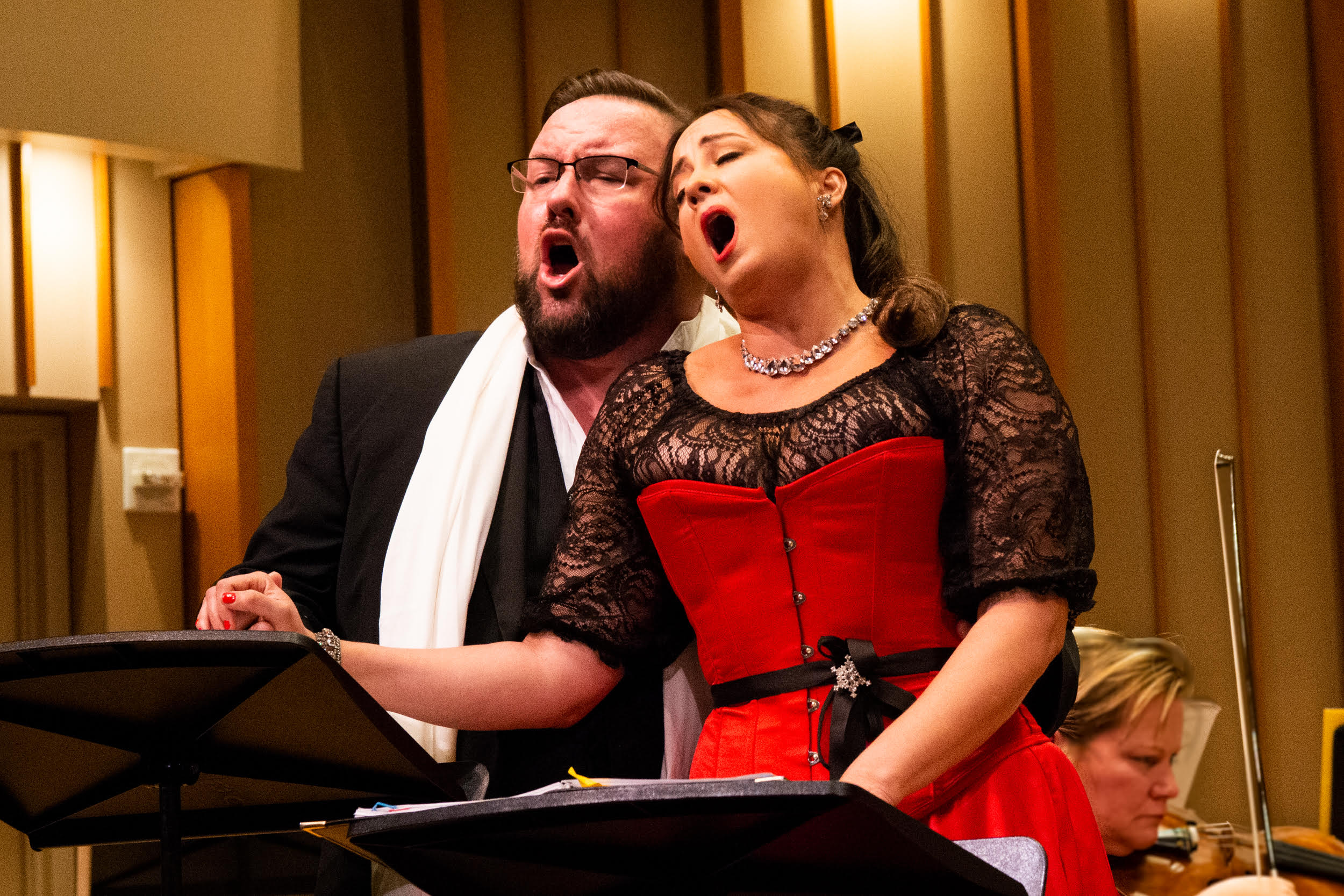 LOS ANGELES—The recently formed Numi Opera's second production in its inaugural season was the rarely performed Der Ring des Polykrates (The Ring of Polycrates) by composer Erich Korngold (born in Brno, Austria-Hungary, 1897, died in Los Angeles, 1957).
The 1914 one-act opera, composed when the precocious Korngold was but 17 years old, is in a full-blown, late German Romantic idiom. His role models were clearly Richard Strauss and Giacomo Puccini in his melodic vault and orchestral density. His older contemporaries were Alexander Zemlinsky, under whom he studied, Gustav Mahler, who declared him a child genius, and Franz Schreker. Korngold hewed to his esthetic despite the trends of his generation toward the atonal music, expressionism and abstraction of Arnold Schönberg, Anton Webern and Alban Berg.
Many Americans will not readily recognize Erich Wolfgang Korngold's name, although faithful operagoers may have seen his biggest operatic success, the 1920 Die Tote Stadt (The Dead City) or know his ingratiating 1945 Violin Concerto. His career was profoundly affected by the rise of Nazism in Europe: He was forced as a Jew to remain in America, where he had first worked in Hollywood in 1934 on a film version of A Midsummer Night's Dream.
Korngold settled in Los Angeles, and became a leading film composer, with almost two dozen titles to his credit. Although he composed the music for Anthony Adverse (1936), it was Leo Forbstein, head of the studio music department, who received the film's Academy Award for best music scoring. Korngold himself received the 1938 Oscar for his score to The Adventures of Robin Hood. The 1940 Sea Hawk was another of the composer's great scores to films featuring the swashbuckling heroics of Errol Flynn. Classic filmgoers know his music well, even if his name may not be so well recalled. And thus Korngold, along with so many other creative talents, became Hitler's gift to America.
Der Ring des Polykrates received two concert performances only, December 19 (seen) and 22, at Zipper Hall at downtown's Colburn School. Though the opera was not fully staged, the singers were dressed in character.
Founded by Executive Director Gail R. Gordon (no known relation), Numi (an Italian word meaning "the gods" or "the heavens") aims to fill a hole left in Los Angeles when Los Angeles Opera, after an auspicious beginning, because of insufficient funding had to drop its series of "Recovered Voices" that the company's musical director James Conlon had initiated more than a decade ago. Numi Opera launched its presence on the Los Angeles musical scene last May with Zemlinsky's rarely performed Der Zwerg (The Dwarf) based on a story by Oscar Wilde (L.A. Opera produced it in 2008 in the Recovered Voices series).
"Ms. Gordon, the child of Jewish immigrants," says the company press release, "feels deeply that the neglect of works of art such as these due to Nazi suppression over the greater portion of a century must be rectified in order to heal a portion of the many injustices perpetrated on the underrepresented and oppressed throughout music history." Gordon herself directed Der Ring.
The great German Enlightenment poet Friedrich Schiller (famous for his "Ode to Joy" set by Beethoven in the 9th Symphony) wrote the lyrical ballad of Der Ring in 1797. The story tells the fate of Polykrates boasting of his victories to Pharaoh Aamsis. It begins as the Pharaoh reminds Polykrates that arrogance defies the gods and brings about the downfall of the perpetrator of hubris.
This ballad became a comic parody by Heinrich Teweles (1856-1927), which becomes the basis of the Korngold's libretto, written by the Austrian librettist/dramaturge Leo Feld, and reworked by Julius Korngold, the composer's father, who was a music critic in Vienna.
In the operatic adaptation, the story is set in the 18th century, Schiller's time. The protagonist is musician Wilhelm Arndt (Scott Ramsay), who seems to have everything going for him: He is happily married to the beautiful Laura (Shana Blake Hill), he has been appointed chief court composer, has just inherited a small fortune, and the couple have welcomed their first child into the family.
But when Wilhelm's long lost friend Peter Vogel (Roberto Perlas Gomez) returns, he is jealous of Wilhelm's happiness, and convinces him (after the example set in Schiller's ballad) that in order not to challenge fate, he should sacrifice something of great value, challenging him to ask his wife "the fateful question" (actually two): Is she hiding anything, and did she have a former love?
A secondary couple, who are engaged to be married, are in the household service of the Arndts: The master's music copyist, who copies as much as he can of his master's ways, Florian (Alex Boyer) and Lieschen (Emily Rosenberg), Laura's personal aide. Like his master, Florian also instigates contention with Lieschen.
Parallel tensions ensue, between Wilhelm and Laura, and Florian and Lieschen. More than a century after the opera's premiere I guess it's not too much of a sacrifice to reveal the dénouement, though in the spirit of the opera perhaps I had better make it. Lieschen wears a ring that had been given to her by a former admirer, which she tosses out the window. Outside, Peter catches it, and now all can agree that the sacrifice to be offered is the cause of all the mayhem himself: Peter!
The five singers performed with scores, but they had mostly memorized their roles, glancing only occasionally at the printed music. Each has a very accomplished résumé: Ms. Gordon did not stint on her talent! Some of these singers I have heard previously in the L.A. area. The texts were projected in subtitles above the stage, making for complete comprehension. Though originally conceived in an 18th-century setting, the costumes here suggested more of a 1950s look. The allegorical nature of the work lends itself readily to such adaptation.
An opera such as this, which though lyrical and often heroic in tone, is essentially a conversation piece, could easily be offered in translation for greater accessibility. It could be paired with almost any other one-act opera in the repertoire—how about Leonard Bernstein's Trouble in Tahiti, also about marital strife? There's no law saying Cavalleria Rusticana always has to be staged with Pagliacci!
Conductor Francesco Milioto, on the music staff at both Lyric Opera of Chicago and Santa Fe Opera, threw himself into this magical score with passionate commitment. A full orchestra, including a delicately employed celeste, made the experience almost Wagnerian in proportion, even without stage sets, props, and lighting. (Milioto will conduct Tristan und Isolde at Santa Fe in 2020.)
In 1916, now at the ripe old age of 19, Korngold became an instant success with his double bill at the Munich Staatsoper, conducted by Bruno Walter, Der Ring des Polykratyes and the tragedy Violanta. In the cast were Karl Erb and Maria Ivogün. The operas were repeated in Vienna with Selma Kurz and Alfred Piccaver in Polykrates and Maria Jeritza in Violanta. In Dresden later that year, Richard Tauber and Elisabeth Rethberg sang the title Polykrates roles. Opera fans will recognize these famous names. (Next June Violanta will be performed at The Broad Stage in Santa Monica.)
Although immediately popular, with the rise of the Third Reich, Jewish and opposition artists were forced to flee, and these works fell into near-complete obscurity. Despite their essential "Germanness," most of the works by these censored, forced-émigré composers were never able to gain a secure foothold in the repertoire after the war. A tradition of performance had been broken, probably irreparably for some of these truly significant composers and works. Yet other composers, such as Carl Orff of Carmina Burana fame, lived throughout the war as leading Nazi supporters and have never lost their popularity (although admittedly his operatic works are rarely seen).
It's good to have Der Ring back. Of course to any opera-lover "Der Ring" signifies Wagner's four-opera tetralogy Der Ring des Nibelungen. Korngold surely knew what he was doing, even as a 17-year-old, in titling an opera "Der Ring des" anything. His making a cute domestic comedy out of Schiller's ballad is a fun poke in the eye to the grandiose, puffed-up pretense of Wagner's epic. If after 17 hours of stentorian vocalism occupying four nights at the opera house we are left with the gold of the Rhine (the Rheingold, the name of the first opera) protected by the high-pitched Rhinemaidens right back where it started under the billowy waves of the river, Polykrates similarly ends, after a brief kerfuffle caused by Peter's meddling intrigues, with pretty much the status quo ante. Both couples are blissfully reconciled, and perhaps wiser and more empathic now that they have seen the vulnerable side of their partners.
Korngold has taken a familiar operatic construction involving love between people of higher rank and sophistication (Wilhelm and Laura) and contrasting them with parallel figures of lower class (Florian and Lieschen). We see this dramatic framing in The Marriage of Figaro, The Magic Flute, and many other works. In each case, though we may be amused by the simpler, often comic characters, we come away appreciating that all people of whatever station in life are yet entitled to find love in their lives.
In Der Ring des Polykrates, Kornhold tweaks this conceit rather cleverly by making each of his couples a soprano-tenor combination, instead of using lower voices for the "lower" characters. I like to think this invention is a nod to the growing sense of democracy in the 20th century. A marvelous quartet with the two couples is a highlight of the piece.
I observed to my friend Bill that coming just a day after the impeachment of the supremely hubristic D.J. Trump, the message of this opera seemed directed at crude, unruly people who for whatever reasons of their own unfulfilled psychological needs like to sociopathologically disturb the welfare, peace, and security of their fellow human beings. He thought that might be a bit of a "People's World" stretch, but I don't know, I think there's something to it.