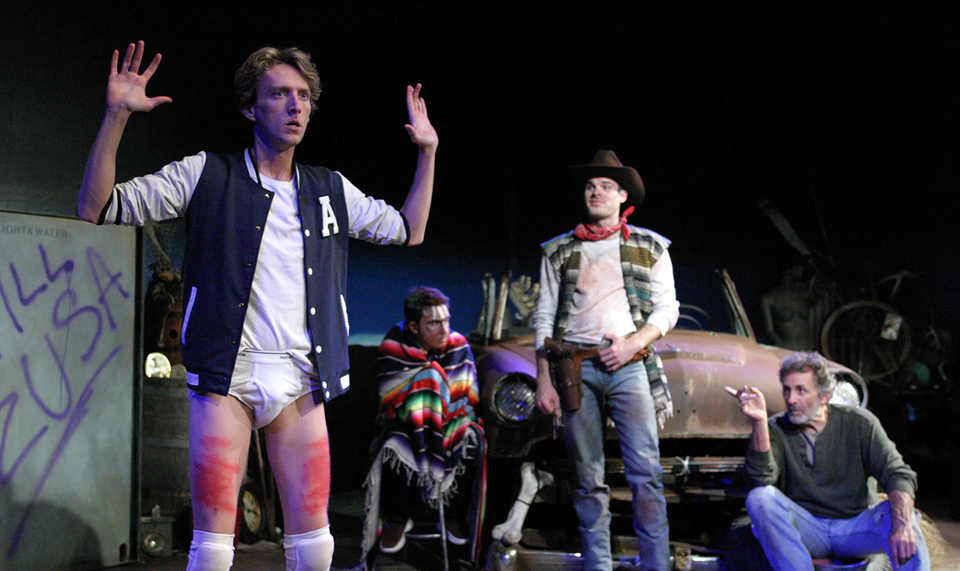 LOS ANGELES—To commemorate and celebrate the auspicious 50th anniversary of the Odyssey Theatre Ensemble's founding, this venerable mainstay of L.A.'s live stage scene is presenting the "Circa '69" season, with revivals "of significant and adventurous plays that premiered around the time of the Odyssey's 1969 inception," according to the company. A Sam Shepard double-header currently on view is part of this ambitious program.
Killer's Head
First up is a sort of hors d'oeuvre, the 15-minute or so Killer's Head, before the main dish is served. Alas, Killer's isn't killer drama and to be honest is quite an unappetizing appetizer. I was bored by the monologue in this one-man show. It wasn't the actor's fault—Steve Howey fully inhabited the part of Mazon and did a good job, considering the material he has to work with. (Howey is the first of eight actors scheduled to play Mazon, including Chris Payne Gilbert (Jan. 31-Feb. 2), and Shepard veteran Dermot Mulroney, who tackles the role Feb. 7-9 and 14-16). I just found the lines written for the character to be uninteresting, reminding me that what may have seemed innovative in 1969 isn't necessarily so half a century later.
The only interesting thing about what Mazon says is the context he says it in. But I won't reveal what that is and ruin theatergoers' surprise—unlike some of the blabbermouths on KPCC's "Film Week " program, where tattletales think absolutely nothing about divulging whether protagonists live or die or are found innocent or guilty, without so much as a warning to listeners that a plot spoiler is about to take away their joy of discovery. Let's leave the disclosures to heroes like Edward Snowden and the person who blew the whistle on Trump!
The Unseen Hand
I'm glad to say that the second play on the bill is well worth sticking around for. The Unseen Hand is a wildly imaginative, hilarious send-up of various tropes, ranging from spoofing different movie genre conventions—in particular, Westerns and sci-fi—and exploration of American (mis)conceptions of masculinity. To execute this intricately written 90-minute-or-so one-acter requires a finely honed cast, and fortunately, director Darrell Larson has a stellar ensemble of craftsmen who do justice to Shepard's words and actions.
Carl Weintraub plays the time-traveling stumblebum Blue, who currently inhabits a beat-up old Chevy near the freeway (the 210?) at Azusa, Calif., circa 1969, and has somehow survived from the Wild West days. A century earlier he'd be the kind of character who spoke what Mel Brooks, in Blazing Saddles (another genre spoof produced a few years after Unseen), called "authentic frontier gibberish." In his 1969-ish incarnation, Weintraub humorously plays Blue as a cross between David Strathairn, Walter Brennan in countless cowboy pictures, and Walter Huston's prospector in The Treasure of Sierra Madre. Weintraub's amusing portrayal mines comic gold.
So do his castmate cutups. As Willie, Matt Curtin is an extra-planetary character in the mold of Mork from Ork, crossed by Marvin the Martian from those Warner Bros. Looney Tunes and Merrie Melodies kooky cartoons. His name referencing the Cisco Kid, Jordan Morgan's Cisco is cut from the cloth of innumerable screen gunslingers hankering for a showdown. With his beard and bowler hat, Chris Payne Gilbert's Sycamore reminded me of Warren Beatty in Robert Altman's 1971 Western McCabe and Mrs. Miller. And as Kid, the emaciated Andrew Morrison looks like Matthew McConaughey after the Bataan Death March.
Amidst the merriment, Shepard also injects social commentary about America around 1969. There is talk of revolution; Kid discusses guerrilla warfare theory as if he is the Che Guevara of Azusa (although Che referred to guerrillas as a foco, which the Anglo Kid calls nuclei). At any point I expected Kid to quote Chairman Mao's dictum "The guerrillas are the fish and the people are the sea."
Throughout, by skewering celluloid stereotypes and other caricatures, the all-male cast and the play itself provide a serious critique of America and the mythos we have constructed about ourselves, which Shepard attempts to deconstruct, along with lots of well-earned laughs artistically delivered with verve.
One line is repeated several times during the one-acter by, I believe, different characters: "Azusa is the USA from A to Z," or something like that. (As I live near Azusa, seeing it represented, such that it is, onstage increased the fun for me. Shepard also attended L.A. County's Duarte High School and graduated from Mt. San Antonio College, which is in my neck of the woods, too.)
Interestingly, during his youth, the Illinois-born Shepard was called "Steve Rogers." Perhaps the future playwright and actor later used the moniker "Sam Shepard" because Steve Rogers is also the name of the secret identity of Captain America?
The prolific Shepard, who penned 44 plays, won the Pulitzer Prize for 1979's Buried Child, scored 10 Obie Awards and, as if playwriting weren't enough, was also a gifted actor. He appeared in films such as 1982's Frances opposite his longtime love Jessica Lange, and was Oscar-nominated as Chuck Yeager in 1983's The Right Stuff. Like that pilot he unforgettably depicted, he also broke the "sound" barrier, with his original, scathing, witty words and stories. (Vs. Theatre Company also deserves an honorable mention here: Last year the L.A. troupe presented an excellent rendition of Shepard's True West, with its caustic commentary about Hollywood and more.)
Scenic designer Song Yi Park and lighting designer Bosco Flanagan merit kudos for Unseen's atmospheric look and feel (there is some use of artificial fog, so sensitive viewers beware). Sound designers Mitch Greenhill and Bo Powell enhanced both Killer's and Unseen with sound effects and recorded music. Overall, Unseen is one of the best, well-acted and creatively directed works I've seen on the legit stage in a while and my favorite entry in the Odyssey's "Circa '69" season so far. Mature audiences who enjoy being challenged will certainly have something to celebrate when they re-encounter this superbly mounted Sam Shepard gem and be fulfilled that they've seen The Unseen.
Killer's Head and The Unseen Hand play Weds. (Feb. 5 and March 4 only), Thurs. (Feb. 20 only), Fri. and Sat. at 8:00 p.m. and Sun. at 2:00 p.m. through March 8 at the Odyssey Theatre, 2055 S. Sepulveda Blvd., Los Angeles 90025. For tickets and more info call (310) 477-2055, ext. 2, or go to the company website.
Attention, L.A. theatergoers: For those who value excellence and diversity on the stage, the Los Angeles Women's Theatre Festival's 27th annual fête, focusing on multi-culti female solo performers, is taking place March 26-29 at Theatre 68, 5112 Lankershim Blvd., N. Hollywood 91601. See here.