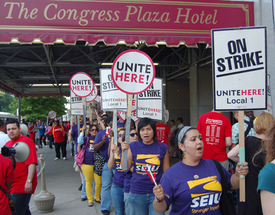 CHICAGO — Sixty striking workers who have been taking turns picketing in front of the Congress Hotel here for the past five years could not conceal their joy June 11 as thousands of trade union and community activists joined their ranks.
The first to arrive took the picket signs from the strikers and told them to rest on chairs they set up near a makeshift podium.
As the weary workers rested they watched wave after wave of supporters arriving on foot, by car, by bus and by train, filling first the sidewalks in front of the hotel and then the sidewalks of the entire city block.
They watched as the band from the musicians' union disembarked from a van and an 18-wheeler brought by the Teamsters pulled up along Michigan Ave., blowing its horn in support.
They watched and listened as bus drivers on an endless trail of city buses passing by added their honking horns to the joyful din.
Dolores Contreras had been out on that picket line through five cold winters and five blazing hot summers. Wiping away a few tears, she said, "This makes it all worth it. We will do this. We will win this."
Jose Sanchez, another five-year veteran of the nation's longest strike, said, "With all this I can go on forever."
The strike began five years ago when the Congress Hotel cut wages by 7 percent to less than $8 an hour, slashed health benefits and hiked employee contributions to the health care plan.
All 100 union workers at the hotel went out on strike, and none have gone back to work there. Sixty continue the strike today, with some financial help from the union. Others have found jobs elsewhere.
The hotel has refused to talk to the union since last August. Workers hired since the strike say they are getting only $7.50 an hour. The hotel claims it is paying $8. The prevailing wage for similar hotel jobs in Chicago is $13 an hour.
The striking union, Unite Here, says it will continue the fight to boost wages and working conditions to levels it has won at other city hotels, and says the strike at the Congress Hotel has benefitted workers all over Chicago.
Mike Ortiz, who was among the thousands marching around the hotel, said that, for him, it was a "coming home" experience.
He had worked 15 years at the hotel before the strike and has since had numerous low-paid jobs from which he has been laid off because of company cutbacks. He's been out of work almost half a year and his unemployment benefits are about to run out. "I have some deep troubles and I get depressed," he said, "but I had to come out here today to support this strike. This crowd fills my heart up with joy."
The hotel management and some Internet travel sites say the strike has had little or no effect on hotel profits or customer service.
But a current hotel worker leaving the building after his shift said that for a year now the hotel has rarely been more than one-third full. Most hotel managers consider a 33 percent occupancy rate to be well below what they need to maintain an acceptable profit level.
Many guests at the Congress complain about customer service.
The World found unsanitary and even dangerous conditions at the hotel in June 2007 when a reporter inspected several floors — including no electricity or lighting on the seventh floor, which was fully accessible to customers by both elevator and stairs.
Nine months later, on March 15, a hotel guest submitted an entry to the Unite Here web site which said, "There was no lighting on the seventh floor. It was very scary. There was a crack in the ceiling of our room and mold in the shower."
Guests continue to register complaints about conditions at the hotel on the union's web site.
jwojcik@pww.org
TOWN HALL May 2 – Confronting the COVID Economy: Women Fight Back