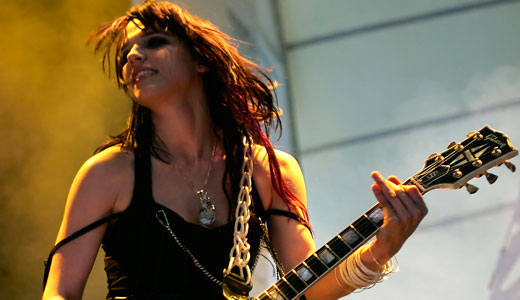 Respect. Pantera demanded it in the lyrics to their famous song, "Walk," but for many years in the metal music scene, women haven't received any of it. Once seen as novelties — and, at worst, sex symbols — talented women within this subculture were casually overlooked. But the female percentage of the metal community has contributed just as much — if not more — to the scene, and recently, for the first time, they are getting the respect they deserve.
On metal website Invisible Oranges, blogger Beth Winegarner spoke about her personal experience with her place in the metal scene, and how long of a way it has come. She remarked that after falling in love with metal, "the music I suddenly needed seemed to have no use for me. I had every right to listen to the music. But at that time especially, metal was very much a guy's world, from the take-no-prisoners music to the rigors of the mosh pit. In lyrics, women were lamented, ignored…but rarely respected.
"And at shows? Forget it. While the guys bonded over a band's riffage, I might have been a scuff on the floor. It was a shockingly long time before guys realized they weren't the only ones throwing up the horns.
"When the awareness did come, it came from the women who powered their way into the scene. As metal soldiered on, it branched out." Now, she said, things are changing for the better. "Today, operatic and folk metal bands place women front and center. Singers like Angela Gossow and Otep Shamaya have proven they can bellow with the best of them.
"That doesn't mean the sexism is gone," she advised. The rise of women in metal today has spawned a troubling dilemma, as well. It comes in the form of "The Hottest Chicks in Metal" — a feature included in popular metal magazine Revolver.
Writer and music promoter Kim Kelly explained the magazine's feature, "The idea is simple enough. Each year, Revolver publishes a collection of features focused on female bands or band members, replete with big pictures splashed across the pages. Ostensibly, the idea is to provide exposure to the women of metal, and celebrate them for their talent and brains as well as their beauty. But the ladies' backgrounds and achievements often play second fiddle to their 'dangerous curves.'
"Critics – I'm among them — ask why it is that the magazine sees the need to put together a special edition once every 12 months, rather than allocate equal coverage to begin with?
"And one of the prevailing gripes is that [people like] Amy Lee, of pop-rock band Evanescence" – who has virtually nothing to do with metal music "is representing a subculture with whom she holds no connection, while women from more legitimate and extreme metal bands are ignored." Such an approach is also "insulting to genre pioneers like Jo Bench [of death metallers Bolt Thrower] and Liz Buckingham [of Electric Wizard]."
Some female metallers, however, disagree that the Revolver feature is exploitative, and are careful to note that there are many good points to the in-magazine interviews.
Heavy metal/hard rock band Halestorm's vocalist Lzzy Hale added that she saw nothing wrong with women taking pride in their looks, either. "It was always important to me to be a woman on stage, not a girl trying to be a man. And the best part of being a woman comes with being able to play with the boys…but in stilettos," she quipped. "A lot of people don't realize the guts it takes to be a woman in metal. We have to carve our own path and make our own rules."
Still, there are many metal fans who feel that Revolver should also take extra note about what these female musicians stand for, and what they're contributing to the world. The Agonist's Alissa White-Gluz is an animal rights activist; 'Dr. Mikannibal,' of Japanese black metal band Sigh, is a saxophonist as well as an accomplished physicist currently working at the National Laboratory in the U.S., conducting research on superconductivity, feminology, and magnetism on newly synthesized materials.
"I got a PhD in physics in 2008 from the University of Tokyo, which is the best school in Japan," Mikannibal said. "And I have been playing the saxophone since I was 12 years old."
Women do now represent a sizable chunk of the metal scene – meaning that not only is this important progress, but that metal is expanding and becoming more diverse.
Kelly noted, "Women have been laying down riffs and living for metal since the beginning, but they were never as visible as they are now."
Winegarner noted to female metal fans: "Show up, rock out, and speak for your love of metal. Do it your way and don't let anyone cut you down for it. Keep an eye on women in the crowd who aren't being respected, and step in when that happens. Get involved. Make a lot of noise about bands who write music for everyone.
"And," she concluded, "make a lot of noise at bands that don't."
Photo: Lead vocalist Lzzy Hale performs with the rest of Halestorm. Though women were once underrepresented in metal, that is rapidly changing. Robert E. Klein/AP