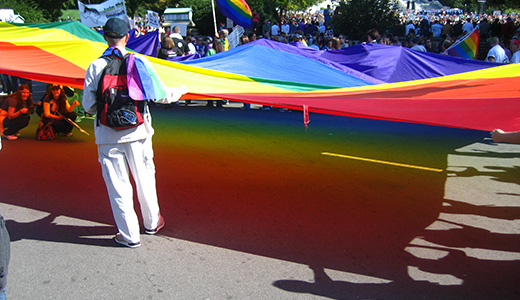 It was a celebration. It was a disappointment. It was a tearful historic victory. It was a tearful call to keep up the fight.
That's the result of the Dec. 18 Senate votes on two civil rights bills. One was the repeal of the Don't Ask, Don't Tell law that bans gays and lesbians from openly serving in the U.S. armed forces. The other was the DREAM Act, which would allow young people from immigrant families, brought to the United States without legal papers, a path to legal residence and citizenship through going to college and/or serving the country in the military.
The Senate voted by a large margin, 65-31, to repeal Don't Ask, Don't Tell. That Clinton-era law was actually a reform measure designed to weaken the military's outright ban on gays and lesbians. But the law became a vehicle for more government discrimination, and forced soldiers to lie in order to serve. Some 14,000 military personnel have been forced to leave the service because of Don't Ask, Don't Tell.
The battle to repeal DADT has been going on since its enactment in the early 1990s. It has been led by gay and lesbian GIs and veterans in the first place. Repeal gained wide support over the years, reaching into the military rank and file and top brass. The Senate vote – including among the Republicans –reflects the broad support the repeal has among the public.
The repeal of this discriminatory law is a great victory for equality and democracy in our country. It will have wide impact far beyond the ranks of the military, in expanding Americans' understanding of our shared humanity in all its diversity. It will advance other struggles for equality and human rights. And it will help achieve full equality, including marriage equality, for lesbian, gay, bisexual and transgendered Americans.
The vote on the DREAM Act, 55-14, came close to moving that landmark bill forward, but fell short of the needed 60 votes to end debate – effectively killing the bill for this session of Congress.
It achieved a historic victory though, when it was passed for the first time by the House last week.
The DREAM Act – the Development, Relief and Education for Alien Minors Act – was first introduced in 2001 as an initial step to bring some reform to a broken immigration system, and to provide hard-working, law-abiding young people a path to citizenship and a future. But with George W. Bush, Sept. 11, and the fanning of racist and anti-immigrant hysteria, the fight for progressive immigration reform and civil rights has had its ups and downs these last nine years.
Led by undocumented young people, the movement for the DREAM Act became a nationwide cause for Latino, civil rights, labor and faith groups across the country. These young people "stepped out of the shadows" and stood up – at great personal peril – for their future. In so doing, they stood up for all of America.
But right-wing groups backed by big money have used their media mouthpieces – Fox News and far-right radio – to propagate small-minded and vicious "nativist" ideas that have, unfortunately, gained currency among some of the public. Republican senators parroted these ugly falsehoods on the floor of the Senate.
These right-wingers like to fling around the word "illegal." Let's recall: It was once illegal to help a slave to freedom. It was once illegal to join a union. It was once illegal for women to vote. It was once illegal for black and white people to be together.
Let's talk, instead, about the contributions immigrants – documented and, yes, undocumented, have made and will continue to make to the United States of America. Let's talk about what's right and good for America, and make it "legal."
The Senate vote included flip-flopping by several Republicans who previously had backed the DREAM Act, but chose to block it this time. The far-right successes in November's midterm elections no doubt influenced those votes. But this movement for basic human rights is not going away, and is only gaining in strength and breadth.
Courageous immigrant young people have inspired the nation in this fight. It's up to all of us to stand up with them and continue the struggle. Their fight is our fight.
Two struggles, one goal: to make America a fairer and better country, a rainbow of equality.
Photo: National Equality March, Washington, 2009. Kyle Rush CC 2.0