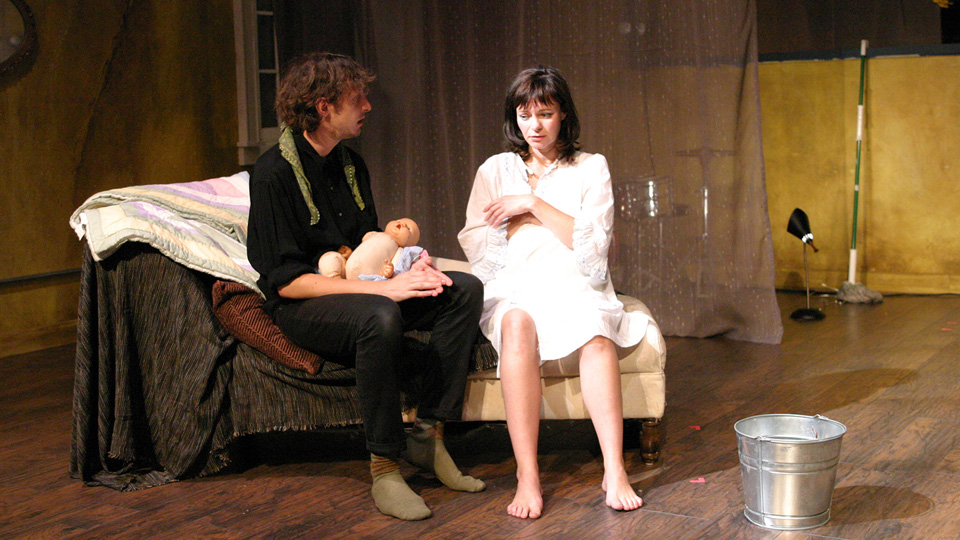 LOS ANGELES – A Taste of Honey has a fascinating and distinguished pedigree belying its humble origins. Playwright Shelagh (pronounced Sheila) Delaney was just 18 when her controversial play rocked the British theater in 1958 with its bold, honest depiction of dreary working-class life in post-war England. She wrote it in just two weeks, basing it on the draft of a novel in progress, after seeing Terence Rattigan's play Variations on a Theme, which she felt was too discreet in its depiction of homosexuality. At the time, homosexuality was against the law in England, interracial relationships were taboo, and single motherhood was stigmatized.
Delaney's play was first produced by Joan Littlewood at a small fringe theater in London, then transferred to the Wyndham's Theatre in the West End. Delaney received the New York Drama Critics' Circle Award for the play's Broadway production, which starred Angela Lansbury, Joan Plowright and Billy Dee Williams – Plowright earned a Tony for Best Actress. In 1960, Ken Russell made a BBC television documentary about Salford, the working class city in Lancashire near Manchester where Delaney grew up and where the play is set, and in 1961, the play became an award-winning film directed by Tony Richardson starring Rita Tushingham. Morrissey, lead singer of the Manchester-based band The Smiths, was smitten by the play and used quotations from it in several songs.
Delaney's focus is on Jo (Kestrel Leah), a working-class adolescent girl, and her relationships with Helen, her boozy mum (Sarah Underwood Saviano) who has a minor, though squandered singing career – Saviano is also responsible for the music and sound design, with co-designer Carlos Torres; Peter, her mother's wealthy new husband (Eric Hunicutt) and full-time partier; Jimmie, the Shakespeare-quoting black sailor by whom Jo becomes pregnant (Gerard Joseph); and Geoff (Leland Montgomery), the homosexual art student who moves into her apartment to help her through her pregnancy.
"It was one of the first plays to be called a 'kitchen sink drama,'" says director Kim Rubinstein, "yet the characters break the fourth wall to speak to the audience." But unlike her male counterparts in the theater known as the "angry young men," Delaney was not so much angry as simply unsentimental and uninterested in happy endings to placate the public. She also explored the inner lives of women more capably than her fellow male playwrights. Noël Coward saw the play – he with the self-admitted "talent to amuse" – and pronounced it "a squalid little piece about squalid and unattractive people." A generational line, and a gender line, had been crossed in this defining and taboo-breaking play of the era.
The original featured a live jazz trio, and in this production a bass player (Armando Wood) occasionally adds musical commentary, the character Jimmie sits in on drums, and Sarah Saviano, the Helen, is a concert-worthy saxophone player. With a running time of two hours and 15 minutes, in two acts, I would not at all have minded more interpolated music. Other songs appear in the script – several with racial references – and there is a steady soundtrack of familiar 1950s pop romance tunes. "Che serà" is one of those songs that keeps reprising, as if to say, In our circumstances we just somehow plod on from day to day with our drink and unfounded dreams, and whatever will be will be. Delaney was just about the same age as the young working-class men from nearby Liverpool who became the Beatles.
Although remembered perhaps by most as a "one-hit" writer, Delaney wrote other plays and short stories. Later she focused on writing screenplays for film and TV. In a biographical echo of her first play, she had one daughter and never married. She died in 2011.
The play takes place entirely inside the leaky, cold and forlorn flat Helen and Jo are seen moving into as the curtain rises. Bare lightbulbs cast a sad, lurid aura over the denizens of these grimy quarters, with a set design by Nephelie Andonyadis. No fewer than five mirrors hang on these stained walls, one of them a long affair you'd see in a theatrical dressing room, reminding Helen of the band she used to sing with. The audience can see itself in that mirror, and throughout the play the actors' movements are constantly refracted through all that glass. Denise Blasor's costume design demonstratively contrasts the unpretentious garb of unpretentious people with the flashier get-ups that Helen and her beau sport.
Jo never met her biological father (her mum's one-night stand), and had an unconventional upbringing – "too many different schools, too many different places." Coping with Helen's alcoholic personality and her undependable, spotty parenting has practically become Jo's main job. Jo has some interests in drawing and in books, but her chaotic childhood never provided sufficient opportunity to develop them. A little tenderness from Jimmie, a Woolworth's engagement ring and a promise to marry when he's home from naval duty, suffice to sweep Jo off her feet.
As for Peter, who proposes to marry Helen, Jo asks why. "He's got a wallet full of reasons," Helen answers. It seems as though Jo, and Delaney, is calling into question the very foundation of the marriage institution.
A different model of domesticity emerges in Act 2, when we meet Geoffrey, a homosexual art student who genuinely cares for Jo and wants to be a father to the forthcoming baby. He has become the "nanny" of the household, cleaning, cooking, ironing, artistically making do with few resources. He even proposes to marry Jo. Delaney was not only rejecting the simpy, pitiful image of the homosexual she found in the theatre of her time, she was creating a warm, positive, fully rounded character, actually the only one of the play's five characters who lives by his commitments. Jimmie is supposedly a prince as the son of an African chief, but it is the unflappable, conscientious Geoff who acts nobly.
Though it may be little, Jo says, we share everything. "We're communists, too," she adds, probably meaning living communally more than their party affiliation, but nevertheless a noteworthy remark in the 1950s.
Director Kim Rubinstein has done a fine job with her wonderful cast. She has kept the play in its period, and yet the period is perennial and its characters are timeless. That is the nature of a classic. And yet, there is the question of accents that hovers over every play set in a specific place and time. An audience also expects to be able to understand words spoken in its own language. The Irish playwright George Bernard Shaw once remarked, "England and America are two countries divided by a common language." In this case, the laudable desire to capture a Lancashire dialect overpowered intelligibility for this audience member. We missed a lot of dialogue.
The very concept of time seems to simultaneously expand and conflate when you consider that the Odyssey Theatre Ensemble opened its doors in 1969, only 11 years after A Taste of Honey premiered in London. The company is emphatically one of our theatrical jewels.
A Taste of Honey plays through Nov. 27: Weds. at 8 pm, Oct. 19, Nov. 9 only; Thurs. at 8 pm, Oct. 13, 27, Nov. 3 only; Fri. at 8 pm, Oct. 14, 21, 28, Nov. 4, 11, 18, 25; Sat. at 8 pm, Oct. 15, 22, 29, Nov. 5, 12, 19, 26; Sun. at 2 pm, Oct. 16, 23, 30, Nov. 6, 13, 20, 27.
Post-show discussions with the cast are scheduled on Oct. 13 and 28. The third Fri. of every month is wine night at the Odyssey: enjoy complimentary wine and snacks and mingle with the cast after the show on Oct. 21 and Nov. 18. "Tix for $10" on Oct.19 and Nov. 3.
The Odyssey Theatre is located at 2055 S. Sepulveda Blvd., Los Angeles 90025. For tickets and information contact (310) 477-2055×2 or www.OdysseyTheatre.com.