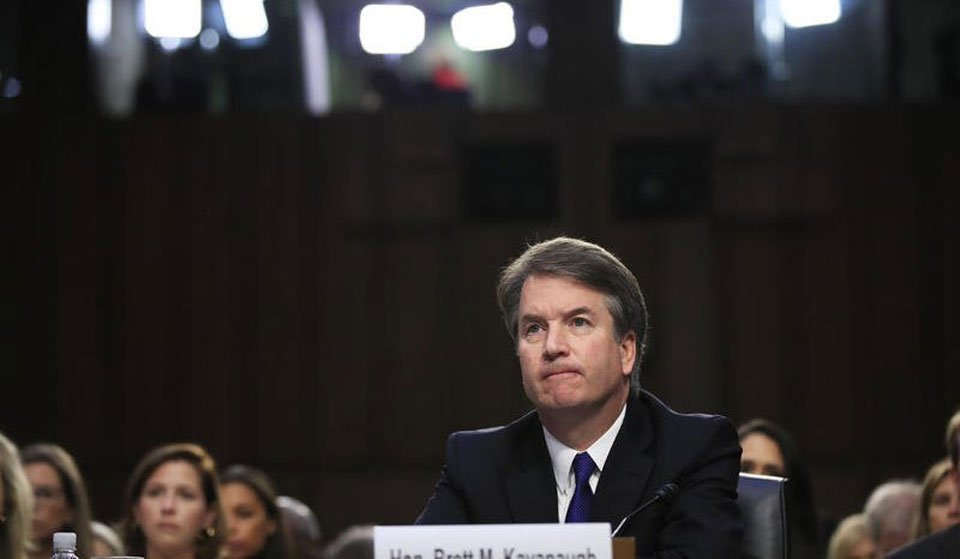 WASHINGTON—Saying federal judge Brett Kavanaugh cares more about gun rights than about kids' safety, more about the right wing than civil rights, and cares little about workers' rights, a union teacher, a survivor of the Valentine's Day high school massacre in Florida and the chair of the Congressional Black Caucus all urged senators to reject Donald Trump's pick of Kavanaugh for the U.S. Supreme Court.
But it's unlikely the Republican majority on the Senate Judiciary Committee will listen to Oklahoma City Federation of Teachers member Melissa Smith, Marjory Stoneman Douglass High School senior Aalayah Eastmond, or Rep. Cedric Richmond, D-La. Instead, those senators appear hell-bent to force through a party-line vote approving Kavanaugh, before the end of September.
Smith, Eastmond and Richmond were among public witnesses relegated to the fourth and final day of Judiciary Committee hearings on Trump's nomination of Kavanaugh to take the vacant seat on the U.S. Supreme Court. Senators thanked the witnesses on September 7, but none seemed to change their minds.
Instead, Trump and the Senate's ruling Republicans want to put Kavanaugh on the High Court bench before the court starts its new term on October 1. That would cement the court's 5-man GOP-named right-wing majority. Smith, Eastmond and Richmond don't.
Eastmond told the senators she owes her life during the February 14 massacre to the fact she was able to fall under fellow student Nicholas Dworet as the bullets flew. Dworet was one of 14 students and three teachers – all American Federation of Teachers members – murdered in the massacre.
Ever since then, Eastmond added in her prepared remarks, she "works across the country to help amplify the voices of young people – and particularly young people in communities of color – whose day-to-day experience with gun violence is always ignored, mischaracterized, marginalized and minimalized by the press, the public and the corporate gun lobby."
She was even blunter responding to a question from Sen. Cory Booker, D-N.J.: "I want Congress to focus on youth from black and brown communities, because their lives are being taken away by gun violence every day. Next year, I'll be 18, and I could go get an assault rifle. Why would I need that?" The murderer at her high school used an AR-15 assault rifle.
Kavanaugh supports such assault weapons, according to an analysis of his rulings by the Leadership Conference on Civil and Human Rights. After the Supreme Court approved unlimited rights to bear handguns, the same gun owner tried to get the courts to OK assault weapons, too. Kavanaugh's court, the D.C. Circuit Court of Appeals, said "no," by 2-1. All three judges were GOP appointees, and two ruled against unlimited assault weapons. Kavanaugh was for them.
​"There is no meaningful or persuasive constitutional distinction between semi-automatic handguns and semi-automatic rifles,​" Kavanaugh wrote. "It is troubling that Judge Kavanaugh sees no difference between assault weapons and handguns, and it is a strong indication that he, like President Trump, will cater to the gun lobby," the Leadership Conference added.
"As you make your final decision," Eastmond urged the senators, "think about it as if you had to justify and defend your choice to those we lost to gun violence. Kavanaugh doesn't even have the decency to shake hands with the father (Fred Guttenberg) of a (Douglass) victim," Guttenberg's daughter, Jamie.
Eastmond's conclusion? Kavanaugh "definitely won't have the decency to make life-changing decisions affecting real people."
Smith and Richmond also emphasized the impact of Kavanaugh's right-wing views – which he would bring to the bench – on everyone else. Smith told Sen. Richard Blumenthal, D-Conn., that Kavanaugh "has publically spoken in support of school vouchers. That's a real concern we have."
Led by Trump Education Secretary Elizabeth "Betsy" DeVos, voucher advocates want to give taxpayer-paid funds to parents of private-school kids, and yank needed money away from public schools, Smith noted. Left unsaid: Public schools educate 90 percent of U.S. students, most now members of minorities, and three-fourths of U.S. teachers are unionized. Trump hates minorities; DeVos hates unions.
Smith, a former probation and parole officer, quickly realized the youth she dealt with didn't know their rights. She now teaches rights and responsibilities of citizenship in high school social studies in Oklahoma City.
But state budget cuts and lack of revenues led to 2,000 students – often 40 or more in a classroom – in her school, built for 1,200, Smith explained. There's no maintenance, because the workers were let go, and indoor temperatures often reach 90 degrees or more. The air conditioning works fitfully.
The budget cuts also forced tens of thousands of Oklahoma teachers, including at her school district, out on strike several months ago, in a deep-red right-to-work state. Smith mentioned the strike and said the legislature tried to mollify teachers with a $6,000 pay raise alone. That didn't work. And vouchers, which Kavanaugh supports, would make the situation even worse for teachers and students, Smith said.
"Despite the incredible need for resources in a school like mine, Judge Kavanaugh has for over 20 years taken public positions questioning the very foundations of public education and supporting private school voucher programs using public funding with very little oversight," she said.
But the second reason Smith – and her union – opposes Kavanaugh is because unions give teachers, including Oklahoma City teachers, the power to fight back.
"As we saw in the Janus vs AFSCME decision, the Supreme Court has enormous power to limit the ability of hard-working Americans to come together in strong unions to bargain for fair wages, equal pay for women and people of color, decent benefits and a voice on the job."
"Kavanaugh has a history of siding with big business over the needs, rights and safety of individual employees. His record shows he sides with employers who do not adhere to their collective bargaining agreement, does not believe in union representation in employee meetings and, in one decision, would allow the employer 'abolish collective bargaining altogether.'"
That case involved Defense Department civilian workers and a Bush administration-imposed pay and evaluation system that would have given almost total power to DOD bosses, with limited worker appeal rights. Unions which had federal workers, including AFT – which represented some DOD school teachers – fought the system in court. Kavanaugh ruled against them.
But it's not just workers' rights that concerned Smith. It's her students. She and her union wind up fighting for both – because they're the same. Kavanaugh, she said, would be an obstacle, or worse.
That includes gun safety, she noted.
"I have sat in a classroom on lockdown because a student brought a loaded .380 gun into the school…Nobody should have to experience the terror of guns in their school building. Yet Judge Kavanaugh could stand as a barrier to common-sense gun safety reforms that would keep our schools and communities safe."
"Judge Kavanaugh's record indicated he is not likely to take public safety into consideration when deciding if a gun violence prevention law is constitutional. This terrifies me."
It also terrifies other teachers nationwide, who strenuously oppose efforts by Kavanaugh's sponsor, Trump, and the gun lobby to arm teachers in all schools.
Kavanaugh, and other Trump judicial appointments – who are even worse – are also a threat to hard-won civil rights advances, Richmond, who represents New Orleans, told the senators.
"The High Court has acted when Congress has failed to," on civil rights and equal rights, he explained. Without its rulings, "African-Americans wouldn't be able to attend integrated schools, own a home previously owned by a white person or sleep at certain hotels."
"Kavanaugh's confirmation would fortify a generation of destructive conservative ideology at a time when several historically significant legal challenges will come before the High Court," he warned.
In particular, he cited Kavanaugh's ruling for South Carolina's so-called "voter ID" law, which disproportionately tossed African-Americans off the rolls. Kavanaugh said the law "does not have the effects some expected and some feared." That's "inexplicably tone-deaf and inconsistent with reality," Richmond said. That Kavanaugh attitude would extend, he added, to many aspects of every-day life for African-Americans.
In a speech three years ago, "Mr. Kavanaugh ironically quipped" judges "should check political allegiances at the door. Unfortunately, after thorough review of what little" of Kavanaugh's records "has been made available, we concluded that nearly every decision and dissent he has written is reflective of a jurist who overwhelmingly serves as a partisan activist."