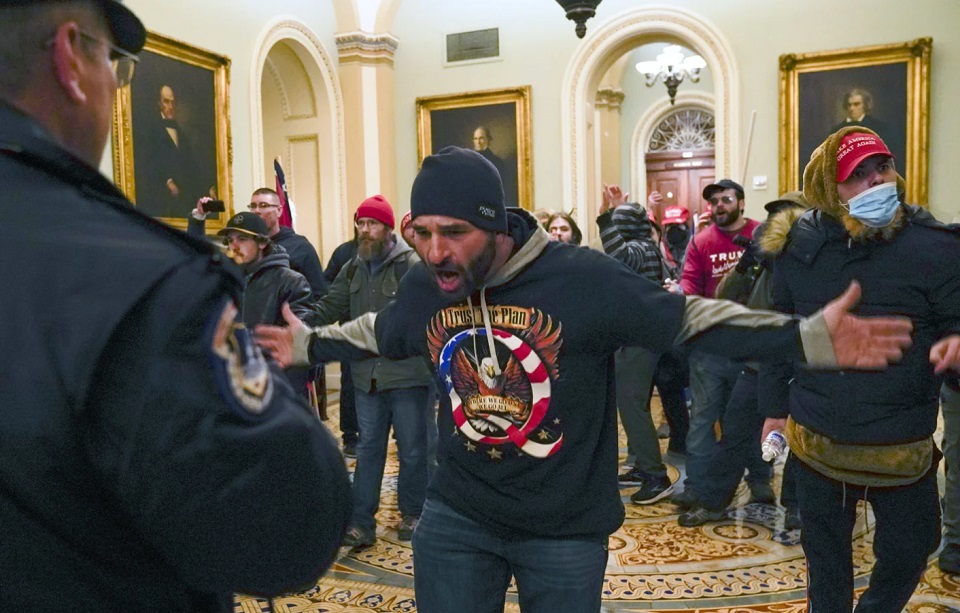 WASHINGTON—The prosecutorial nets are closing around former Republican Oval Office occupant Donald Trump for his role in commanding, aiding and abetting the Jan. 6, 2021, invasion, insurrection, and coup d'état attempt at the U.S. Capitol.
The biggest net was cast by Justice Department Special Counsel Jack Smith. He sent a letter to Trump and his lawyers informing the former White House denizen he's a formal target of the D.C. grand jury's investigation into the invasion. Even Trump recognized the letter could be a prelude to an indictment.
In a long ranting statement on his Truth Social platform, Trump declared "Deranged Jack Smith" gave him "a very short 4 days to report to the Grand Jury, which almost always means an Arrest and Indictment." Neither Trump nor the Justice Department released the letter's text.
Neither Trump nor Smith said what charges would be lodged against Trump, but Rolling Stone reported the D.C. grand jury, using evidence and testimony Smith has presented, plans to indict Trump on obstruction of justice, conspiracy to defraud the United States, and unspecified civil rights violations.
Republicans who literally ran for their lives from the angry Trump mobs who broke into the Capitol on Jan. 6 are still running, only this time from their oaths to preserve and protect the U.S. Constitution. They refuse to break with the former president as indictments for his crimes continue to pile up.
The piling up of indictments of Trump, including the latest news that he is about to be indicted for his role in the infamous Jan. 6 coup, is not changing minds among the GOP lawmakers who, by and large, continue to stick like glue to the former president.
As a group they ran from him and his fascist mobs on Jan. 6. Today they continue to run but this time they run away from their constitutional duties.
House Majority Leader Kevin McCarthy flipped from condemning Trump the day of the attack on the Capitol to now condemning the Justice Department for prosecuting a criminal ex-president.
The Trump mobs followed their leader, Donald Trump, by ignoring the fact that Biden won the election by 8 million votes and by a big margin in the electoral college. They broke into the Capitol to overturn the process of certification of the election and wreaked death and destruction that day. GOP lawmakers have yet to come clean and stop their complacency in the big lie that Trump had won the election.
Instead, Kevin McCarthy and the others have set up green lights all around the Capitol saying, in effect, that it would be OK for the attack and attacks like it to happen all over again. They are also green lights for fascists making their moves to take over the government on all levels.
Former Vice President Pence and the GOP folks running against Trump are also, at best, cowards who refuse to really come out against Trump.
Even Pence, who did the right thing that day by not rejecting legitimate electoral college votes, refuses to call what happened on Jan. 6 an insurrection. (He should hardly be called a hero, in any case, for simply doing his job that day.)
Ron DeSantis speaks out against what he calls Justice Department persecution of Trump in a stupid attempt to campaign against Trump on the one hand and please the fascists in Trump's base on the other hand.
Trump's likely grand jury appearance for the third serious indictments regarding the coup is not the only prosecutorial net he and his acolytes face. Others include:
Michigan Attorney General Dana Nessel charged all 16 of Trump's fake electors in that key swing state on eight criminal counts, led by two counts each of forgery and election law forgery and one each of conspiracy to commit those offenses. Those charged include Michigan Republican National Committeewoman Kathy Berden and former Republican state co-chair Meshawn Maddock.
"The false electors' actions undermined the public's faith in the integrity of our elections and, we believe, also plainly violated the laws by which we administer our elections in Michigan," Nessel said in a statement.
The Michigan indictments mark the first such moves in the probe of Trump's second scheme, before the invasion, to unconstitutionally overturn the 2020 election results and return himself to the White House.
Trump's fake electors scheme, which he also attempted to impose in the other key swing states of Arizona, Pennsylvania, Wisconsin, Georgia, and Nevada, was one of his first two plans to unconstitutionally retain the presidency. The invasion was the third.
Trump and his advisers hatched the fake electors scheme from a post-election "war room" in D.C.'s Willard Hotel. It failed when Vice President Mike Pence, presiding over the electoral vote count just as the invasion unfolded, refused to accept the fake electors' ballots.
Fulton County (Atlanta) District Attorney Fani Willis has announced an end-of-August deadline to have a grand jury there issue indictments in Trump's scheme to steal the Peach State's 15 electoral votes by having Secretary of State Brad Raffensperger "find" 11,780 non-existent popular votes to give Trump a one-vote victory there.
The Fulton County grand jury has also quizzed the Trumpite fake electors there, as well as top Trump advisers. One is his consigliere, Rudy Giuliani, who testified in an open Georgia legislative session that votes were stolen in Georgia when they weren't. Giuliani also ran the "war room" where the fake electors scheme was hatched. Giuliani has since had his law license suspended.
U.S. District Judge Aileen Cannon in Fort Pierce, Fla., was very skeptical on July 16 of Trump's try to indefinitely postpone his trial on the indictment Smith already filed against him, for purloining top-secret papers from the White House.
As the Republican front-runner for 2024, Trump wants the trial put off indefinitely. His Truth Social rant about Smith's letter reiterates his claim that he leads Democratic President Joe Biden in the 2024 race. Opinion polls about a head-to-head Biden-Trump rerun show Biden winning.
Prosecutors opposed Trump's postponement plan. "Mr. Trump is not the president. He is a private citizen," prosecutor David Harbach told the judge. "He is no different from any other very important person who has been indicted."
The purloined papers include a Pentagon plan for war on Iran. Trump took them to his Mar-a-Lago estate and later flourished the war plan while talking with aides and two visitors at his New Jersey golf club. When FBI agents, armed with a subpoena, arrived at Mar-a-Lago to get the papers, he shuffled them around, trying to hide them.
Trump also faces trial in New York City for a hush money payment, disguised on his development company's corporate books, to his former attorney to be passed on to stripper Stormy Daniels during the 2016 campaign, in order to shut her up.
Trump's long rant on Truth Social accused "Biden's Attorney General, Merrick Garland…together with Biden's Department of Injustice, have effectively issued a third Arrest and Indictment of Joe Biden's NUMBER ONE POLITICAL OPPONENT, who is largely dominating him in the race for the Presidency. Nothing like this has ever happened in our country before, or even close." (Emphasis his).
After running through a range of his electoral grievances, stretching all the way back to his 2016 campaign against, and including, Democratic nominee Hillary Clinton, Trump concluded, in capital letters: "THIS WITCH HUNT IS ALL ABOUT ELECTION INTERFERENCE AND COMPLETE AND TOTAL POLITICAL WEAPONIZATION OF LAW ENFORCEMENT."
By contrast to all the drama around Trump's trying to steal the election, Senate Democrats unveiled plans to again vote on legislation to halt the electoral abuses and repression that swirled around the country even before Trump's coup plots. Good government groups and civil rights leaders, whose constituents of color are victims of such Jim Crow-era repression, welcomed the coming vote. Senate Republican filibuster threats killed such legislation in the last Congress.
"These attacks demand a federal response," said Sen. Amy Klobuchar, DFL-Minn. "The Freedom To Vote Act will set basic national standards to make sure all Americans can cast their ballots in the way that works best for them, regardless of what ZIP code they live in.
"This bill will ensure Americans can request a mail-in ballot and have access to drop boxes, have at least two weeks of early voting, and can register to vote on Election Day. It's past time for Congress to act and protect Americans' freedom to vote."
"It has been 10 years since the Supreme Court gutted voting rights, and two years since a president attempted to overturn the will of voters to remain in power," Public Citizen Executive Vice President Lisa Gilbert said of Trump's coup tries and incitement of the insurrection.
"Between the Shelby v. Holder" decision by the Supreme Court's Republican-named majority, gutting the Voting Rights Act, "and extremists in Congress and state houses—supported by wealthy interests who don't want democracy—we are in dangerous territory. We must enshrine our democratic freedoms in federal legislation that would blunt the multipronged attacks on our democracy."
We hope you appreciated this article. At 

People's World

, we believe news and information should be free and accessible to all, but we need your help. Our journalism is free of corporate influence and paywalls because we are totally reader-supported. Only you, our readers and supporters, make this possible. If you enjoy reading 

People's World

 and the stories we bring you, please 

support our work by donating or becoming a monthly sustainer today

. Thank you!