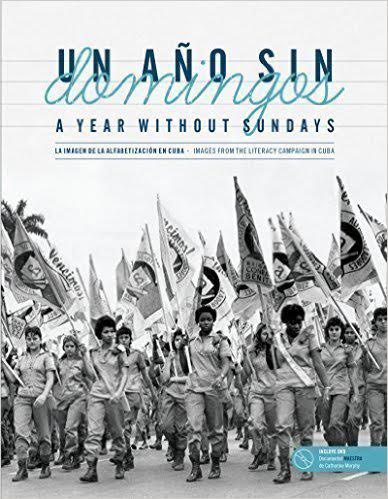 A modern day activist for social change often dreams of that day when all the hard work of struggle comes to fruition, and the opportunity to make the world anew finally arises. What is the first issue you might identify to set to rights? Equal income? Gender equity? Expanded suffrage?
"Un Año Sin Domingos/A Year Without Sundays: Images from the literacy campaign in Cuba" is a book which examines the record of a country taking on this question, drawing on photos, interviews, and archival material that illustrate the excitement of building a society created by its people.
It was 1961, and a new Cuba looked out on a fresh beginning. With Batista and his cronies out of power, new opportunities opened up to create a democratic society, however Cuba still faced deep-seated issues which could prove to be barriers to participation.
As a consequence of the previous government's deprioritization of education for working-class and rural people, Cuba faced a daunting statistic – 14 percent of the population could not read or write.
As early as 1959, Fidel Castro issued a call to young Cubans asking them to join in helping to eradicate illiteracy. Students as young as 12, drawn largely from the more educated urban population, signed on to train as teachers. This structure, drawing the urban population into more contact with the rural and working class populations, was also meant to help break down the social barriers that were an artifact of the previous regime.
Engaging in eradicating illiteracy to advance the people of Cuba created a sense of solidarity and served as an organizing task that brought thousands of people into contact with the revolution. It channeled the energy of young Cubans who wanted to have a hand in helping to remake society – in all, the teaching force grew to 268,420 teachers.
The teachers (maestras) were organized into brigades, and were trained to teach simple reading and writing, with texts prepared by the campaign. Skills in first aid were also provided, as well as basic instruction from psychologists in working with people with barriers to literacy. Cubans with vision problems that prevented them from reading and writing were even tested by ophthalmologists and given free prescription glasses.
A census drive was also performed to take a count of every single Cuban, to identify people who needed to learn how to read. The young teachers then travelled to serve those people, even in the remotest areas of Cuba. During the day the teachers helped with the everyday chores of the village and at night, taught reading and writing.
Teachers, some never having been more than an hour away from home before, were housed with their students when possible. As part of the experience, teachers lived life along with their students, washing clothes by hand, drinking from rivers, and travelling by horseback.
While Cuba turned energy inward to create a better future, the country was also expending energy on defense against counter-revolutionaries and their foreign allies. Teachers recount how, while carrying out the literacy campaign, they watched as a U.S. Destroyer approached the shores of Playa Girón, which signaled the advent of the Bay of Pigs invasion.
Meanwhile, counter-revolutionaries brought threat from within, identifying brigade teachers and taking them out and lynching them. Despite this, the campaign pressed on, each region which eradicated illiteracy would report to the project and a national announcement would celebrate each milestone.
Before the literacy campaign, 14 percent of Cuba was illiterate, which totaled 979,207 people. At the end of the year without Sundays, illiteracy had been reduced to 3.9 percent of the population.
The book "Un Año Sin Domingos/A Year Without Sundays" consists of essays, paired with texts (all bilingual Spanish/English) taken from interviews from Catharine Murphy's documentary film on the literacy campaign "Maestra." It is richly illustrated with photos and posters that echo the tone of the New Deal's Works Project Administration in documenting the rebuilding of Cuba.
A Year without Sundays: Images from the Literacy Campaign in Cuba / Un Año sin Domingos: La Imagen de la Alfabetizacion en Cuba
By Catharine Murphy & Carlos Torres Cairo
Ediciones Aurelia and The Literacy Project, 2014
132 pages and DVD