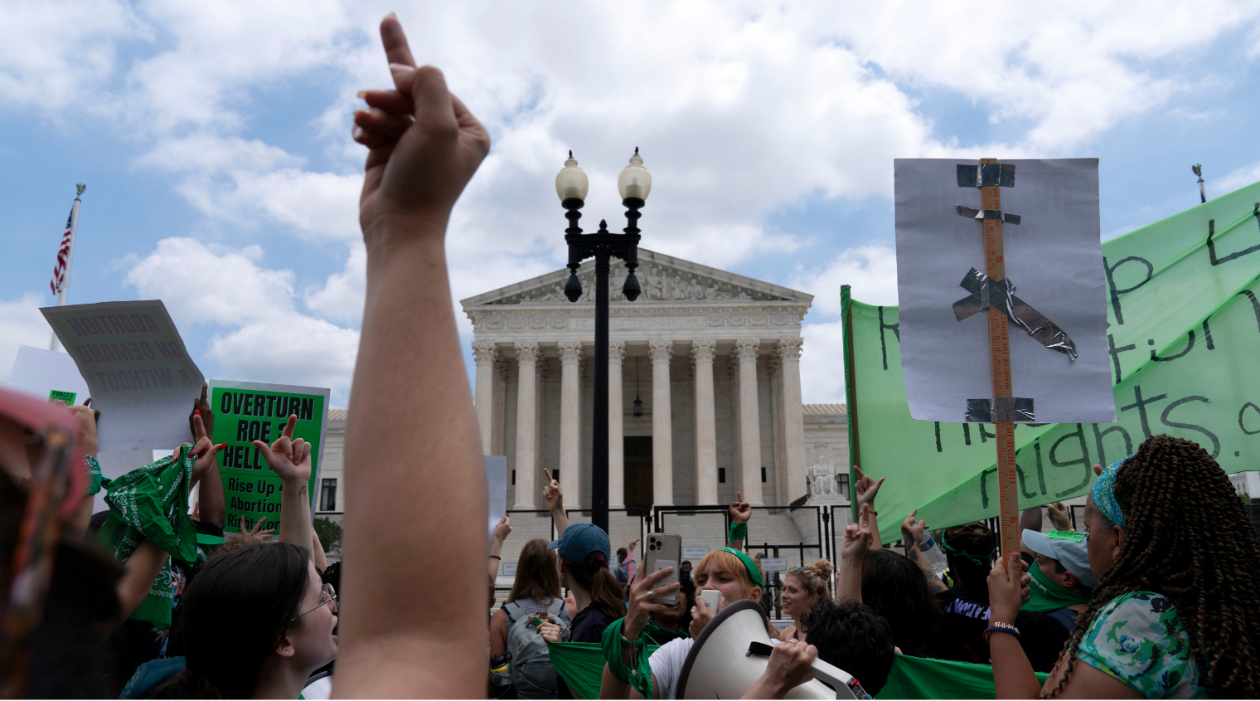 WASHINGTON—Outrage, uproar, dismay, fear—and a determination to fight back to protect women's constitutional rights against a radical right-wing Supreme Court majority that outlawed abortion.
That about sums up the reactions of hundreds of thousands of people who took to the streets, or are still doing so, according to one group mobilizing protests, in the wake of the Supreme Court's 5-4 decision deleting the constitutional right to abortion on June 24.
Organizations—from NARAL, the AFL-CIO, and the Coalition of Labor Union Women to Pride At Work and the Communist Party, protested and mobilized, too. MoveOn held a nationwide call-in on June 26 to discuss strategy.
The presidents of the nation's two largest unions, Becky Pringle of the National Education Association and Mary Kay Henry of the Service Employees, also made the linkage between the High Court's ruling and the aims of the right-wing corporate class. One Trumpite lawmaker, Rep. Mary Miller, R-Ill., called the ruling a victory for white supremacy, too.
"This reckless decision is yet another example of the nation's highest court jettisoning its own precedent to cater to powerful right-wing and corporate interests while rolling back the rights of working people," said Henry.
"These attacks on our freedoms" including the right to abortion, the right to vote, and the right to unionize "are designed to do one thing—consolidate unfettered power into the hands of a few. We must stand up for all of our rights," Pringle declared. That means mobilizing and especially voting this fall, she added.
LGBTQ people and groups feared they're the court's next target, as Justice Clarence Thomas—who named Justice Samuel Alito to write the Republican-named majority's ruling—said the court should now revisit its prior decisions for validating marriage equality, contraception, and homosexuality.
Alito also loftily proclaimed state legislatures should decide the right to abortion. His "states' rights" argument prompted one Black woman protester outside the Supreme Court on the evening of June 24 to hand-draw a sign: "States rights produced slavery."
The High Court protest was one of hundreds around the U.S. Just one coalition, We Won't Go Back, listed 115 protests—and counting—on its website.
AFL-CIO President Liz Shuler called the Court's ruling "a devastating blow to working women and families across this country.
"We strongly believe everyone should have control over their own bodies, including decisions over their personal reproductive health care. At a time when we should be focused on expanding equity for all working people, particularly for marginalized communities disproportionately impacted by the pandemic, this ruling will only deepen racial and economic disparities."
Shuler, too, focused on the threat to other rights.
"This is just the latest in a harmful string of attacks on our fundamental rights, including the right to vote and to collectively bargain in the workplace, and points to an alarming trend that other well-settled rights like marriage equality may be taken away," she said.
Left unmentioned in her statement: Justice Alito is infamous for attacking unions, and authored the court's 5-4 Janus ruling several years ago, also on party lines, declaring every state and local government worker in the nation a potential "free rider" able to use union protections and services without paying one red cent for them.
Janus overturned 41 years of settled labor law. Alito's decision in this Dobbs case, pitting Mississippi's last abortion clinic against the deep-red state's anti-abortion law, ended 49 years of settled law. Shuler, like others, said Alito and the right-wingers aren't done.
"The current conservative majority of the Supreme Court is bent on limiting bodily autonomy, freedom, and self-determination to a select few, and that is fundamentally undemocratic. America's unions remain committed to the fight for gender justice and economic equity for all people," she declared.
NARAL Pro-Choice America President Mini Timmaraju warned the "anti-choice movement and its political allies want to enact a nationwide ban." She made it clear one big route of resistance is the ballot box.
"This decision is the worst-case scenario, but it is not the end of this fight," she declared. "The eight in 10 Americans who support the legal right to abortion will not let this stand. There is an election in November, and extremist politicians will learn: When you come for our rights, we come for your seats."
Even before the Court's official ruling, when Alito's anti-abortion draft leaked in May, NARAL, the Planned Parenthood Action Fund, and Emily's List decided "to collectively spend a historic $150 million on the 2022 midterms to ensure the election of reproductive freedom champions up and down the ballot.
"The stakes are higher than ever," NARAL said after the ruling. "Members will be mobilizing from now until Election Day and beyond to ensure our leaders reflect the values" of the country's majority.
Meanwhile, Timmaraju said, "The impact on the real lives of real people will be devastating. The Supreme Court has given the green light to extremist state lawmakers who will waste no time springing into action to put in place total bans on abortion."
CLUW, too, sees the ballot box as a key to resistance, President Elise Bryant, a Washington-Baltimore News Guild executive board member, said. "No Justice, No Peace!!" its statement headlined.
"Consider yourself warned!!" she told anti-abortion lawmakers, especially the senators who voted to put the three Trump-named justices on the Supreme Court, as their votes were key to deleting the constitutional right to abortion.
"There is an old saying that goes, 'Hell hath no fury like a woman scorned.' We say, 'Hell hath no fury like pro-choice women at the ballot box!'
"We will march, we will protest—and most importantly, we will vote!! We will mobilize millions of women across the country to exercise their right to vote out any elected official who stands in the way of our freedom to choose what happens in our bodies!"
Pride@Work Executive Director Jerame Davis said Congress is one path of resistance. If it refuses to protect women and others, including LGBTQ people, hit the ballot box.
"The extremist majority on the Court…is willing to overlook decades of precedent to set aside the right to choose, and clearly shows where their future intentions lie. Obergefell, which legalized marriage equality nationwide, which was only decided less than a decade ago, is clearly in the crosshairs."
Davis cited Thomas's statement the Court should revisit its 2003 ban on "draconian sodomy laws." Even after that decision, 15 states kept their oral and anal sex bans on the books. "We can't predict how future cases will be decided by this Court, but this bombshell ruling makes clear that nothing is safe from this radical conservative majority.
"We must fight back now," he said, vowing Pride@Work, the AFL-CIO's LGBTQ constituency group, "will fight every day until the right to choose is codified into law nationwide. Congress must act to protect access to abortion. If they won't, then this November we must elect a Congress that will."
In a statement issued immediately after the ruling on Friday, the Communist Party USA pointed out, "A woman may not get an abortion in Texas, but a resident of New York can. Just as where you live determines whether you can vote with ease, breathe fresh air, access Medicaid, or have your children attend a well-funded school, the same is now true regarding abortion rights."
It said, "Human rights in this country have never been universal, and the Dobbs decision highlights this fact even further."
Laura Dewey, a leader of the CPUSA's Michigan district, pointed to the 2022 elections as a frontline in the battle to stop the anti-abortion assault. She said, "We must help build the biggest backlash against the far right, one far larger than the right-wing backlash against Obama's election, one comparable to the women's uprising after Trump's election. We need to be in the streets in the coming months and at the polling booths in November."
Dewey called the decision "fascistic" in nature and connected it to other aspects of extremist Republican policy. "Along with the police violence against and the mass incarceration of Black and brown people and the wave of anti-voting laws, the reversal of Roe v. Wade signals the right's determination to control and suppress human beings. It may very well be a sign of fascism to come unless we the people halt this frightening trend."
"I have felt scared…scared for myself, my children, all the generations whose rights were taken away by this extremist court," MoveOn Executive Director Rahnda Epting told her organization's national call-in.
"Most of all, I have felt rage—outraged at these extremist judges who have trampled over the will of the majority. But we cannot allow our anger, our sorrow, our fear to let us give in. The stripping away of our rights is not permanent, only if we let it. There are more of us than there are of them…This ruling is only permanent if we allow it to be.
"Refuse to be silent. Do not go on with your daily business as usual…Do whatever we can in your humanly power to fight back."
"To all women: I'm so sorry that this extreme court would vote to give a rapist more power over you than you have over your own body," said the Rev. William Barber II, co-chair of the Poor People's Campaign.
"In response to attacks on the poor, voting rights, living wages, and now women's bodies, the justice community's response must be the most massive progressive voter turnout in the history of the nation.
"We must ensure extremist House members and senators remain in the voting minority. We must demand Congress act legislatively. And we must seriously consider expanding the Court because of the way Republicans cheated to make the court as it is.
"The nation's 140 poor and low-income people, including 74 million women and girls, have been sounding this alarm, particularly in the South, in the face of an all-out-attack by this court and extremist legislatures across this country." Poor women, women of color, and transgender and gender non-confirming people will get hit the worst, Barber pointed out. They all "already face increased healthcare disparities and economic insecurity."
In 20 states, anti-abortion laws—some on the books for decades, but inactive—either took effect or will soon. One, NPR reported, dates to 1849. In 13 states, abortion will be banned within 30 days, as "trigger bans" are in place that were designed to take effect as soon as Roe was overturned, he added.
In his ruling, Alito also compared the original abortion decision, Roe v. Wade, to the 1896 case which legalized Jim Crow, Plessy v. Ferguson. Barber called that "an audacious abomination of legal history.
"Plessy was a racist restriction of the rights we are entitled to. Roe was an historic expansion of those rights. The parallel historical legal precedent" is the Court's infamous 1857 decision against Dred Scott, "which asserted that slaves born in this country had no rights that white men—and white supremacist systems of power—were bound to respect."
Many unions also blasted the High Court's ruling. Teachers (AFT) President Randi Weingarten linked it to two other Supreme Court decisions the same week. One gave gun owners unlimited rights to carry weapons to shoot people. The other "took away the rights of those who rely on the constitutional separation of church and state to freely practice religion" by extending taxpayer-paid vouchers to religious schools.
"In the span of one week, an extremist-dominated Supreme Court decided it has the authority to divine who in America has rights and freedoms and who does not," Weingarten, a New York City civics teacher who also has a law decree, declared.
"In the span of 24 hours, this court ruled states can't regulate gun owners but can regulate the bodies of anyone who can reproduce. This revanchist view of their authority by extremist judges is a threat to freedom everywhere. Whose freedom is the Supreme Court coming for next? Justice Clarence Thomas already has a pen aimed at marriage, contraception, and more."
Retail, Wholesale, and Department Store Union President Stuart Applebaum extended the right wing's threat to every freedom we enjoy.
The abortion ban is "a wakeup call that every one of our freedoms is at risk. We cannot delude ourselves into believing that something can't happen here—because it is happening right now, and it happened today. Each of us needs to stand up and join together collectively to protect our freedoms," he said.
The Office and Professional Employees pledged "to continue fighting for reproductive justice and economic equity for all." It was one of several organizations declaring the ruling would hit hardest at working women, "low-income women, and gender-oppressed people and result in financial insecurity for so many.
"This is the latest in a long list of recent attacks on the fundamental rights of working people in this nation," OPEIU said.
The Communications Workers' Women's Committee said the abortion ban "is a continuation of" the right-wing court majority's "ideologically-driven agenda at the expense of working people.
"Without the ability to make their own choices about reproductive healthcare, and in a country where pregnancy can have devastating economic effects due to pervasive discrimination and the lack of affordable healthcare or paid parental live, working class women are the ones who will suffer the most."
Back when the Association of Flight Attendants was founded 75 years ago, airlines could drastically discriminate against workers, especially woman flight attendants, said AFA-CWA President Sara Nelson. They hired only "white, single childless women under 32" of specific heights and weights. If the women gained a few pounds or, worse, got pregnant, they got fired. AFA-CWA's first fights with airlines were over those restrictions.
Now, with threats from the High Court majority looming to LGBTQ people, voting rights, civil rights, workers' rights, marriage rights, and even birth control, Nelson not only vows to mobilize her union's members for the fight, but demands the airline bosses—management—step up, too.
"The right for each of us to make our own choices about our jobs, our bodies, and our futures is fundamental. That includes the right to protect safe, legal options to anyone who seeks reproductive healthcare. The justices will not stop here. They already gutted the right to vote, and our right to fair elections free of corporate influence. Our union will continue fighting for equality and freedom for all.
"This reckless decision is yet another example of the nation's highest court jettisoning its own precedent to cater to powerful right-wing and corporate interests while rolling back the rights of working people," Service Employees President Henry added.
"Over the last few years, we have seen the same faction of politicians working overtime to reverse decades of progress on racial justice, on women's rights, on worker's rights, on LGBTQ+ rights, on voting rights, on our right to privacy, and on our students' freedom to learn in our public schools," said NEA's Pringle.
Needless to say, anti-abortionists cheered the ruling. The D.C. police mobilized their force to keep separate anti-abortionists—who were cracking open champagne bottles in glee—and pro-abortionists in front of the High Court.
And former Republican Oval Office occupant Donald Trump, who named the three right-wing justices whose votes ended the constitutional right to abortion—Amy Coney Barrett, Neil Gorsuch, and Brett Kavanaugh—took time out to gloat and pat himself on the back for those appointments at a rally in Mendon, Ill., on Saturday.
Standing next to Trump, Republican Rep. Mary Miller of Illinois praised the former president and the Court's ruling with remarks that raised accusations that her speech openly endorsed white supremacy. "President Trump, on behalf of all the MAGA patriots in America, I want to thank you for the historic victory for white life in the Supreme Court yesterday," Miller said to applause.
Her office later claimed that Miller meant to say a victory for "the right to life." Miller faces a challenger in the upcoming Republican primary in Illinois, but she carries Trump's anointment and the support of the party's extremist base.