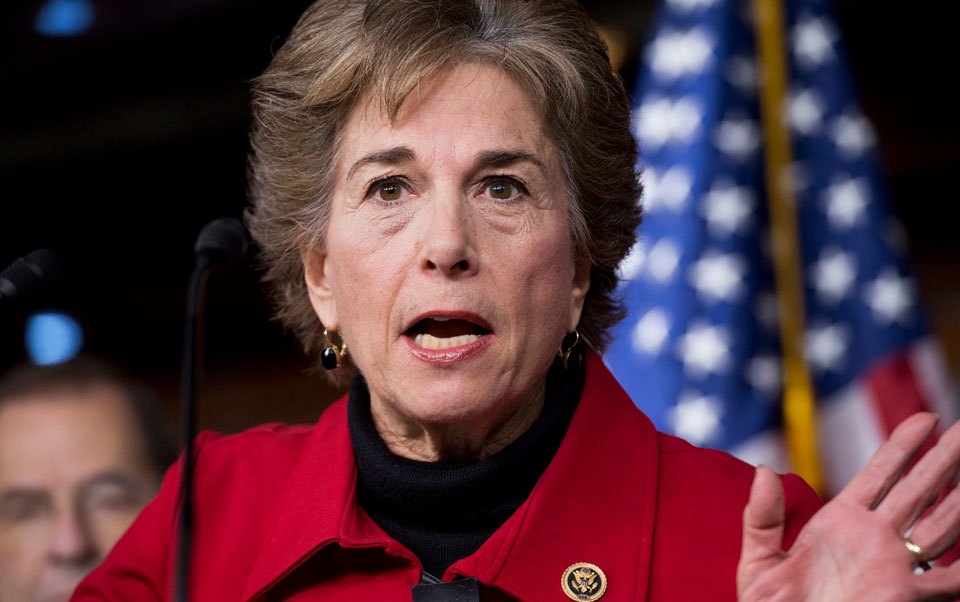 WASHINGTON—The House version of the money bill for the Labor, Health and Human Services (HHS), and Education Departments has big spending hikes for labor enforcement programs in the fiscal year that begins Oct. 1. But while Republicans raised a few squawks over DOL spending, that wasn't the big battle when lawmakers tangled over the measure.
The war is over abortion, again. Once they get to it. They didn't in the first whole day.
The HHS portion of the measure repeals the 45-year-old Hyde Amendment, which bans use of all Medicaid funds for abortions. It also repeals the accompanying Weldon Amendment, which "threatens state and local governments that seek to protect or expand abortion care or coverage" despite loss of federal dollars, says Planned Parenthood.
That latter amendment "emboldens health care entities to use personal or religious beliefs to deny access to abortion care," the organization explains. Needless to say, Planned Parenthood, the progressives, and Democratic President Joe Biden all want to repeal both the Hyde and Weldon amendments. House Republicans, catering to the right wing and its absolute opposition to all abortions, and to women's equality and rights, don't.
So progressive Reps. Ayanna Pressley, D-Mass., Barbara Lee, D-Calif., Jan Schakowsky, D-Ill., and Alexandria Ocasio-Cortez, D-N.Y., pushed for the Hyde repeal. Pressley flatly calls Hyde a racist measure targeting Black and brown women.
Medicaid now covers 30% of Black women and 24% of Latinas, compared to 14% of white women, the four said. "Additionally, research has found the abortion coverage bans like the Hyde Amendment have a devastating economic impact," they added in a joint statement.
"The Hyde Amendment is a racist, discriminatory policy that perpetuated inequity and injustice in our nation for far too long," Pressley said in the joint statement. "Hyde has punished low-income people and blocked countless individuals from exercising their constitutional right to comprehensive reproductive health care—including abortion care. Abortion care is critical health care, period."
"In 2019, the first-ever pro-choice majority was sworn into the House," Schakowsky added. "We honor that history by introducing an amendment to finally end the Hyde Amendment and affirming that comprehensive reproductive health care is a human right."
"The Hyde Amendment is a back-end attempt to outlaw abortion that disproportionately denies the right of choice to low-income women and women of color. It is critical that we put an end to this inhumane policy now," Ocasio-Cortez said.
The Coalition of Labor Union Women (CLUW) has been a long and strong supporter of reproductive rights and pushed a pro-choice resolution through the 2012 AFL-CIO convention. That measure hasn't been repealed, so the fed is on record supporting choice. So is CLUW.
"The AFL-CIO believes all women should have universal access to quality health care at a reasonable cost that is not determined by political agendas," that AFL-CIO resolution said in part. "With women now making up more than half of America's workforce, it is crucial that we, as the labor movement, continue to defend the rights of all women and all employees against any effort to allow employers to dictate the quality of women's health care."
But Rep. Tom Cole, R-Okla., the top Republican on the Appropriations subcommittee that handles money for the Labor Department, the Education Department, and HHS, predicted yanking the abortion ban would derail the entire money bill.
"Without agreement to include this longstanding bipartisan provision [Hyde], any serious discussion about the numerous other policy and spending problems in this measure is premature," Cole said.
Cole criticized "the extreme position to require all Americans to pay for abortion on demand"—normal, and incorrect, GOP rhetoric—"and even requiring some people to directly participate in abortions against their own moral beliefs and consciences."
The Labor-HHS-Education money bill was part of a big package of spending bills for most agencies for the fiscal year starting Oct. 1. The House spent all day plowing through the legislation and at least 200 proposed amendments, some of them malicious. Debate resumed on July 28.
Two separate GOP amendments, for example, ban the Labor Department from changing the Trump-era definition of "joint employer." That definition left workers bouncing from pillar to post while trying to figure out which of their employers—a corporate headquarters, such as McDonald's in Chicago, or the local McDonald's franchise—is responsible for obeying or breaking labor law. Workers want the National Labor Relations Board to answer "both."
Among the provisions important to workers are:
Large increases in DOL enforcement spending, including for the Occupational Safety and Health Administration (+$100 million, to $692.8 million), the Mine Safety and Health Administration (+$25 million, to $404.8 million), and the Labor Department's Wage and Hour Division (+$54 million, to $300 million). That division enforces minimum wage and overtime pay laws.
The panel wants OSHA to use the extra money to hire and train more job safety and health inspectors to undertake "more complex, labor-intensive inspections." OSHA only recently returned to onsite inspections. Under the GOP Trump regime, inspections were sharply cut and were mostly by phone or e-mail—and dismissed workers' complaints.
There are fewer OSHA inspectors now than in the agency's first year, both the Appropriations Committee and the AFL-CIO point out. The lawmakers also want OSHA to levy steeper fines, possibly by using a "penalty multiplier." OSHA's current fines "are woefully inadequate in deterring workplace health and safety violations by employers," its report added.
"For instance, despite widespread reports that meatpacking facilities were becoming deadly Covid–19 (coronavirus) hotspots as early as March 2020, OSHA waited six months before issuing two small financial penalties totaling $29,000 to a Smithfield and a JBS plant. For context, in 2019, JBS' annual revenue was $51.7 billion and Smithfield's was $14 billion."
"The Wage and Hour Division employs fewer investigators today than in 1948, despite the workforce having grown significantly in that time," the panel added. More money is needed "to help make up for this lost ground, hold bad-acting employers accountable and defend working people so they receive pay they earned and are legally entitled to."
The panel's majority Democrats also want OSHA to start working on a standard to force employers to protect workers against excessive heat—a problem that's skyrocketed in western farm fields and on Amazon warehouse floors, among other places.
The bill allots $316.9 million for the National Labor Relations Board, $42.7 million more than in this fiscal year. "This increase will address the decline in field staff the board has seen over the past four years," the report laconically adds.
Facing declines in coal mine jobs, the measure sets up a new $100 million grant program "to support communities suffering dislocations related to changes in fossil fuel and other energy industries." It will leave the structure and purpose of grants up to DOL.
The lawmakers are following Biden's lead in switching the U.S. away from carbon fuels—including coal for electric power plants—to renewable fuels, such as wind and solar. But, also like Biden, who was born in the anthracite coal city of Scranton, Pa., they don't want to leave the displaced miners behind.
$20 billion for early childhood education programs, 15% more than current spending. That will provide child care for approximately 200,000 more children and "enable more parents in low-income families to remain in the workforce. Women, particularly women of color, are disproportionately impacted by the child care crisis," the panel adds.
That hike particularly pleases the Teachers (AFT), who have long campaigned for year-round Pre-K programs and increased child care spending. AFT advocates "free universal pre-school for all 3- and 4-year-olds," its website says. So does Biden.
After lobbying lawmakers earlier in July, Philadelphia teacher and AFT member Cassandra Jordan said she told her representative "about several first-graders who couldn't read their own nameplates on their desks."
"If universal pre-K were available, a lot more children would have a lot more going for themselves in the first grade and kindergarten. It needs to happen right away," Jordan added.