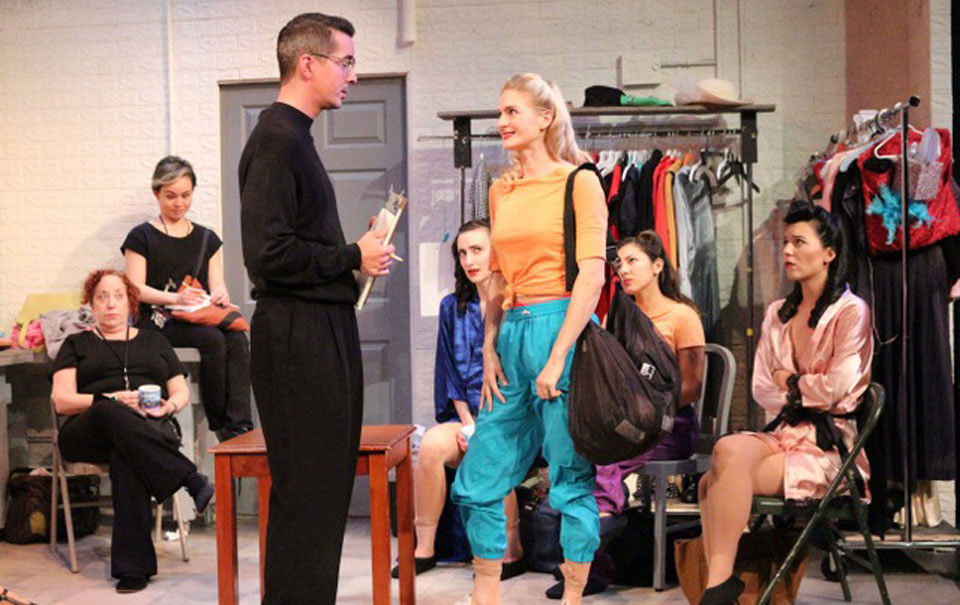 NORTH HOLLYWOOD, Calif.—Opening night of a new world premiere play According to the Chorus Fri., Oct. 21, had a few glitches in it—stockings with tears, a black eye on one of the dancers, a badly sprained foot, a romantic breakup or two…. But these were all part of the show.
Arlene Hutton (The Nibroc Trilogy) wrote it, Emily Chase directed it, and The Road Theatre Company staged it in their modest amphitheater on Magnolia Blvd. It's a slice of life backstage in a big Broadway theater, and later a smaller Broadway house as the popular show these eight performers are in winds down its eight-year run. The cast includes them all plus two quick change dressers and the wardrobe mistress, as well as the new dresser's former husband and the stage manager.
A semi-finalist at the prestigious O'Neill conference in 2021, According to the Chorus is scheduled to open in New York City in March 2023. The play takes place in the basement quick change room and is set in the mid-1980s. Life is full of angst as the long-running production is rumored to be closing at any time. The chorus women are at constant war with the dressers, whose schoolmarmish head, Brenda (Amy Tolsky), complains about the women always thoughtlessly dropping their costumes and personal effects unattended on the floor.
KJ (Samantha Tan), the new dresser, shows up, and she's got her own problems. College-educated, and formerly employed by the New York City Opera, where quick costume changes were not customary in a dresser's work, will she fit in with this rowdy, gossipy and often superficial, though talented crew of Broadway hoofers? (The male cast have their own dressing rooms and quick change room.)
On one level According to the Chorus is mined for its humor, nostalgia and small-bore pathos. But taking place where and when it does, it inevitably addresses not only the growing consciousness about treatment of women, both outside of work and on the job, and the mounting AIDS crisis that absolutely decimates the ranks of the Broadway community—actors, singers, dancers, Equity members, writers, stagehands, dressers. Every other day, in those years at the height of the epidemic, a new death would haunt the survivors' and coworkers' lives. By one character's assessment, 10% of the union is gone. The playwright treats this sad time with honor, respect and restraint. Still, the dancers complain that they can't just get dressed and go home after every performance—there is always some fundraiser for AIDS and they're expected to be out in the lobby, in costume, with buckets to collect the night's donations.
Arlene Hutton has been widely produced and is an award-winning dramatist. "In another life and under another name," reads her bio in the program, "Hutton was a dresser for several Broadway musicals, including the short-lived Carrie, and spent ten years in the wardrobe department of SNL." This is undoubtedly where she derived much of her background data for this play, enabling her to capture so authentically the mood and spirit of those dark, Reagan-era times.
As I watched the drama unfold, it occurred to me that KJ was the likely autobiographical stand-in for the author herself. In fact, on her breaks, in quieter moments, even while others around her are going through their paces, KJ can be seen with her notebook in hand writing down quotes, situations, ideas—that will become the play we're seeing! It reminded me of Neil Simon (1927-2018), author of some 30 plays and probably as many film scripts. Of all his work he achieved his highest acclaim for the trilogy of autobiographical plays he wrote in the mid-1980s (just when According is set), Brighton Beach Memoirs, followed by Biloxi Blues and Broadway Bound, which together constitute a coming-of-age story, or How I Became a Writer.
KJ also represents a whiff of fresh air in that she doesn't just go by the book, but extends herself beyond her specific assignments to be more generally helpful, making purchases for the women (like rubber shoe pads), refining procedures to make them more dancer- and worker-friendly, offering a place to stay when life gets rough for one or more of the dancers, keeping a supply of Tampons on hand. A running joke between KJ and Brenda is the generational debate over velcro vs. zippers.
The performers are obviously professionally trained dancers, not just playing them on stage. They're constantly doing their stretches, their yoga poses, leg lifts and thigh exercises to stay in shape. The show they're appearing in on Broadway is not named, and it doesn't need to be, but clearly it's something big, bold and brassy like 42nd Street, where the cast have to deploy their triple-threat strengths as dancers, actors and singers. According to the Chorus focuses entirely on their dance.
Hutton was undoubtedly in the union when she worked in the theater. It's not up to me to judge her experience with the union, but in the play Equity gets passed over a little more lightly than I might have liked, even somewhat negatively. The weak local, "according to the chorus" (and perhaps that is indeed the operative phrase), never does enough to ensure performers' rights and safety (migod, the rickety backstage stairs in those old theaters!). As shop steward, Audrey isn't seen rising much to the workers' defense; in fact, she comes across as a misanthrope. Complaints about the performers not being provided all they need to do their jobs well can be heard as the producers trying to skimp on every expense, even at the risk of a slip or fall. The first response to one performer's injury on the job is "My mortgage! I have to dance!"
Aside from Samantha Tan as KJ and Amy Tolsky as Brenda, the cast also features Avery Clyde as Audrey, Juan Pope as Peter (KJs ex), Maria Spassoff (whom I saw on opening night but who will be replaced in the last two weeks by Cherish Monique Duke) as Mallory, Jacqueline Misaye as Nicki, Julia Manis as Linda, Gloria Ines as Monica, Kristyn Evelyn as Jessica, Sorel Carradine as Joyce, Mara Klein as Stacie, Danny Lee Gomez as Van, and Fox as Gidget Carradine (yes, there is a live, and very well-behaved canine cast member in the show).
Scenic design is by Paul Dufresne; lighting design is by Derrick McDaniel; sound design is by Christopher Moscatiello; and costume design is by Michele Young. Wigs, hair and makeup are by Judi Lewin. Original music is by Arian Saleh. The production stage manager is Maurie Gonzalez, and rehearsal stage manager Lila Zamani.
One very delightful touch in the stage set is that we see a slice of the stairway over and beyond the walls of the quick change room, and we get glimpses of more private moments in the characters' lives there—like a stolen kiss or a cigarette or an unheard conversation. Nice detail!
Another cute device is the PA system enabling Van, the stage manager, to communicate with the quick change room. It's so staticky to the point of incomprehensibility, when working at all, that it provides a regular laugh. Finally, in the new theater, the monitor works—just in time for an announcement to clear out the room and leave everything belonging to the company behind. "You can keep your shoes."
Taylor Gilbert is the Founder/Artistic Director of The Road Theatre Company, producing this play together with Sam Anderson, Artistic Director, Danna Hyams and Ann Hearn, as the first show of its 2022-2023 season.
According to the Chorus runs through December 11 with performances Fri. and Sat. at 8 p.m. and Sun. at 2 p.m. The Road Theatre is located in The NoHo Senior Arts Colony at 10747 Magnolia Blvd., North Hollywood 91601. Sunday performances are Pay-What-You-Can. For tickets visit www.roadtheatre.org or call (818) 761-8838.