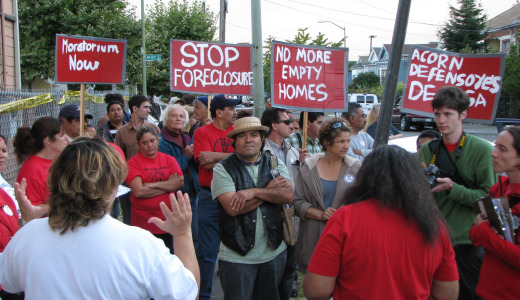 For years, ACORN (the Association of Community Organizations for Reform Now), whose mission is helping poor working-class people fight for their rights, has been a prime target of extreme right forces gathered around Fox News. In recent months, attacks focusing on a sting operation allegedly showing a handful of ACORN staffers giving illegal advice have escalated into a wave of shunning. In September both houses of Congress passed legislation barring federal funds for any of the organization's projects.
ACORN is fighting back, vigorously. On Nov. 12 the organization sued the U.S. government, saying that in barring the funding, Congress violated the U.S. Constitution. The suit was filed on ACORN's behalf by the Center for Constitutional Rights.
Speaking on "Democracy Now!" Nov. 13, the CCR's legal director, Bill Quigley, said Congress violated the Constitution's ban on a "bill of attainder," which forbids the legislature from singling out a particular person or organization for punishment. Congress, he said, "put one sentence into the continuing budget resolutions, which says no federal funds shall go at all to ACORN, any of its subsidiaries, allies or friends. So the lawsuit was filed on First Amendment grounds, due process grounds, and as a bill of attainder."
Quigley placed the targeting of ACORN in a broader context. "The problem for us is, this month it's ACORN, next month it's the NAACP, the month after that it's the ACLU," he said. Noting that "absolutely legal" ways exist to suspend funds and investigate possible misconduct, he added, "Here, Congress is acting as the prosecutor, judge, jury and executioner, all without any evidence or any hearing."
CCR said the lawsuit seeks a temporary restraining order to bar the government from reallocating funds that had been designated for ACORN projects, and a preliminary injunction to keep Congress from singling out a single organization for punishment without proper investigation or due process. Hearings were scheduled this week and next in federal court in Brooklyn, N.Y.
For the last four decades ACORN has been in the forefront of efforts to help low and moderate income people register to vote, fight foreclosures and environmental racism, win affordable housing and workers' rights, and generally improve the quality of their lives. The non-profit organization says it brings together some 400,000 families across the nation, in neighborhood chapters in some 75 cities.
ACORN has launched a full investigation of the claims about illegal advice, by an independent investigator, and has fired staff allegedly involved in the incidents.
In an Oct. 31 post to AlterNet, Muriel Kane of Raw Story pointed out that the far right's agenda to "defund the left" – as Minnesota Republican Rep. Michele Bachmann reportedly put it – goes far beyond ACORN.
"The idea of starving the Democratic Party of donations by defunding the progressive non-profits that form a central pillar of its support … goes back to at least 1981, when the Heritage Foundation published a set of over 2,000 policy recommendations for the Reagan administration," Kane said. She dated the start of attacks on ACORN's voter registration activity, an earlier focus of right-wing allegations, to the 2004 election.
Other commentators have noted that despite all the far-right claims, no voter registered by ACORN has ever been found to have voted improperly.
Photo: PW/Marilyn Bechtel