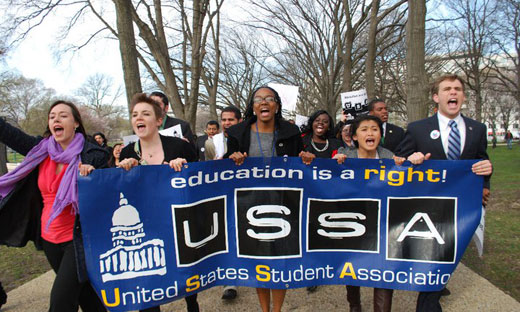 NEW BRUNSWICK, N.J. – The United States Student Association held its 66th annual National Student Congress at the Hotel Heldrich here July 19-24. Although I was only able to attend the July 22 issues plenary, the Congress gave me a feeling of renewed hope for progressive forces in the United States.
The USSA calls itself "the country's oldest and largest student-run organization." I was impressed by the Congress breadth of interests and involvements. On Saturday and Sunday, workshops centered on such issues as training for student-labor organizing; expelling Wall Street from campus and ending student debt; responding to the crisis affecting millions of undocumented immigrant students; and learning how to participate in meetings, how to use Robert's Rules of Order. While a conservative student caucus also had its meetings, the agenda and virtually all of the comments from the elected delegates, many leaders of student governments throughout the country, reflected and combined the outlook of people's movement organizations.
Nat Sowinski, a student who introduced an important resolution for a Comprehensive Joint Report on Surveillance against Students (which was passed unanimously) told me that the USSA understood the need to organize, to gain grassroots power, in order to advance students' rights, which couldn't be separated from the rights of labor, people of color, and women. Another speaker, addressing this issue, mentioned its significance for students of Muslim background in the U.S., who have been special targets of surveillance and harassment in violation of traditional civil liberties and legal principles of probable cause, due process, and equal protection under the law.
While the National Women's Student Coalition, National People of Color Student Coalition, and National Queer Student Coalition held their own meetings, there was much more unity here then I remembered from my days as a graduate student at the University of Michigan, where divisions between various groups of left political activists, counter-culture radicals, and separatist-oriented ethnic groups played a significant role in failing to really advance the opportunities for progressive social change in the U.S. that the civil rights movement, especially, had through its victories opened up for a brief time.
These students were far less naïve, far more sophisticated in coordinating in an inclusive way the struggles of working class students, students of color, LGBT students, and of course all students who face a bleak world of debt peonage in a system of higher education which forces students to face a lifetime of repaying student loans as best they can in an economy producing fewer and fewer jobs worthy of their education.
In that regard, I had an interesting discussion with Jon Ferreira, a student in the U.S. from Brazil who had introduced a resolution defending the rights of undocumented students. He mentioned that in Brazil, with all of its problems, the system of higher education is both free and at least as good as the in U.S. In the U.S., he has already acquired a very substantial debt to pay for his education at a public university.
When I mentioned that large numbers of people put up with this because of the abundance of comparatively cheap consumer goods made by cheap labor abroad, what I call the "Walmart State" as against a real Welfare State, he agreed, mentioning that his relatives who come to the U.S. praise the availability of cheap consumer goods here while he tries to convince them of the destructive effects of an education system increasingly out of reach for millions of students.
The conference continued during the week with more workshops and planning sessions and concluded on Wednesday. My brief report only gives a few of the highlights. Others included action items to end sexual violence on campus, and to stop the "systematic eradication of student of color organizations" through defunding and other maneuvers (something that has been part of right-wing Republican governors' and legislatures' general attack on higher education and all public sector activities and unions).
At the session which I attended, the USSA adopted unanimously a resolution call for a bi-annual National Diversity and Social Justice Conference, which would bring together many of these issues.
Although the music and the dancing I saw was new to me (and I was in no shape to join in anyway) the best of my own student generation – the call for a participatory democracy, focused activism – was present at this congress from students who had already learned a great deal from their history, even if many of the politicians and government and university officials and at least some of the faculty who teach them had not.
Photo: United States Student Association Facebook page