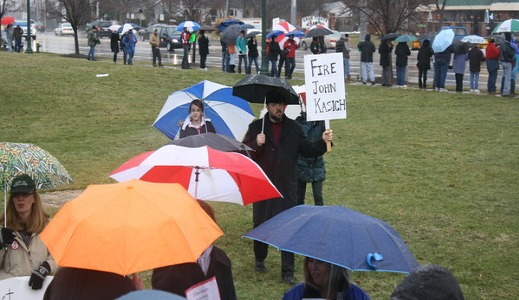 As Republican Gov. John Kasich presented extremist, slash-and-burn budget proposals, over 10,000 Ohioans held angry protests Tuesday in dreary cold rain in 18 cities and towns throughout the state.
Rejecting calls to end corporate tax loopholes and restore taxes on the rich, Kasich proposed closing an estimated $8 billion budget shortfall with drastic cuts in education, health care and local government services, and raising funds by privatizing schools, prisons and liquor sales. Kasich said his plan was a "jobs budget," claiming that layoffs in the public sector would be offset by new jobs (at lower wages) in privatized agencies.
At a so-called "town hall meeting" with 800 chosen supporters, Kasich, a former Wall Street executive and Fox News commentator, hustled his plan as a new "product" and called it the "most reform-oriented budget in Ohio history."
The proposal would force local governments, library systems, school districts and parks to seek new levies to tax poor and working people to maintain already severely reduced services.
Kasich is "passing the buck to cities," said Don Plusquellic, mayor of Akron, which stands to lose $9 million in the proposed budget. This will mean layoffs of police and safety forces, he said.
The budget goes hand in glove with Senate Bill 5, the Republican measure to end the 27-year-old right of public employees to bargain collectively. Kasich's plan would have local government and school districts make up losses in state funds by cutting wages and benefits of public workers, who would be barred from striking under the bill.
But angry chants of "Kill the bill" and "They say cut back – We say fight back," resounded in town squares, parks and union halls across the state. The largest action occurred in Cincinnati, which mostly avoided the bad weather, where 3,500 filled Fountain Square downtown and heard speeches by union and community leaders, Mayor Mark Mallory and other public officials.
In Strongsville, outside Cleveland, 1,500 rallied for over an hour in the City Commons, many huddled under umbrellas. They heard speeches by presidents of the town's firefighters and teachers unions as well as a local Catholic priest who read a statement from the state's bishops condemning SB 5. Many stood on the sidewalks bounding the park holding up signs to rush hour traffic that continually honked horns in support.
Speaking from the gazebo in the Commons, Rev. Bob Strommen of the United Church of Christ said corporate greed was behind Kasich's plan. He appealed to the crowd not to fall for "Big Money tricks" to divide people by race, gender, sexual preference or immigration status.
In Westerville, outside Columbus, 1,500 rallied against Kasich's plan outside Central High School and then marched to the governor's house with local police clearing traffic and repeatedly thanking the marchers along the way. The protesters, many holding umbrellas and small children, chanted, "Working families are under attack so what do we do – Stand up and fight back!"
In Akron 500 rallied outside the Tri-County Labor Council and heard many personal testimonials about hardships that Kasich's plan would cause.
Middle school teacher Patricia Rafaledes said collective bargaining has meant greater equality in school systems and that Senate Bill 5 "will take us back to the days before busing."
"The corporations are trying to call the shots," she said.
In Jefferson in Ashtabula County, 400 gathered in the town center and heard speakers from the Farmers Union, the NAACP and the Catholic Diocese as well as leaders of teachers, firefighters, steelworkers and state employee unions.
County Commissioner Danny Claypool announced to loud cheers that the commissioners that day passed a resolution condemning SB 5.
In Mansfield, Republican City Councilman Scott Kazen told 400 protesters in the town square that he would introduce a resolution opposing the bill. The resolution passed that night by a vote of 7 to 1.
The same evening a standing-room only-crowd filled City Council chambers in Conneaut where a resolution against the bill passed 4 to 2.
In Cambridge in central Ohio, 150 laborers, firefighters, teachers, prison guards and construction workers rallied at the Plumbers and Pipefitters Local 495 hall and heard union officials and State Rep. Andrew Thompson blast Kasich's plan. One worker was loudly cheered as he stood up to say, "I am a Republican, but I have never been attacked like this before and I will never vote for them again."
In other actions, Kris Harsh, coordinator for Stand Up Ohio for Good Jobs and Strong Communities, the labor-community coalition, which organized the events, said 250 rallied in Oberlin, 300 in Vandalia outside Dayton, 250 in Salem near Youngstown, 300 in Maumee near Toledo, 350 in Portsmouth and 800 filled the Steelworkers hall in Steubenville.
In addition, the American Association of University Professors held a rally of nearly 100 at Kent State University, and MoveOn held smaller actions in Newark, Mason and Athens on the same day. MoveOn sent out three e-mail appeals to 122,000 supporters throughout the state to join the Stand Up Ohio actions in their communities. The Sierra Club and Organize for America, President Obama's campaign group, also mobilized for the events.
The bill to abolish collective bargaining, SB 5, has passed the state Senate by a vote of 17-16 with six Republicans joining 10 Democrats in opposition, and is currently facing hearings in the House where Republicans have a 19-vote majority. Kasich is expected to sign the bill in the coming weeks. The Ohio Democratic Party and the state AFL-CIO have vowed to begin a massive campaign to collect over 230,000 valid signatures on petitions to place a repeal measure on the ballot in November.
Polls show little support for Kasich's program and his overall approval rating is 40 percent, the lowest for any new governor in 28 years, according to a just released University of Cincinnati survey. According to the PPP poll of registered voters, if the November election were done over, Kasich would lose to former Gov. Ted Strickland by a resounding 55 percent to 40 percent.
The biennial budget will face hearings in both houses over the next several months and must be adopted under state law by July 1.
Organizers of Tuesday's rallies including: Deb Steele (Westerville); Kathleen Kelly (Akron); Diana Sowry (Jefferson); Travis Day (Mansfield); Nikki Brubaker (Cambridge); and Daniel Crawford (Newark), were interviewed for this story. Others who contributed were Chuck Pervo (Oberlin) and Dave Witt (Kent).
Photo: Demonstators in the town of Strongsville, Ohio, by Debbie Kline.