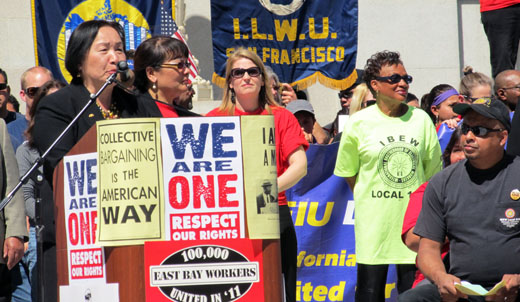 OAKLAND, Calif. – In over a thousand U.S. cities, unionists, civil rights and community activists gathered April 4, honoring the memory of Dr. Martin Luther King Jr., assassinated 43 years earlier while supporting AFSCME sanitation workers in Memphis, Tenn., and pledging solidarity with public workers locked in an epic struggle for their rights in Wisconsin and many other states. (See photo slideshow below.)
The events, kicking off a week of actions and lobbying, were a rousing challenge to the drive by the far right and Corporate America to strip workers, both public and private, of the right to organize and bargain collectively. Some events, including a major rally in Los Angeles, took place earlier.
In Memphis, Tenn., some 800 people braved a tornado watch to join a "We are One" march from AFSCME's hall to downtown Memphis. In a reminder of King's 1968 march, several AFSCME members carried "I AM A MAN" posters. They were joined by MoveOn.org, the NAACP, members of the steel, auto, electricians and government workers' unions, along with civil rights and fair tax activists, students, the faith community and a high school marching band.
(Story continues after slideshow.)
The crowd then returned to the AFSCME hall for a phone bank to urge state and national officials to stand up for workers' rights.
In Wisconsin, ground zero of the fightback after Governor Scott Walker and the Republican-dominated state legislature moved to strip public workers of their collective bargaining rights, actions took place in over 20 cities and towns. In Madison, the capital, the Rev. Jesse Jackson and two of the original AFSCME sanitation workers who fought for collective bargaining rights in 1968 rallied with workers before a march and candlelight vigil.
Rallies in San Francisco and Oakland, Calif., each brought together over 1,000 workers and community allies. Both featured participation by AFL-CIO secretary-treasurer Liz Shuler, Wisconsin AFL-CIO secretary-treasurer Stephanie Bloomingdale and California Labor Federation head Art Pulaski.
City worker Renee Sykes, from Professional and Technical Engineers Local 21, said, "When the right wing attacks the public sector, they are also attacking the community I serve." She warned that the right's goal "is to privatize the public sector, so they can profit off the work we do."
Telling the crowd of the Wisconsin workers' struggles, Bloomingdale also expressed her appreciation on seeing the Wisconsin flag hung upside down from a tall crane, as a distress signal, by longshore workers at Oakland's port.
Longshore workers there shut down the nation's fourth busiest port for 24 hours in solidarity with the Wisconsin workers, while Oakland teachers shut down a downtown Wells Fargo branch for three hours, demanding protection of jobs and public services and a moratorium on foreclosures.
In New Haven, Conn., an outpouring of public and private sector workers, community residents, retirees, students, clergy and the jobless, including union members from Yale University., turned out March 30 for a rally and march to City Hall, chanting, "Whose streets? Our streets!" There, they heard Connecticut AFL-CIO president John Olsen declare, "We don't have a money deficit, we have a deficit of fairness."
Calling the problem "unequal distribution of wealth," New Haven Labor Council president Bob Proto said the labor-community coalition "is organizing New Haven to understand that we are all in this fight together."
In Philadelphia, teachers, education workers, students and their allies packed the sidewalk and spilled over into North Broad street for the third time in just over a month, protesting threats to the education system and public education funding. Over 1,000 demonstrators gathered at Temple University, a state school, where American Federation of Teachers President Randi Weingarten told the crowd, "King walked to bring together the labor community and the civil rights community; we need to bring those communities together as never before."
Art Hochner, president of the Temple Association of University Professors, captured the crowd's mood as he said, "I was a 20 year old student when King was killed helping sanitation workers organize. We are here to help start a new wave of activity in this country."
In Michigan, workers protested the 36 anti-labor, anti-people bills and mean-spirited budget of the Republican legislature and Governor Rick Snyder at over 50 events and hundreds of jobsite actions.
Steelworkers in the northern community of Petoskey rallied at the local fairgrounds against budget cuts hitting schools and working families. Unite Here! held a roundtable discussion on the growing attacks on immigrants, and Newspaper Guild members stood silently at work for three minutes to honor Dr. King.
In Detroit, over 1,000 unionists rallied and held a prayer vigil at the Legacy Memorial downtown. Another crowd of over 1,000 including students, teachers, police and firefighters protested the assault on labor and democratic rights, at a rally in Ann Arbor.
In Dallas, United Labor Union Local 100 president James Thortenberry told labor and community activists that Dallas is the only city in the country paying its sanitation workers just minimum wage.
Reflecting on the economic situation faced by all U.S. workers, Thortenberry observed, "I don't know of anybody building a house that starts with the roof. But that's what they're trying to do, starting at the top, with the rich." He pointed to the Pilgrim's Pride slaughterhouses in east Texas, where longtime workers were laid off, then told they could come back to the same jobs as low-paid temporary workers, with no benefits. Calling the crowd to action, he reminded them, "If you don't stand today, you will fall tomorrow!"
Two days remained before Texas' major statewide coalition rally at the Capitol in Austin.
Events were held in 20 cities in Ohio. In Cleveland, the event focused on the threat to federal workers and programs such as Social Security and the Veterans Administration if budget cuts demanded by Congressional republicans are enacted.
The unionists and community members, outraged by Governor John Kasich's attempts to destroy collective bargaining through Senate Bill 5 and enact other anti-working class laws, applauded wildly as the Rev. Marvin McMickle told them, "We have two agendas: Repeal Senate Bill 5 and repeal John Kasich!"
That evening, some 250 rallied at Greater Abyssinia Baptist Church to commemorate Dr. King's legacy. Speakers there also called for all-out mobilization to collect more than 231,000 signatures to place repeal of the bill on the November ballot.
Mark Gruenberg, Jim Lane, John Rummel, Ben Sears, Paul White, Joelle Fishman and Rick Nagin contributed to this article.