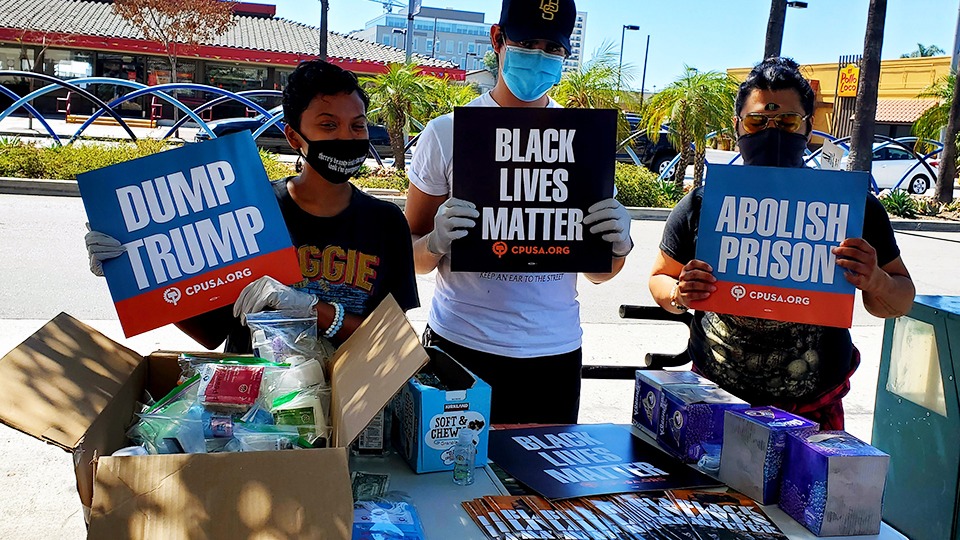 NEW YORK—As early youth voter turnout breaks records in state after state, Young Communist League USA organizing committees are taking to the streets for voter registration, mutual aid, protests, and marches, and they're putting together Marxist book clubs. "Our goal is to not only build a large organization," says K. Gandankin, a YCL leader in New York City, "but one that has an intimate relationship with working people and students across the country."
Lisa Bergman, a youth leader in the Connecticut Communist Party, says in that state, organizers are turning out club members to vote and pushing them to register others to vote. "We're sharing a 'Know Your Rights' flyer to prepare others in the community about voter intimidation," she says. Young Communists in Connecticut are also engaging in masked, socially-distant door-knocking to educate people about a special ballot question in New Haven regarding the transfer of military funds back to cities. While out door-knocking they've donned matching CPUSA and YCL masks made by Marcey Lynn Jones.
In Colorado, where Republican Sen. Cory Gardner is up for re-election, YCL members are joining in the efforts of the broad coalition that has come together to unseat him. Gardner recently came out in opposition to hazard pay for mentally ill workers. YCL Denver organizer K.B. Ohler says, "There is no love for John Hickenlooper, Gardner's Democratic opponent, but he's a smidge better on some issues."
Colorado Communist youth are also campaigning by phone for important ballot measures, such as Prop. 118, which would give all working people in the state paid family leave for the birth or adoption of children. At the same time, Communist Party members are campaigning against Prop. 115, a "draconian anti-choice measure," according to Ohler, that would prevent abortions even in cases of rape and incest. Calls are being made to voters and Planned Parenthood supporters to defeat 115.
Lastly, the YCL is calling on voters to support Prop. 113, which would add Colorado to the national popular vote compact challenging the undemocratic Electoral College that put Trump, Bush, and Nixon into the White House despite them losing. Prior to this, the CP in Colorado campaigned and raised $1,000 in funds for organizers of the Party for Socialism and Liberation who were arrested during the anti-police violence protests last summer.
Young Communists in Cleveland, Ohio, are participating in a "Vote For Tamir" campaign, an initiative started by Samaria Rice, mother of Tamir Rice, a 12-year-old boy killed by police in 2014. He would have been 18-years-old this year and eligible to vote in his first election. Coming in the wake of the recent Black Lives Matter protests following the deaths of George Floyd and Breonna Taylor, the "Vote For Tamir" initiative is gaining positive attention in the community and raising awareness about how fundamental change starts at the local level.
The YCL in Cleveland also helped to organize a coalition rally at the site of the first presidential debate on Sept. 29. Molly Nagin, a YCL leader in the city, took the mic and expressed solidarity saying, "I too was radicalized by the murder of Tamir Rice, despite coming from a Communist family… As a member of the Communist Party, I want to reiterate that Trump is indeed a fascist danger, and we have to get him out of here."
In other parts of Ohio, Communist Party youth in Columbus, Dayton, Toledo, and Cincinnati have been in the streets and neighborhoods with voter registration forms and campaigning for progressive candidates alongside trade union allies and Working America. Those who cannot make it out to events in person have been phone banking from home.
In New York, young Communists, after participating in the Black Lives Matter protests all summer, have been tabling twice a week in Manhattan, Brooklyn, and Queens. They've distributed masks, hand sanitizer, and groceries to those in need.
They have discussed issues like unemployment, evictions, systemic ableism, climate justice, and police brutality with hundreds of people. They've also been registering people to vote, circulating petitions to renew the $600 supplement of the CARES Act, and encouraging people to take an active role in the elections. The New York YCL has also organized weekly book club discussions to provide political education.
In addition, members who live in the Albany metropolitan area have participated in aiding the Mohawk Sovereignty project in growing heirloom white and ancient blue corn, used for medicine and food.
NYU students affiliated with the YCL in Manhattan have been participating in progressive university campus clubs to raise awareness about U.S. imperialist threats toward Venezuela and Cuba, which have been heightened by the Trump administration. The YCL N.Y. Neurodiversity Committee, meanwhile, is working to build and push forward legislation aimed at attacking ableism in government.
In the face of the Trump administration's COVID-19 failures and the total mismanagement of the economic depression, Young Communists across the country have been organizing non-stop and plan to do so right up to Election Day and beyond.
MORE ON THE CPUSA:

Young Communists hit the streets in New York with Black Lives Matter

Communist Party election campaign says stop Trump with a #VoteAgainstFascism

Sewing for justice: Connecticut Communist makes and distributes over 4,000 masks