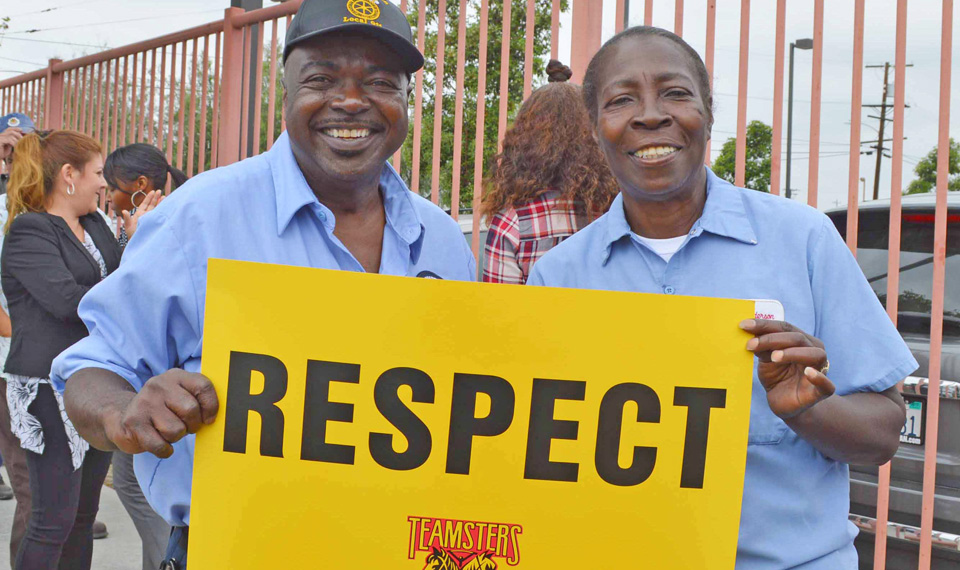 From California to Connecticut, the workers in four locations recently voted to join the Teamsters union.
Two of the groups aren't over-the-road truckers: one is a unit of firefighters and another a unit of school bus drivers.
The common themes in all four wins were the demands of the workers for fair wages, decent health insurance and respect on the job.
A group of rural firefighters, battalion chiefs, captains, lieutenants, engineer lieutenants and administrative assistants near Stockton, California voted to join Teamsters Local 439. They work for the French Camp-McKinley Fire Protection District.
"We will help negotiate a strong contract for these hardworking men and women," said Local 439 Secretary-Treasurer Ken Guertin. "As public employees, they deserve to know the community has their backs."
Meanwhile, in Uncasville, Connecticut, the Teamsters' long-running Drive Up Standards campaign at First Student Bus Co., one of the nation's largest private school bus operators, scored another win on Columbus Day.
The Uncasville drivers will become part of the Teamsters' national agreement with First Student, which has won improved working conditions for school bus drivers elsewhere in the Nutmeg State, said union leader Tom Schlink.
Driver Andrea Clark said "The Teamsters have a proven track record of raising wages and improving benefits in the school bus industry. By voting to join the union, we've taken a positive step toward doing the same thing."
Elsewhere, in Aurora, Illinois, drivers at XPO Logistics, the former Con-Way Freight company, voted October 13 to join Teamsters Local 179 based in Joliet. Key issues were affordable, decent health care, retirement security, better working conditions and respect, said Local 1798 President Tom Flynn.
"Our victory is important to all of us because we have seen how XPO operates since taking over Con-way," Aurora driver Cliff Phillips said. "XPO is treating us unfairly, denying us any voice on the job and just seems interested in the bottom line. But now we will fight back as Teamsters!"
The day before, on October 12, XPO warehouse workers in North Haven, Connecticut, voted to join Local 443.
"This is all about us workers standing up to this corporate bully and demanding fair wages, affordable health insurance and an end to the mistreatment," North Haven warehouse worker Ted Furman said. "XPO's CEO, Bradley Jacobs, had the audacity to come to our warehouse and tell us we don't need a union, and then he returned just a couple days before the election. Well, Mr. Jacobs, we are now proud Teamster members!"
"The workers at XPO in Aurora and in North Haven sent the company a message that 'enough is enough,'" said union Freight Division Director Tyson Johnson. "The workers are tired of being mistreated and not having a say in their work lives." Local 443 Secretary-Treasurer Daniel Flanagan added that the workers had to overcome XPO's "anti-worker anti-union campaign."
Furthermore, XPO warehouse workers in King of Prussia, Pennsylvania have filed for a representation vote, though no date has been set. The Teamsters already represents XPO workers in Miami, Laredo, Texas, and Vernon, California.