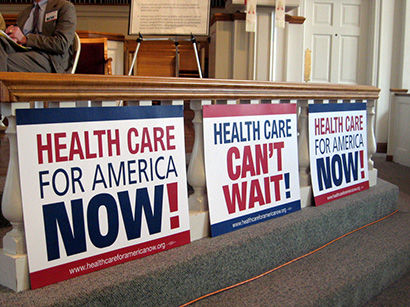 HARTFORD – As a group of uninsured and underinsured health care activists begin a walk from Philadelphia to Washington, DC tomorrow, they are reminding the nation of the crusade by cancer victim Melanie Shouse, who died last week, to enact reform now that meets the needs of people, not big insurance companies.
Actions will be held at 16 health care locations and churches in Delaware and Maryland along the way. For schedule click here.
This is one of dozens of marches, rallies and vigils taking place during the week-long recess demanding that Congress "pass health care that works for us now." (for full list click here.)
A March for Change across the Brooklyn Bridge in New York on Saturday, a Fat Cat Tuesday march in Hartford, Connecticut known as the insurance capital of the world, and a rally for health care, jobs and the economy in Charleston, West Virginia on Wednesday are among 70 street actions listed for the week by Health Care for America Now.
While President Obama prepares for a televised bi-partisan summit on health care next week, already being derided by the Republicans, Democrats are not ruling out the reconciliation process to pass health care reform measures through the Senate with a majority vote.
Since the election of Scott Brown to the Massachusetts Senate seat long held by Ted Kennedy, denying the possibility of a 60-vote super majority that could override a filibuster threat, the path to passage of health care relief has been uncertain.
But this week, leading labor and health care organizations are taking to the streets to demand "the change we voted for." It is well understood that a defeat for health care will set back legislative efforts for massive job creation, workers' rights, climate change, return of troops and the entire people's agenda.
At the same time, voter support for a public option, still polling at 60%, has buttressed a push by the Progressive Cacucs to add language for a government insurance plan as part of the new market place back into the legislation. It had been removed during earlier Senate negotiations when some conservative Democrats joined with the entire Republican caucus to oppose the measure.
A letter with 120 signatures of House members gathered in only one week's time was delivered to Harry Reid insisting that public option should be part of the reconciliation process on three grounds: "1) The public option is overwhelmingly popular 2) The public option will save billions for taxpayers, speaking to the fiscally responsible sensitiblities of our constituents, 3) There is strong support in the Senate for a popular public option."
Different groups supporting single payer healthcare reform began a letter writing campaign to the White House after President Obama asked for ideas in his State of the Union address.
The Labor Campaign for Single Payer sent a letter to put single payer Medicare for all on the table signed by many labor leaders. They are holding a conference in Washington DC from March 5-7. The AFL-CIO and many other organizations endorsed both single payer and the public option with the goal of getting the best possible legislation enacted, taking into account the unified Republican opposition with some Democrats supporting.
Rep. Charles Rangle (D-NY) indicates a bill is being drafted for passage in the House based on where negotiations left off before the Massachusetts election that could be voted on in March.
Simultaneous with these negotiations, Nancy Pelosi is scheduling a vote on a separate bill that would remove the insurance industry's exemption from anti-trust laws.
Some Democratic Senators targeted for defeat by the Republicans like Blanche Lincoln are continuing to tack to the right on language in the health care bill. There must be 51 votes to pass in the Senate through reconciliation. If more than nine Democrats vote against, it can't move forward. Here, the political climate, public sentiment and public pressure become very important.
The right-wing and insurance lobby is stepping up their messaging against big government calling reform socialist, in an attempt to cut into public support. They are also continuing to distort the issue of abortion funding, and demand restrictive language that would set back past gains.
The backdrop to this huge battle is the 2010 elections. As more incumbents announce retirement, the Republicans are playing hard ball in the hopes of regaining the Senate majority and making big gains in the House.
Republican strategist Dick Morris has targeted 23 moderate House Democrats through his organiztion League of American Voters. Television ads are up and running in twelve of those districts opposing Mike Arcuri (NY-24), Chris Carney (PA-10), Kathy Dahlkemper (PA-3), Baron Hill (IN-9), Steve Kagen (WI-8), Allan Mollohan, (W VA-1), Tom Perriello (VA-5), Nick Rahall (W VA-3), Mark Schauer (MI-7), Dan Maffei (NY-25), and Zack Space (OH-18).
The right-wing is also circulating a petition called Stop Obamacare with the big lie that people will not be able to keep the insurance they have and that reform will result in an even higher national debt. They ignore the fact that if health care costs are not brought under control, the debt will skyrocket.
Buckling under on health care, jobs or workers' rights is not going to win elections for the Democrats. That was already shown in Massachusetts.
This week's street actions to finish reform right provide the opportunity to dramatically express national grass roots support for health care reform. Letters to the editor, letters to members of Congress (for a sample click here. ) and calls to members of Congress at their home offices during the recess connecting health care to the larger economic crisis are also ways to counter the attempt of the ultra-right to obstruct all progress and bring down the Obama administration.
As the marchers travel from Philadelphia to Washington DC in the name of Melanie Shouse, they are spreading the word that a legislative victory for health care can break the log jam for change.
Photo: http://www.flickr.com/photos/progressohio/ / CC BY 2.0