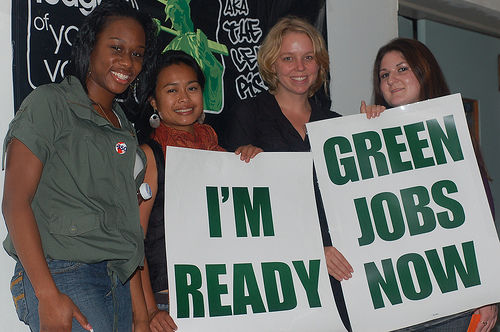 WASHINGTON – Labor and community organizers told participants in the "America's Future Now" conference June 8 that passage of the $100 billion Local Jobs for America Act and other measures to meet the people's needs is crucial to energize voters and get them to the polls next November 2.
Speaker after speaker at the three day gathering warned that despite important milestones such as the health care reform act, millions are losing their jobs, health care and homes and may express their frustration by sitting out the elections.
New York Times columnist Bob Herbert said there is "no sense of urgency" in Washington on the unemployment crisis even though 15 million are unemployment and tens of millions under-employed. "The plain truth is that the Obama administration and Congress have not made the kind of investments to get sufficient numbers back to work," he said.
Robert Creamer, head of the Strategic Consulting Group, told a plenary session on "winning issues in an election year" that victory next November depends on turning out the young "millennial" voters who elected President Barack Obama in 2008, convincing them that their "immediate well-being" hinges on the outcome. "If we don't get the jobs bill, this will be hundreds of thousands more unemployed people and that will have an effect on the election in November," he said.
Gabe Gonzalez, national director of the Center for Community Change, organizer of a March 21 demonstration of 200,000 for immigration reform on the Capitol Mall, told the crowd that Latino voters in the millions voted for Obama when they were convinced that he supports immigration reform. "These are folks who have moved from 'persuadable' to people who need to be mobilized," he said. "Movement on immigration reform is key to turning the voters out," adding, "Congressman George Miller has a $100 billion bill to keep public employees on the job. We also think passage of this bill is critical to turning out the voters in November."
Simon Rosenberg, president of NDN, a center-left Washington think tank, said, "We are sitting on the best, most dynamic coalition we have had since the 1930s" powered, he said, by the influx of 17 million "millennial voters," those who cast their first votes in or after the 2000 election. "Contrary to conventional wisdom, the Democrats can win in 2010" but only if they inspire this new generation of voters. "Getting the millennial generation to participate is going to require an important investment by the center-left coalition. They will not vote unless they are asked."
Karen Nussbaum, executive director of Working America, AFL-CIO, said the labor movement has been campaigning hard in the state of Arkansas for over a year and a half. At first they worked in support of Sen. Blanche Lincoln, D-Ark., delivering 25,000 handwritten letters from her constituents asking her to support health care reform. "She didn't feel the love," turning thumbs down on both health care and workers union rights, Nussbaum said.
The labor movement, she said, decided to back Lincoln's primary challenger, Lt. Gov. Bill Halter. Union members have criss-crossed the state holding 150,000 one-on-one discussions with voters, showing them that Lincoln "sides with the insurance companies on health care, with the corporations on job rights."
The campaign is a model for mobilizing across the nation, she said. "Imagine what it would mean if we do this in Ohio. Do this work and voters will vote for our endorsed candidate 70 percent of the time."
William McNary, president of USAction, said progressive change is driven by elections. "Issues not connected to elections will get you white-papers that sit on the shelf" whereas issues tied to elections "determine who gets how much income…education…housing."
Elections, he added must be used "to build strong, progressive, political power."
He hailed the power of the grassroots coalition that elected Obama and called on the crowd to "celebrate the passage" of the Health Care Reform act. "We didn't get a dream house but we got a damn good starter house" he said. "Let's not minimize this victory." Social Security, he pointed out, left vast numbers of people uncovered who were later brought into the system. "Barack Obama has done something we've tried to do for 100 years…. We don't have the luxury of all this whining and agonizing. We've got to turn the agonizing into organizing."
Photo: GreenforAll.org, courtesy Flickr, cc by 2.0