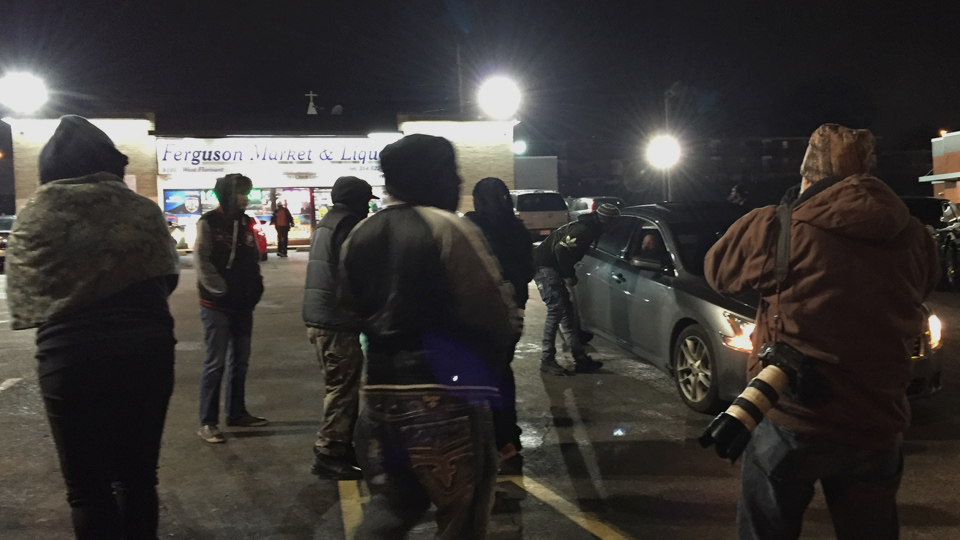 ST. LOUIS — Around 50 protestors converged outside of the Ferguson Market and Liquor convenience store for the second night in a row Monday night. They were calling for a boycott of the store after Sunday's premiere of the documentary "Stranger Fruit", which shows previously undisclosed surveillance footage of Michael Brown in the store before his death.
In response, St. Louis County Prosecutor Bob McCulloch held a press conference Monday afternoon, calling the film a distortion of fact. At 5:00 p.m. the County Prosecutors office released all 5 angles of the unedited security camera footage.
But that didn't deter protestors from fighting back. The action highlighted the lack of trust African Americans have in St. Louis law enforcement.
"Boycott this store till they kill us no more" was the chant heard through the bullhorn, as organizers handed out food and hand warmers to protestors standing outside in freezing temperatures.
By 9:00 p.m., two packing boxes filled with cigarillos, the same brand shown in the surveillance video, were delivered and were given away for free to shoppers who pulled into the store's parking lot. Organizers said they saw this as a tactic to "stop people from spending their money at this store."
The boycott protest ended peacefully around 10:00 p.m. after it was announced that Donte Carter, a protestor arrested during the previous night's demonstration, was to be released at 11:00 p.m.
The Justice Center
A group of 15 activists were inside the St. Louis County "Buzz Westfall" Justice Center at 10:45 p.m., but were forced to leave the public lobby for "security reasons" by police.
Waiting outside after the scheduled release time, protestors were told that Carter's release was moved to 2:30 a.m. As of this writing Carter's release status is unknown.
No other arrested protestors were scheduled for release.
Those arrested Sunday night included:
Alecia Rhone, 25, charged with third-degree assault and resisting arrest. Bail set at $15,000.00
Donte Carter, age unknown, placed on a 24-hour hold. No charges posted.
Henry Stokes, 45, charged with felony counts of attempting to cause catastrophe and resisting arrest. Bail set at $25,000.00