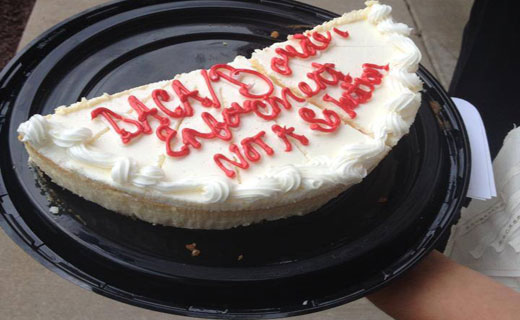 CHICAGO – Nestled in a small urban strip mall here in the shadow of Midway Airport sits Democrat Rep. Dan Lipinski's office. It was to that office immigration activists delivered a birthday cake recently. Well – half a cake to be exact.
The event was conceived as a half celebration/half lobbying effort. Community residents sang happy birthday on the one-year anniversary of the Deferred Action for Childhood Arrivals Homeland Security memo that allowed discretion from immigration officials when dealing with minors. They then urged the congressman to take action on passing an immigration reform law. Written on the half-cake was "DACA/border enforcement not a solution."
This was one among many actions taking place during Congress' August recess. Eighteen other congressional representatives from Honolulu to Racine, Wisc., from Kalamazoo, Mich., to Elkhart, Ind., also received half cakes for only doing half a job, according to the faith-based grassroots network, Gamaliel, which sponsored the Aug. 15 events.
"Deferred Action is only half the work," said Rita Aguilar vice president of Pilsen Neighbors Community Council. "As people of faith, we will not rest until comprehensive immigration reform is reached and places the individual and the family at the forefront before anything else."
Lipinski has refused to say where he stands on immigration reform. In the 2010 lame duck session of Congress, he voted against the DREAM Act, erroneously calling it an "amnesty bill" in his press release. The DREAM Act, short for Development, Relief, and Education for Alien Minors Act, would give undocumented young people an opportunity to earn legal residency and eventually citizenship.
What's perceived as catering to the anti-immigrant and racist fringe of American politics infuriates many of Lipinski's constituents. Lipinski represents a swath of the southwest side of Chicago and his district extends beyond the city's border to the southwest suburbs, reaching almost to Joliet, Ill. According to the Census Bureau, the district is overwhelmingly working class. Almost one-third of the district is made up of Latino residents and at least 20 percent are identified as foreign born. Most of the district is white with Irish, Polish and German ethnic identities topping the list, each having their own tradition and struggle for immigrant rights.
"This country is made up of immigrants," says Michelle Kelly, who lives in the 3rd district and met with Lipinski's staff at an earlier office visit. Kelly says she can't understand why her congressman won't speak up for immigrants and their families. "Obviously, his family were immigrants at some point," she said.
Lipinski attracts particular ire from Chicagoans as they consider their city "immigrant friendly."
In addition, the state of Illinois has its own version of the DREAM Act, making available scholarship applications, college savings and prepaid tuition programs to undocumented individuals who graduated from an Illinois high school. Senator Dick Durbin of Illinois is the original Democratic sponsor of the DREAM Act in the U.S. Senate, and Chicago's Rep. Luis Gutierrez has been a long-standing champion of immigration reform and immigrant rights.
While Democrats are widely seen as championing immigration reform with a path to citizenship for young people, their parents and family, there are some reluctant ones that need to hear from their constituents and the wider community, activists say. But most of the recess actions are visits to Republicans.
Outside Lipinski's office, Emma Villareal, who grew up in the area, says the congressman has to "get with the times."
"The community has changed. What doesn't he get?" she said.
Villareal says all throughout his district immigrants – especially Mexican and Polish – work at restaurants and factories located in the third. "What about the little guy who makes minimum wage without health care?" she says.
Anna Padilla, a younger activist, suggests there is a "disconnect" among some in Lipinski's district on the reality of immigration today. People say immigrants should get to the "back of the line," Padilla said.
Some people imagine immigration as it was during Ellis Island days, she said.
"But let's look at the 'line' today. There are Filipinos and Mexicans at the front of the line who petitioned 20 years ago, in the 1990s. They are still waiting."
There are an estimated 11 million undocumented immigrants living and working in the country. Last August, President Obama signed the DREAM executive order, which allows people born elsewhere and brought to the US as children to apply for citizenship. On August 15, 2012, federal officials began accepting applications from DREAMers. But the DREAM order leaves the mothers and fathers of DREAMers – childhood arrivals – in limbo and in danger of deportation. Advocates believe that comprehensive immigration legislation is still needed.
The Senate passed a bipartisan comprehensive immigration reform bill that included a pathway to citizenship earlier this summer with a 68-32 vote. However, in the Republican-led House, the extreme right prevails and Speaker of the House John Boehner and other House leaders refuse to bring any of the five bills that have passed through committees to the floor for a vote. No bills have been introduced in the House that would provide a pathway to citizenship. If the House was to pass a bill, it would go to a joint committee where the Senate's earned citizenship provision would probably prevail, activists say.
Photo: Activists delivered half of a birthday cake to Rep. Dan Lipinski of Illinois, Aug. 15 (courtesy of Gamaliel of Metro Chicago).