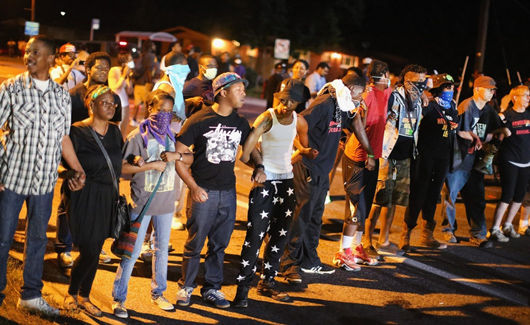 ST. LOUIS – In an effort to prevent a heavy-handed police response to planned protests after the grand jury announcement on Ferguson police officer Darren Wilson, a St. Louis-based coalition of some 45 community, faith-based and labor organizations proposed "rules of engagement" to safeguard residents and their right to protest. The decision on whether Wilson will be indicted for killing unarmed citizen Michael Brown on Aug. 9 is expected soon and the coalition urged officials to give them a heads-up before the decision is announced.
The Don't Shoot Coalition issued a 19-point list of "common sense" policing practices that would keep people safe and protect protesters' constitutional right to freedom of speech and to assemble. Number one priority is "preservation of human life." The coalition said it anticipates mass protests after the grand jury announces whether it will or will not indict Wilson and does not want a repeat of the unnecessary heavy-handed tactics used against protesters in August.
After the brutal Aug. 9 shooting, Ferguson and area residents took to the streets in protest of the killing of an unarmed Black teenager by a white police officer. Instead of upholding constitutional rights, the Ferguson police used military hardware and tactics to quell and intimidate peaceful protesters, the great majority of whom were young and Black. Ferguson has since become ground zero in the fight against police crimes, racial profiling and the militarization of law enforcement.
The coalition urged police not to use "crowd control equipment such as armored vehicles, rubber bullets, rifles and tear gas" and instead to adhere to "clear standards of professionalism and sound community friendly policing" and to treat protesters as "citizens" and not "enemy combatants." The coalition also demanded that police not disrupt free flow of information by blocking cell phone transmissions, harassing media and legal observers, using unwarranted wire taps and conducting mass and "pre-emptive" arrests.
Answering complaints of the 70 days of "civil unrest," the coalition argues that protests have been peaceful, that demonstrating against racial injustice is necessary as all too often the legal system upholds inequality, and that everyone is responsible for making the system work in a just, fair and democratic manner. "Don't put the onus on the protesters. Show our disillusioned young people of color that massive change is possible. You change it. These protests challenge us to start by changing ourselves. If you want peace, work for justice," the coalition said in its media notes.
The grand jury decision could be announced soon after the Nov. 4 elections. Local leaders have been demanding a special prosecutor because of the close ties the current prosecutor has to police. A national campaign demanding a special prosecutor has also begun as many are concerned with recent media reports that indicate the jury will not indict Wilson.
Photo: Jeff Roberson/AP