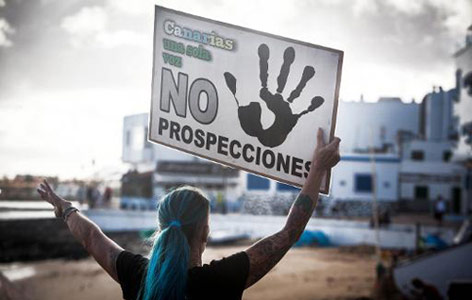 About 200 people, including tourists, assembled on Nov. 30 in the form of a giant 'SOS' on a beach in Spain's Canary Island of Fuerteventura. Politically part of Spain, the Canaries are an archipelago in the Atlantic located just off the southwest coast of mainland Morocco. The action was an organized protest against the activities of company Repsol, which began drilling for oil in the archipelago on Nov. 18. The demonstration took place at the resort of Corralejo on the north coast of Fuerteventura, just 30 miles away from a site where Repsol is conducting a search for oil.
Repsol, a Spanish transnational corporation, has a history as dirty as the oil it handles. Though it does not share the notorious repute of capitalist monstrosities like BP or Shell, activists have accused the company of numerous human rights violations, negative social and cultural impacts on indigenous people, pollution of water, tax fraud, and responsibility for loss of biodiversity and deforestation in Argentina, Bolivia, and Ecuador. Repsol currently has operations in 14 Latin American countries. The corporation is also involved in the production of agrofuels, especially palm oil, which is a large contributor to rainforest depletion.
Canary Islanders have begun to stand up against Repsol's attempts to take its dirty business to their area. "We wanted to reach the prospecting zone and declare there our deep rejection of oil prospecting in the Canaries," said demonstrator Ezequiel Navio. "The Canaries have four national parks, 45 percent of its territory has some level of environmental protection, and it is an image that has taken three decades to build. Now it seems like none of it matters."
Some protesters joined the action on water – in sailboats, fishing boats, kayaks, and inflatable dinghies. Also present were notable environmental groups, including Greenpeace and the World Wildlife Fund. The local government has also campaigned against Repsol's efforts, noting that a spill in the area would harm or endanger protected species, coral reefs, tourism, and fisheries.
"They don't respect us," said Claudia Morales, mayor of La Oliva, which is responsible for Coralejo. "We have demonstrated before all institutions in the Canaries, and in town halls and universities. We don't want oil prospecting. We feel there is no respect for the decisions of the people of the Canaries."
Spain imports nearly 80 percent of its energy, mostly fossil fuels, and many people of the Canary Islands maintain that they can no longer continue to delve into harmful oil exploration, especially when they have natural resources which have not yet been tapped. The islands have plentiful sun and wind, and many locals, including demonstrators, said they would rather see investment in renewable energy. They point to El Hierro as a powerful example, as that island claims to be the first in the world to have obtained 100 percent of its electric supply from renewable sources, thanks to the establishment of a large wind farm there.
"Our wealth is in our climate, our sky, our sea, and the archipelago's extraordinary biodiversity and landscape," said Canary Islands president Paulino Rivero. "Its value is that it's natural and this is what attracts tourism. Oil is incompatible with tourism and a sustainable economy." Noting a division between their government's pro-oil stance and that opinion of the people, he added, "You have to listen to the people. There's a serious discrepancy between what people here want and what the Spanish government wants. The problem we have is that some government departments have too close a relationship with Repsol."
Photo: A protester holds a sign reading, 'Canarians, one voice: No prospecting.' Phys.org