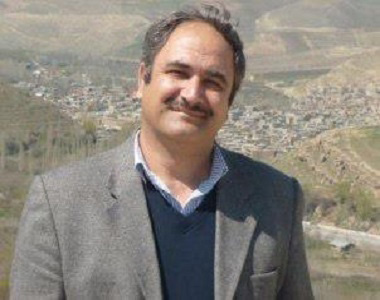 Solidarity activists called on the international labor movement today to push for the release of hunger-striking Iranian trade unionist Shahrokh Zamani.
He was arrested in June 2011 and sentenced to 11 years in prison for "acting against national security by establishing or being a member of groups opposed to the system" and "spreading propaganda against the Establishment" – charges widely levelled against trade unionists.
Britain-based Iranian solidarity group Codir said Mr Zamani began his hunger strike on Mar. 8 in support of other political prisoners at Gohar Dasht prison.
Authorities decided to transfer him three days later to Ghezel Hesar prison, with no explanation or justification. Mr Zamani continued his strike in protest.
The Syndicate of Paint Workers activist has lost 37 pounds since starting his hunger strike, Codir said.
International Trade Union Confederation general secretary Sharan Burrow has already written to Iranian President Hassan Rouhani demanding Mr Zamani's freedom.
She expressed concern at his transfer to Ghezel, which holds 20,000 inmates and where there are threats to the safety of political prisoners.
And Codir president Alex Gordon has pushed trade unionists around the world to sign a statement "holding the Islamic Republic of Iran responsible for Mr. Zamani's health and well-being."
Codir assistant general secretary Jamshid Ahmadi said, "Those supporting Iranian trade unions must push to get the Iranian government to positively respond to their demands for better pay and conditions and for trade union rights. We call on the government of Iran to enact International Labor Organization conventions 87 (freedom of association) and 98 (collective bargaining) without delay."
The solidarity campaign is trying to test Mr Rouhani's pro-reform election platform on the domestic front.
"Almost a year after the presidential election in which he was elected on a platform of heralding a new era of respect for human and democratic rights, nothing has changed noticeably for people of Iran," said Codir.
"The economy continues to struggle under the weight of economic sanctions. The regime's economic policy has brought more factory closures, unemployment, unpaid wages, and poverty pay."
Codir has called for protest letters to be sent immediately to Mr Rouhani at rouhani@csr.ir and Ayatollah Ali Khamenei at info@leader.ir
This article was originally posted on Morning Star.
Photo: Shahrokh Zaman, HRANA