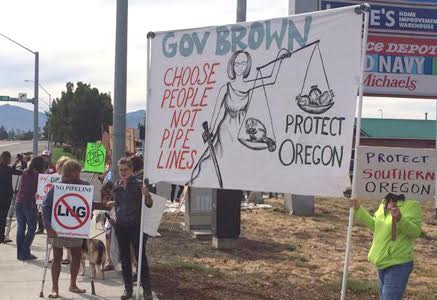 MEDFORD, Ore. – An office for the LNG pipeline project was plastered with clean water and clean environment signs during a demonstration against the LNG project in the southern Oregon town of Medford.
According to Southern Oregon Rising Tide: across Oregon, fossil fuel and pipeline corporations are trying to sell their plans to export fracked gas through communities, forests, and rivers. This fall, activists are turning up the heat and taking direct action to send the message that they won't allow communities to be sacrificed for fossil fuels.
The Medford action took place during the rush hour, only one of many actions taken on a state-wide basis by a dozen different groups. Though the building had been plastered by the signs, the police force in Medford dismissed the idea that the building had been defaced or harmed in any way. As a small town, Medford police still retain a common sense that police forces in larger cities in Oregon (notably Portland) have long since lost.
Some of the signs were of trees, "My roots don't eat gas," water and schools of fish "Keep our water clean" and "Leave our riverbed alone!" Some signs expressed the strong opinions of the protesters: "LNG = Climate Crime." A large banner carried by the crowd showed Justice carrying her balance scale with a pile of cash in one balance pan and a beaver (the symbol of Oregon) in the other balance pan.
Activists including 350 Eugene, Southern Oregon Rising Tide, and Cascadia Forest Defenders organized "Stop the Pipe! A Weekend of Direct Action Against LNG Exports" for October 16-19.
Oregon Governor Kate Brown has the authority to turn down the building of the frack-gas pipeline, as the former governor did, and as have the governors of several surrounding states. But the governor is under ferocious economic pressure. For instance, the Federal Energy Regulatory Commission has recently issued its rubber-stamp approval for the LNG project, as expected for an agency that some say does nothing but approve what industry claims it needs.
A demonstration was unusual business for Medford, a small retirement town of 78,000 in southern Oregon. Its more normal business is the two hospitals that serve the whole region of southern Oregon. Medford is a hundred miles south along the I-5 corridor from Roseberg, where the massacre at Umpqu Community College took place. The killing was described as the largest in the history of Oregon, a false claim, since the genocide of the Native Americans was the largest mass murder in the history of the state.
Activist agree that Oregon does not need more frack-gas and neither does America. Why not save it for future generations? Has the idea of putting things aside for a rainy day become an obsolete idea under capitalism?