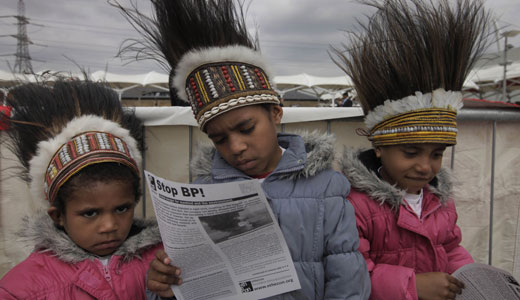 At BP's annual general meeting on Apr. 12 in London, protesters and environmental activists declared that the oil company had seriously cut corners in its cleanup of the 2010 disaster in the Gulf of Mexico.
Around a dozen demonstrators gathered outside London's Excel Center in order to raise awareness of those who are living or dealing with the aftermath of the Gulf spill, as well as BP's involvement in the Canadian tar sands.
It would seem the protests are more than justified, because, as Derrick Evans points out, the BP oil disaster is not over. Evans is managing advisor for the Gulf Coast Relief Fund, which was set up to raise money for New Orleans and other areas affected by the damage.
"The oil is not gone," said Evans. "It is very evident to me that the general perception is that BP made a big mess and BP did a big cleanup. I'm here to tell you that nothing could be further from the truth."
He said the oil giant's use of Corexit – a chemical dispersant – breaks up giant oil blots into globules, which then fall to the bottom of the seabed. "With temperature changes in the water, we still continue to see that sunken oil rise and make its way to shore."
And, as microbial ecologist Steve McCallister added, those globules are what is called "sleeping contamination." "It can be 'awakened' by major events," he said. "Storms, shifts in the earth, for instance. Causing pollutants to be reintroduced to areas previously thought to be cleaned up."
And as that happens, activists' major concern right now is the health hazard involved. "One of our fears is that if there's another storm, like Katrina or Ike, that this could really cause a devastating health epidemic because of what is now in the sediment," said Bryan Parras, a representative for the Relief Fund in Houston, Texas.
"BP has a history of cutting corners to save money," he remarked. "Not only financial corners, but safety corners. And we see that has resulted in the deaths of American citizens; of hardworking individuals and families."
The demonstrators also took major issue with BP's tar sands connection.
Clayton Thomas-Muller, a Native American from the Mathias Colomb Cree Nation, and activist with the Indigenous Environmental Network, stated, "We're here today to confront BP over the ongoing crimes of ecocide they're committing on the continent of North America. Our message to BP has been clear from the get-go: Get out of the tar sands!"
Photo: Demonstrators, wearing tribal headwear, protest BP on Apr. 12 in London. Lefteris Pitarakis/AP