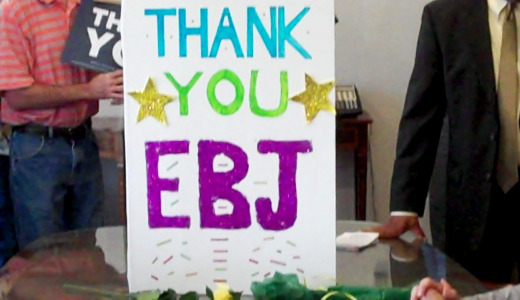 DALLAS – Activists from MoveOn, Organizing for America, Jobs with Justice and the Progressive Center of Texas poured into the offices of Congresswoman Eddie Bernice Johnson at noon on Nov. 1. They were there to express their gratitude for her vote on the House version of national health care reform.
They were greeted by District Director Rod Givens, who told them that "it is folks like you who keep the congresswoman propped up!"
The group brought a giant "thank you" card that each of them had signed. They also brought bouquets of yellow roses. What might be more important in the long run was a stack of signed cards pledging future support for the congresswoman. Many of them carried pledges to work several hours in her next campaign.
Outside on the corner, about a dozen "Texas Tea Bag" protesters carried signs against health care reform. One of them declared, "You can't help the poor by hurting the rich!" Health reform activists asked one another, "How do they know, if we haven't ever tried it?"
Photo: PW/Jim Lane