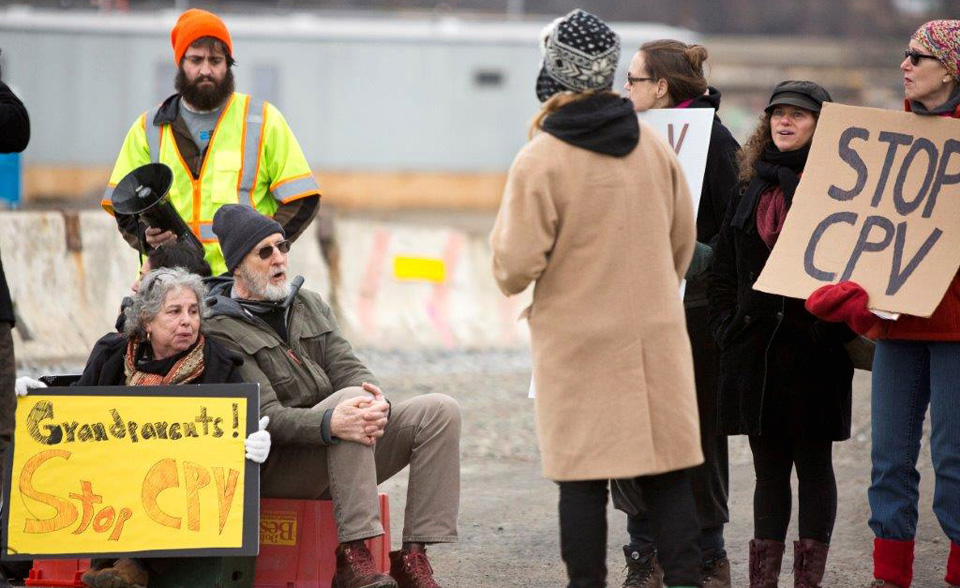 For actor/activist James Cromwell and other ecologists, December 7, 2017, is another date that will live in infamy, as a Pearl Harbor Day for bald eagles, the symbol of America. As part of his ongoing struggle against fracking, Cromwell was back in court this week observing a hearing regarding the fate of the controversial Competitive Power Ventures power plant in Orange County, N.Y. Although there is currently a moratorium on fracking in New York state, the disputed process is allowed just across the border. According to Cromwell, methane gas is drilled out of the shale fields in eastern Pennsylvania for transport via pipeline across state lines to Wawayanda, N.Y. Activists are anxious about the possibility of leaks, as well as fracking's role in climate change.
Cromwell is the son of Hollywood royalty: His father, John Cromwell, was a top director of classics such as 1940s Abe Lincoln in Illinois starring Raymond Massey, until he was blacklisted by the House Un-American Activities Committee. Jamie, as he is called, may be best known for playing Farmer Arthur H. Hoggett in the 1995 talking-pig picture Babe, for which Cromwell received a Best Supporting Actor Oscar nomination. Cromwell has also acted in movies such as 2006's The Queen, Oliver Stone's 2008 Bush biopic W., 2011's Best Picture Academy Award winner The Artist, and this year's Thurgood Marshall Civil Rights biopic Marshall. The 77-year old actor also co-stars in 2018's Jurassic World: Fallen Kingdom.
Cromwell was interviewed by phone in New York City, where he is currently working on a new cable TV series.
PW: What happened December 5th at court?
There was a hearing on an appeal by Millennium Pipeline [Company] to void the stay granted by the [U.S. Court of Appeals for the] Second Circuit in New York based on an appeal by the New York Dept. of Environmental Conservation, a state agency, for Millennium Pipeline to halt construction of the [Valley] Lateral pipeline going [7.8 miles] from Pennsylvania to the Competitive Power Ventures power plant in Wawayanda, New York. CPV claimed it was a hardship for them because they had a timeline to complete the pipeline by December 7-31.
I attended the hearing in the Second Circuit in Manhattan on Tuesday. It was completely packed. Fifty people were in the overflow room.
PW: Why are you and other environmentalists in favor of halting construction?
The pipeline would go through an endangered species habitat. There is a documented nest of bald eagles as well as a rare bat species in its path. This would violate the Bald and Golden Eagle Protection Act [a 1940 Federal statute]….
Also the pipeline would carry [methane] gas obtained through fracking to the CPV power plant.
PW: What did the court decide?
On December 7th the three judge panel ruled against the stay and to allow the pipeline project to continue….
PW: What do you want to happen?
An appeal…. We want as much media attention as possible. We want actors and activists to be involved…. I am in favor of mass direct action, nonviolent civil disobedience…. We have to put pressure on Gov. Cuomo….
PW: You were arrested in December 2015 for protesting the CPV power plant by locking yourself to other activists with bicycle locks and linking arms, thus blocking trucks from making deliveries to the 650-megawatt fracking facility. You were convicted and served a short sentence in a penal institution, the Orange County Correctional Facility. Why is this cause so important to you?
I have a home 10 miles from the CPV plant…. It will annually emit 4.6 million tons of greenhouse gases…. Fracking contributes to global warming and it will mean the end of New York City, of the human race….
This is the federal government under Trump undermining states' rights. Washington is overruling a state decision to stop construction….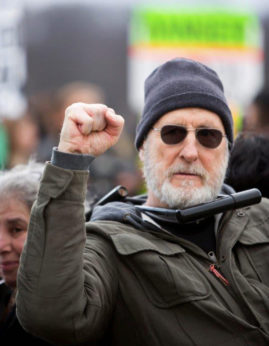 PW: It's ironic. During the 1960s, you were a civil rights activist in Mississippi and your friend Mickey Schwerner was one of the cause's murdered martyrs in 1964. Then you opposed "states' rights," but now you support it.
During the 1960s the federal government had to intervene down South to end segregation and violence against Black people…. Today, Trump is gutting regulatory agencies…. This week he went to Utah to reduce the size of national monuments, saying Washington shouldn't tell people in the states what to do. But in New York, the Federal Energy Regulatory Commission acted against the state. It's completely opportunistic.
PW: Why are you in New York City?
We are currently shooting the sixth episode of a new HBO series called Succession. It is a Shakespearean drama about a Rupert Murdoch-like character, Logan Roy, portrayed by Brian Cox. I play his older brother.