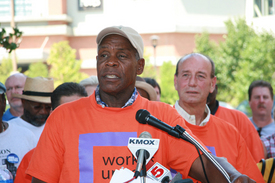 ST. LOUIS – 'Shame on you Pinnacle Entertainment. The employer-employee relationship is based on an agreement, an acknowledgment, on a confidence that both sides will uphold their responsibilities,' said actor Danny Glover to members of Workers' United Local 74 here August 9. 'Pinnacle, you have not upheld your part of the bargain.'
Pinnacle operates Lumiere Place Casino and the President Casino here, and are currently attempting to force a withdrawal of recognition of Local 74. Pinnacle claims that Local 74 no longer exists because of their disaffiliation with UNITE-HERE. In fact, Pinnacle has challenged Local 74's legitimacy as the workers' legal bargaining agent nine times over the past few months.
'There is no neutral ground here,' Glover said at the press conference just a block from Lumiere Casino. 'I am here to support workers as an artist, but also as a citizen. I am here to make sure their rights are protected.'
Pinnacle, recently stopped bargaining with the Lumiere employees and terminated a contract with the President Casino workers which had been in place for ten years. Pinnacle also withdrew from a mutual card check neutrality agreement entered into at both facilities.
On July 28 the regional director of the National Labor Relations Board recommended a complaint be issued against Pinnacle for violating workers' rights and recommended immediate 'corrective action.' However, Pinnacle continues to harass and intimidate union members.
Lumiere worker Curtis Jethro told reporters, 'Pinnacle is talking out of both sides of its mouth. They made promises, now they don't want to deliver. Instead they are trying to intimidate us. Pinnacle is making money off our backs.'
Jethro added, 'we've been through three elections here. We are serious. This isn't a game. We want paid holiday, sick leave, decent wages and dignity and respect.'
Greater St. Louis Central Labor Council president Bob Soutier rallied up the assembled union members, community allies, religious leaders and politicians when he said, 'Pinnacle has been ordered to bargain in good faith. Well, damn it they better do it.'
'St. Louis is a union town,' Soutier added. 'We stick together. And you can't intimidate the labor movement here Pinnacle. We fight like hell for workers here.'
Missouri Jobs with Justice Workers' Rights Board co-chair Martin Rafanan said, 'Pinnacle needs to do what is right, just and fair.'
Willie Love, who has worked at the President Casino for eleven years, said, 'Pinnacle has broken its promises. But, they need to realize that we are still here, and we're not going away.'
Dave Morton, organizing director for the Mid-West Regional Joint Board of Workers' United, said, 'this is just the first phase. We aren't gonna let the company decide for us. This isn't their decision. Its ours.'
Glover, who comes from a union family, added, 'we have to believe that we can move mountains. And ultimately we're gonna win.'
Photo by Gary Otten.