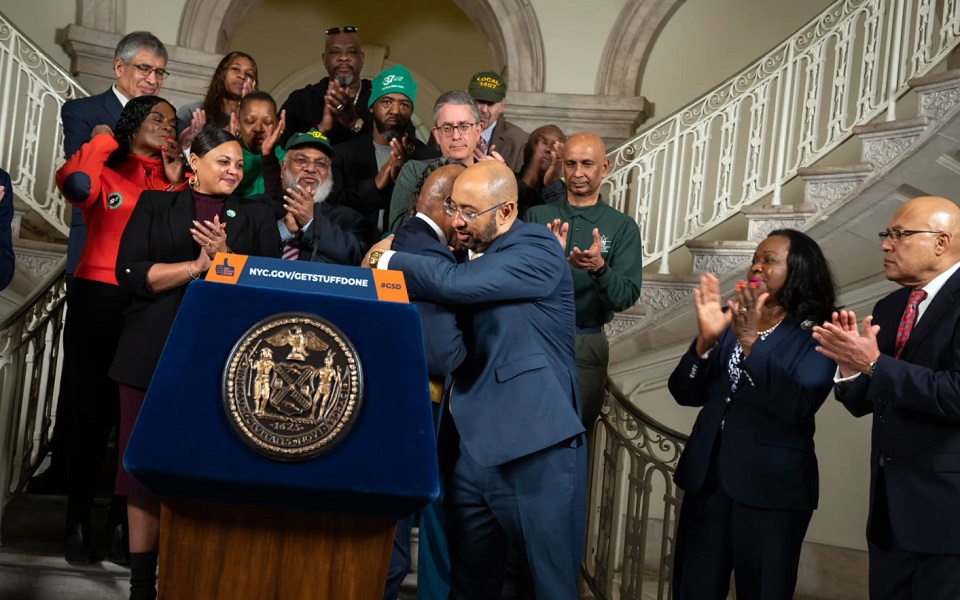 NEW YORK —AFSCME District Council 37 and the city reached a tentative contract of more than five years covering 90,000 city workers, Council Executive Director Henry Garrido and New York Mayor Eric Adams announced.
The pact, Adams's first with a city municipal union, is retroactive to May 26, 2021, and expires Nov. 6, 2026, the mayor's office said. It raises pay by 3% in each of its first four years and 3.25% in the fifth. It also includes a $3,000 per member ratification bonus, bringing the compounded total increase to 16.21%, both sides said.
The tentative agreement, which the union's delegate assembly overwhelmingly approved on Feb. 28, also keeps health care premium-free, while the city will pay $50 more per member to the union's health and welfare fund to cover the rising cost of prescription drugs. The city will establish a childcare trust fund for the workers, with $3 million in yearly contributions.
The pact also provides for flexible work schedules and telecommuting, Garrido added. Those changes will help the city "be competitive" in recruiting and retaining workers, he said.
"Our members held this city together during the pandemic—answering the call of duty during the darkest moments of the past decade," Garrido said in the joint release from Adams' office.
"Through this contract, we've secured long-overdue raises for city workers, protected their premium-free health benefits, and lifted the lowest wages to an $18 minimum." That floor will kick in for the lowest paid by July 1, Adams added.
Ballots will be mailed on March 10.