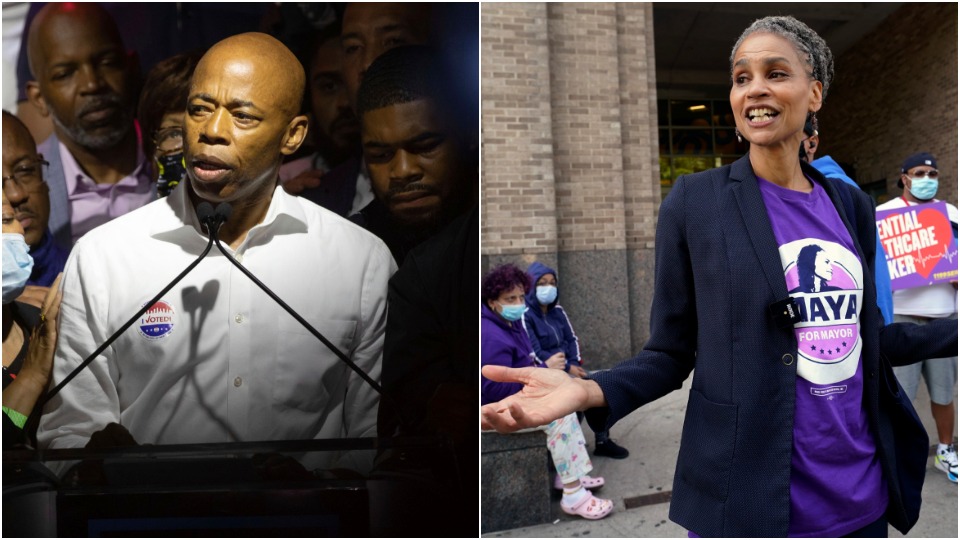 NEW YORK—Brooklyn Borough President Eric Adams took a very tentative lead this week after the initial round of counting in New York City's Democratic mayoral primary, but it is expected that it may be well into July before a winner is known. The victor will be the person who comes out on top in the ranked-choice voting system used in the primary.
While a plurality of voters selected Adams as their first choice, it is not at all clear that he will remain in first place when all the counting is done. It is believed there could be more than 200,000 absentee ballots, for example, that still need to be counted.
Adams, a former police captain, was leading against progressive lawyer Maya Wiley, who was not too far behind, and former city sanitation commissioner Kathryn Garcia.
One of the problems with this primary election was that progressive organizations, including labor unions, were not united behind any one candidate. Local 32BJ of SEIU backed Adams, while the city's huge tenant organizations, led by the Metropolitan Council on Housing, strongly urged voters to reject both Adams and Andrew Yang, another leading candidate in the race. Yang dropped out after a poor showing in the first round of counting.
"We know that there's going to be twos and threes and fours," Adams said on election night. "But there's something else we know. We know that New York City said, 'Our first choice is Eric Adams.'"
Though the mayoral race remains undetermined, progressive candidates are coming out more clearly ahead in many of the City Council contests.
The right wing reared its ugly head in the city primary elections, too, however. In the Republican primary, Guardian Angels founder Curtis Sliwa defeated businessman Fernando Mateo. Ranked-choice voting wasn't a factor because there were only two candidates in the race. Rudy Giuliani, himself a former mayor of New York, backed Sliwa.
The ranked-choice system used in New York City was set up to have voters rank up to five candidates on their ballot. It was approved in a referendum in 2019.
Counting the votes is then done in computerized fashion with the person in last place eliminated at the end of each round. The ballots cast for that person are redistributed to the remaining candidates based on their rankings. The whole process continues until there are only two candidates left, and then the one with the most votes wins.
It won't be until June 29 that the Board of Elections performs a tally of those votes using the new system. But it won't include any absentee ballots in its analysis until July 6, making any count before then an undependable one in terms of predicting the final victor.
Worrysome for Adams, despite his initial lead, is that among the votes counted on election night, Adams trailed both Garcia and Wiley when voters listed their second, third, and fourth choices in the ranked-choice voting system.
Besides Adams, Garcia, Wiley, and Yang, other contenders in the Democratic contest included City Comptroller Scott Stringer, former U.S. Secretary of Housing and Urban Development Shaun Donovan, Citigroup executive Ray McGuire, and nonprofit executive Diane Morales. Stringer has some support among progressives, so initial votes for him may not go later for Adams.
De Blasio, the current mayor, leaves office at the end of the year due to the term limit law.
Wiley, one of the most progressive of the candidates, had not lost hope at all after the first round. "What we celebrate today is that we have a path," she said.
All the candidates have said they support police reform. Adams said repeatedly during the campaign that he fought racism consistently within the police department during his many years there. He strongly condemned the "defund the police movement," however.
Wiley and Stringer, in appeals to progressives, said they would take a portion of the police department's budget and put it toward social services.
Of the top contenders, either Garcia or Wiley would be city's first female mayor if elected. Adams or Wiley would be the second Black mayor.
Yang and Garcia teamed up in the last days of the campaign in an effort to use the ranked voting system to block Adams. The two held several joint campaign events, with Yang asking his supporters to rank Garcia as their No. 2 Garcia did not tell her supporters where to rank Yang. Adams accused his two rivals of purposely trying to block a Black candidate.
Sliwa, the winner of the Republican primary and the one-time leader of the vigilante group, the Guardian Angels, has little chance to win the November general election in New York, where registered Democrats outnumber Republicans by 7 to 1.
Now a radio host who still wears his Guardian Angel beret when he appears in public, Sliwa got backing from Giuliani who called him "my great friend" in a robocall to Republican voters.
Flanked by Giuliani at his victory party, the right-winger Sliwa promised a general election campaign focused on crime. "This is going to be a campaign clearly in which I talk about cracking down on crime, supporting the police, refunding our heroes the police, hiring more police, taking the handcuffs off the police and putting it on the criminals, and restoring qualified immunity to the police so that they can't be personally sued," he said.
In the coming days and weeks, People's World will feature additional articles by local writers on the elections in New York City and elsewhere in New York State.
The Associated Press contributed to this article.