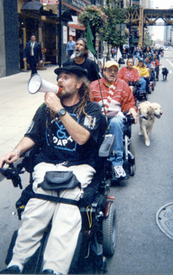 CHICAGO — A long line of disability rights activists marched and wheeled through the streets here Sept. 9-11 chanting, "Our homes, not nursing homes, to protest the inadequate funding for affordable housing and unnecessary segregation into institutions.
American Disabled for Accessible Public Transit (ADAPT), the nation's largest direct-action organization of the disabled, organized the protests. The yearly actions spotlight discrimination against people with disabilities. It is largely due to ADAPT's leadership that most public transit is disability accessible today.
This year's actions focused on passage of the Community Choice Act of 2007, which would amend the Social Security Act to provide the disabled and older Americans with equal access to community-based attendant services and support. Currently, Medicaid grants funds for community-based care under its Money Follows the Person (MFP) provision. States must apply for these waivers.
There are 2 million disabled people in state and private institutions. Because of historic discrimination, ADAPT asserts many are unnecessarily confined, separated from families and segregated, often under unspeakable conditions, largely due to severe funding shortages. "We want to live in the community like any other person," said Debra Russell of Philadelphia. "Just because we have disabilities, we shouldn't be locked away in an institution."
Under federal law, funding for institutional care is mandatory, but funding to allow the disabled to live in their homes and communities is optional. Today, more money goes to fund community residency options because many states have responded to the demands of the disabled community.
ADAPT says the powerful nursing home lobby is blocking passage of the Community Choice Act, introduced by Sen. Tom Harkin (D-Iowa) and Rep. Danny Davis (D-Ill.). "The CEOs of nursing homes are lining their pockets," said Rahnee Patrick, co-coordinator of Chicago ADAPT. "We want the money to go to the people with disabilities and our workers."
ADAPT confronted Housing and Urban Development (HUD) officials over a severe shortage of housing vouchers due to budget cuts and mismanagement. "The all-talk-and-no-action we heard today is the same thing we experienced with HUD before," said Darrell Price of Chicago ADAPT. The shortage prevents disabled people from moving from nursing homes to the community.
Several institutions were targeted for protest. The American Medical Association headquarters was surrounded because they haven't endorsed CCA. Banging on the windows, protesters chanted, "We're ADAPT. You're trapped. Get used to it!" Over 55 were arrested.
Protesters surrounded the State of Illinois building and gained an audience with aides to Gov. Rod Blagojevich. Illinois is rated one of the 10 worst states in providing community residence options. ADAPT maintains that the nursing home industry, a huge campaign contributor, influences the state's top elected officials. Some legislators oppose home care because they say it would be cost-prohibitive. As a result state CCA legislation has been stymied.
Blagojevich pledged to keep closed the Lincoln Developmental Center, a state nursing home with a history of problems. He also pledged to appoint representatives of the disabled community to a body advising disbursement of $55 million in federal grants under MFP.
Arrests also occurred after protesters marched on the offices of AFSCME Council 31, the public service workers union, when an impromptu meeting couldn't resolve differences. AFSCME represents many direct care workers in state institutions and has called for reopening Lincoln with the collaboration of the state, union, disability community and family members. AFSCME said it agrees with ADAPT that the disabled have a right to choice and get all the services they need, but has not yet taken a position on CCA.
"We are for all levels of care of the disabled community — home care and congregate housing, depending on need," said Anders Lindall, AFSCME spokesperson. "Unfortunately, the federal government doesn't put enough money into funding disability services to improve all parts of the system. They end up pitting one against another."
jbachtell @rednet.org