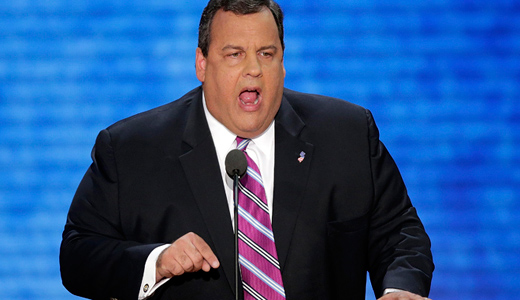 TRENTON, N.J. – Add New Jersey Gov. Chris Christie to the lengthening list of GOP presidential hopefuls who are open and vocal union-bashers.
Well, at least, he didn't call teachers terrorists, though.
The combative and blunt two-term governor, who seeks the Republican presidential nomination, proudly proclaimed on the weekend of Aug. 2 that the two national teachers unions – the American Federation of Teachers and the National Education Association – are enemies of kids and of learning.
His solution? Slug them in the snoot.
CNN asked Christie who, at the national level, deserved to be punched in the face. "Oh, the national teachers union." He called the unions – he didn't differentiate-bullies.
"They're not for educating our children. They're for greater membership, greater benefits, greater pay for their members, and they are the single most destructive force in public education in America. I've been saying that since 2009. I've got the scars to show it," Christie said.
Christie's comment is not quite as nasty as that of another GOP governor seeking the party's presidential nod, Wisconsin's Scott Walker. Earlier this year, Walker equated union members to ISIS terrorists. He said he stood up to 100,000 unionists protesting his policies.
But Christie has his own history with the unions: He strong-armed the state legislature into curbing state workers' pensions and then refused to make the payments his own pension reform law required. And when a budget crisis hit in 2010, he cut state aid to schools, forcing thousands of layoffs.
He also demanded voters fire members of local school boards who didn't force teachers into contract concessions. Christie angered the New Jersey Education Association so much that it spent several million dollars on ads against the governor in Christie's 2013 re-election race against extremely weak Democratic opposition.
Needless to say, teachers union leaders were outraged, though perhaps not surprised, by Christie's cracks. Each who commented called him a bully.
"Children learn from educators not to be bullies. Bully@chrischristie says he wants to punch educators in the face," National Education Association President Lily Eskelsen-Garcia, an elementary school teacher from Utah, tweeted.
New Jersey Education Association President Wendell Steinhauer demanded Christie quit his gubernatorial chair. "Christie's instinct is always to threaten, bully and intimidate instead of build consensus and show true leadership," Steinhauer said. "That's not news in New Jersey, where voters overwhelmingly reject his immature and inappropriate behavior as well as his failed policies and lack of leadership. It is clear from polling that voters in the rest of the country also reject his rhetoric and his behavior.
"Christie has no credibility as a leader and he is an embarrassment to New Jersey. Our citizens deserve so much better. Even worse, he is a terrible role model to the children that our members work so hard to protect, nurture and educate. He should resign immediately."
AFT President Randi Weingarten also called Christie out as "a bully." The two unions have also campaigned against bullying in the classroom.
"Chris Christie has issues-from reneging on his promise to fix pensions to his state's fiscal standing facing near junk bond status. But the biggest issue is he's a bully and has anger management problems," she said.
"That he would threaten to punch teachers in the face-mostly women seeking to help children meet their potential and achieve their dreams-promotes a culture of violence and underscores why he lacks the temperament and emotional skills to be president, or serve in any leadership capacity. It's a sad day in the life of our nation to see a candidate threaten violence to gain political favor," Weingarten concluded.
Photo: Chris Christie is the latest GOP hopeful who openly bashes unions. | AP