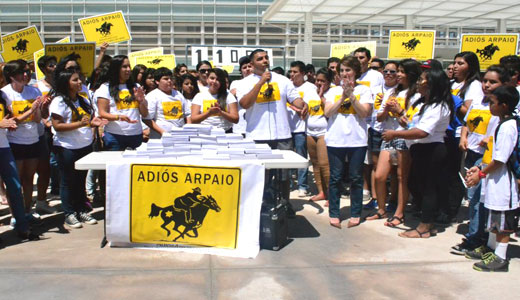 PHOENIX, Ariz. – Maricopa County Sheriff Joe Arpaio is running scared. The notoriously racist Tea Party darling likes to call himself "the toughest sheriff in the country," but it seems he is afraid to openly debate his main opponent, Paul Penzone. Arpaio, however, loves to talk to the news media, or to adoring small gatherings of Republican supporters, and out-of-state contributors.
After 20 years in office, Arpaio is being challenged like never before. Public opinion polls show that Democratic candidate Penzone is slowly gaining on him to within 5.5 points, almost within the poll's margin of error. Independent candidate Mike Stauffer, who garnered over eight percent in the poll, is being urged to withdraw from the race and throw his support to Penzone.
Arizonans don't expect to have progressive sheriffs. Voters tend to go for "law and order" types. Arpaio played up that role to the max, forcing county prisoners to wear pink underwear, live in tents, and eat green balogna sandwiches. For a while it played well in conservative Maricopa County, home to two-thirds of Arizonans.
But Arpaio grew too enchanted with the TV cameras and his self-importance. He decided to jump on the anti-immigrant bandwagon and become the major enforcer of Arizona's racist laws. While claiming to have saved the state money with his tent city prisons he has been accused of spending hundreds of millions of taxpayer dollars going after political rivals, and investigating President Obama's birth.
Citizens for Professional Law Enforcement, a newly formed bipartisan group of local police and elected officials opposed to Arpaio, has also pointed out the numerous deaths in Arpaio's jails.
Strongly backing Penzone is the Campaign for Arizona's Future led by the forces that successfully recalled Arizona State Senate President Russell Pearce. They are targeting Arpaio for his racist anti-immigrant grandstanding, the tens of thousands of unserved criminal warrants, and a failure by the Sheriff's Department to investigate hundreds of sex crimes in the small Latino community of El Mirage.
They have launched a new campaign called Adios Arpaio, which has strong support from labor and the Latino communities. The campaign has enlisted hundreds of youth who have registered over 22,000 new anti-Arpaio voters in Phoenix barrios – targeting "people who would not otherwise be voting," and they intend to keep registering folks until the Oct. 9 deadline. Last Saturday demonstrators descended on Arpaio's downtown office with packing boxes to help him "move out!"
Arpaio has gathered millions in contributions from right-wing moneybags across the country and will far outspend Paul Penzone, but Arizona's working class and immigrant communities are not letting up. The high school kids, trade unionists, and progressive activists will keep up the grassroots work. They just can't imagine why Maricopa voters would consent to keep this embarrassment in office.
Photo: Adios Arpaio Facebook page