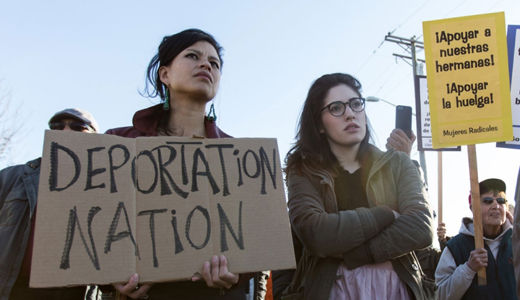 WASHINGTON – In what appears to be an about face, the Obama administration has ordered the round up and deportation of hundreds of families – men, women and children – who entered the U.S. without papers during the past two years.
Most had fled the deadly violence and drought plaguing Central American countries.
Gregory Chen, director of advocacy for the American Immigration Lawyers association, told the Los Angeles Times, "… these families are refugees seeking asylum who should be given humanitarian protection rather than being detained or rounded up. When other countries are welcoming far more refugees, the U.S. should be ashamed for using jails and even contemplating large-scale deportation tactics."
Last week, agents of U.S. Immigration and Customs Enforcement (ICE) began a house-to-house search for families who had been denied U.S. residency status by administrative judges. Raids of 11 homes took place January 2 in Georgia and Texas. The Los Angeles Times described a typical raid:
In Norcross, Ga., ICE agents came at night in an unmarked car to the home of Joanna Gutierrez. They pushed their way in, insisting that they did not need a warrant. They showed Gutierrez a photo of a man she didn't know, checked every room in the house and woke up Gutierrez's children. "They were shaking from fear," she said.
The agents then took away Gutierrez's niece, Ana Lizet Mejia, and her niece's son. They had fled Honduras when Meija's brother was killed by gangs. Mejia was ordered to appear in U.S. administrative court several times, and did so. She was forced to wear an ankle monitor provided by the court.
"Why abuse a person who is already in the control of the court?" Gutierrez said.
Nevertheless, Mejia and her son were hauled to ICE's Atlanta field office to await deportation along with several other families.
In Texas, six Central American families who were grabbed in raids were brought to the South Texas Family Residential Center, despite the fact that the federal government is under a court order to begin releasing children and family members from such facilities.
The administration is contesting that order in a federal appeals court.
White House internal debate
The Administration's deportation sweep seems to have more to do with politics than public policy.
DHS secretary Jeh Johnson had long urged the White House to increase deportations, but Administration officials debated long and hard among themselves before giving him a green light.
The Administration's internal debate was not about how to meet the needs of refugees fleeing danger and death, nor was it about what the U.S. could do to decrease violence in Central America or to increase food production in drought-stricken areas. It was not even about how to utilize the contributions immigrants could make to U.S. society.
Administration officials did not talk about the fact that most problems in Central America had been caused by U.S. control of the area in the first place.
Instead, Administration officials considered the impact deporting hundreds of families would have on the upcoming U.S. Presidential election.
They discussed questions such as: Would deportations help Republican candidates who for a long time have been calling for such actions? Or would deportations help Democrats by taking the wind out of Republican sails?
For the past two years, President Obama has made speech after speech calling for the U.S. to open its doors wider to refugees. After all, America is a nation made up by people from all nations. What's more, a year ago, Obama issued an executive order granting residency status and benefits to undocumented parents of children born in the U.S. Republican-controlled lower courts blocked implementation and the President's executive order is before the Supreme Court.
Now, however, the White House has decided to change course and to be "tough" on immigration.
This decision has greatly disappointed immigrants' rights groups.
Two months ago several of these groups held a rally at the Supreme Court building in support of the President and his executive order. The rally was led by Gustavo Torres, executive director of CASA, which provides services to immigrants and advocates for immigrants' rights.
Last week Torres led another demonstration, this time to protest Obama's move to deport families.
The protestors marched from Democratic Party headquarters to the White House.
Torres told the crowd, "Clinton needs to demonstrate that she's different from Donald Trump and say that we welcome these refugees. And President Obama needs to speak out, too."
Also speaking at the rally was Felix Kala, who came to the U.S. from Cameroon three years ago. He said that African immigrants were there to show solidarity with Central American immigrants because "If they start sending you, tomorrow they will come for us."
Photo: A demonstration outside the Northwest Detention Center in Tacoma, Wash., March 11, 2014. Thomas Soerenes | The News Tribune | AP