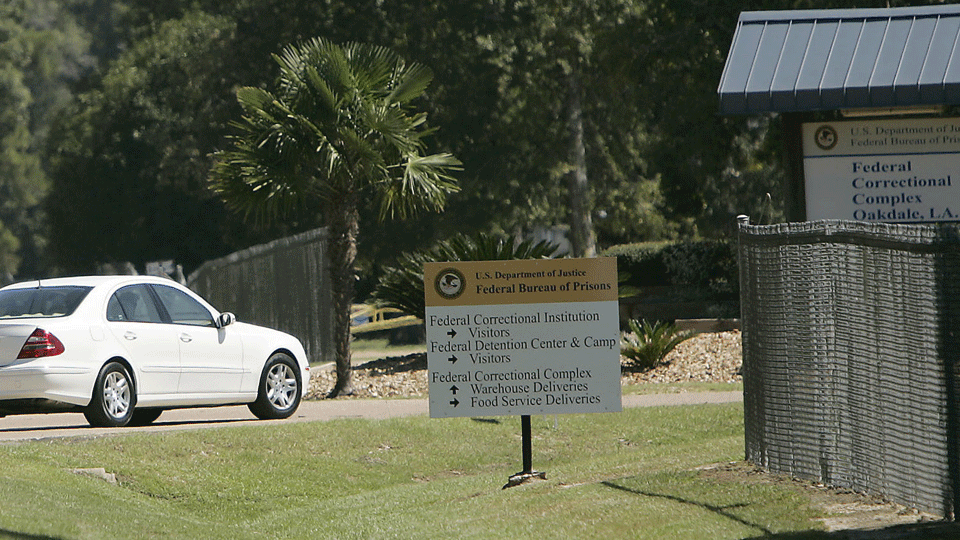 WASHINGTON—The top federal workers union, the Government Employees (AFGE), formally charged the Veterans Affairs Department and the Bureau of Prisons, with endangering the health and safety of 290,000 workers by exposing them, without protection, to patients – and prisoners – suffering from the coronavirus pandemic.
Some 260,000 workers are in danger at the VA and 30,000 more at the Bureau of Prisons. Not all are AFGE members since the federal government is an "open shop" where the union, by law, must represent even those who don't pay dues.
But all are in danger, as are their families, the union said. Coronavirus deaths have already occurred among federal prisoners, notably inmates in Oakdale, La., and thousands of VA health center patients – military veterans – are either hospitalized or are quarantined because of the virus, the union's formal complaints to the Occupational Safety and Health Administration added.
The situation is more extensive at the VA, the complaint, filed by Alma Lee, president of the union's National VA Council and a worker at the VA hospital in Roanoke, Va., explained. That's because dozens of VA hospitals and clinics are treating coronavirus-sick vets either as inpatients or outpatients. As of March 31, there were 1,347 sick patients and 185 ill staffers.
The biggest concentrations of sick veterans, most of them being treated as outpatients, were at the VA hospitals New Orleans (260, including 228 outpatients) and in the Bronx, Brooklyn, Castle Point, and Montrose, N.Y., and East Orange, N.J., combined (178,141 of them outpatients). AFGE's complaints did not list how many patients or staffers had died.
"VA failed to introduce the workplace controls needed to mitigate or prevent exposure to COVID-19," the official name for the coronavirus, Lee told OSHA. "It has not implemented engineering controls, such as high-efficiency air filters or air scrubbers, to minimize the airborne nature of COVID-19."
"Administrative controls, such as mandating administrative leave or work-at-home procedures for employees suspected or known to have been exposed to COVID-19 patients or those exhibiting COVID-19 symptoms, are likewise absent from VA's response to this pandemic."
"The VA's actions are causing proliferation of a known and deadly contagion within the nation's largest healthcare system, as well as in the VA's regional offices and national cemeteries, thereby jeopardizing the safety, health, and welfare of veterans and federal employees," Lee told OSHA.
Separate from the formal complaint, VA rank and file workers complained to AFGE, which withheld their names to protect them from well-known retaliation from agency brass.
"Telework information was not made available to us until we asked on 3/23," said one worker at the Salisbury, N.C., VA clinic. "We found out it was the last day to request and had to scramble to submit. No information has been shared from leadership while THEY are teleworking!"
"Individuals were denied telework due to the network bogging down and possibly crashing. They also stated that we were not allowed to wear masks to cause hysteria," added a worker in Fort Wayne, Ind.
If the numbers of vulnerable workers are greater at the VA hospitals and clinics, the contagion may be more dangerous at the Bureau of Prisons, a close reading of that complaint, by Shane Fausey, president of the union's BOP council, shows.
That's because federal prisons are overcrowded, and the agency is doing nothing about enforcing social distancing. It's also short of personal protective equipment.
In addition, the Bureau of Prisons, and its top brass, told staffers in the whole agency "who have come in contact with, or been in close proximity to, individuals who show or have shown symptoms of COVID-19" – the official name for the coronavirus – "to report to work and not be self-quarantined for 14 days per the Centers for Disease Control guidelines."
The bureau's medical director, Dr. Jeffery Allen, or occupational safety and health director Dr. Sylvie Cohen "advised local institutions (prisons)  with these staff to order them back to work within 48 hours of suspected infection and/or contact with individuals having symptoms or confirmation of the virus."
"Furthermore, staff who were screened and ordered home due to possible exposure based on the screening instruments used by the Bureau of Prisons were also ordered back to work within 48 hours."
The BOP also keeps moving sick inmates by buses and planes "to areas of the country that do not have any rate of infections." A prior court case from AFGE showed that's what at least one BOP worker had to do when moving a coronavirus-infected inmate from Oakdale to a hospital and back, all without the protective personal equipment – such as N95 face masks – CDC recommends. The worker was put in peril; the inmate later became the first to die.
Moving the sick inmates violated CDC recommendations banning such transfers, including work releases. CDC's only exceptions are for quarantine, medical evaluation, or "to prevent overcrowding." Which is another big problem in the prisons, the union told OSHA.
Besides no air filters or scrubbers in the prisons, there have been "no mandatory lockdowns to cut down contact between staff and inmates," and no social distancing, either, AFGE said. OSHA had no immediate response to the union's formal charges against the two federal agencies.