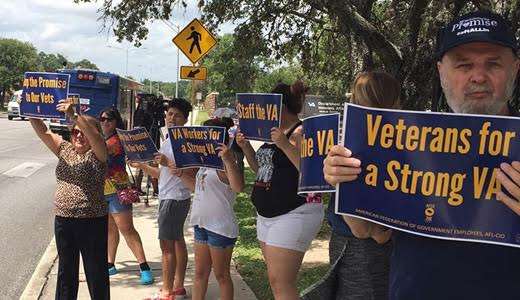 WASHINGTON (PAI) – Saying the Veterans Affairs Department is embattled, members of the American Federation of Government Employees – which represents VA's rank-and-file workers – spent a detailed conference brainstorming on ways to improve the agency, while saving its health care system from right wing privatizers.
The delegates, meeting in a downtown D.C. hotel, were bolstered by an opinion poll by Lake Research showing bipartisan majorities of veterans themselves are strongly satisfied with VA health service, that they oppose plans to privatize the agency, that they would vote against politicians who want to privatize their care, and that their main demand is "more doctors."
The conference occurred just before the VA's own advisory Commission on Care is scheduled to issue its report on June 30 on the agency's hospital and health care system, the largest such system in the world. VA's 160 medical centers and more than 1,000 community-based outpatient clinics serve nine million veterans, its top health official told delegates.
The report comes in the wake of scandals two years ago over patient care, long waiting times and management falsification of patient records. The scandals produced major agency changes, a new law increasing hiring and spending for doctors and nurses, the forced resignation of then-VA Secretary Erik Shinseki and the firing of some hospital chiefs.
But the report itself is a source of controversy, as a "discussion draft" written by right-wing pro-privatization advocates – themselves funded by the anti-worker Koch brothers – calls for dismantling the system by 2025 and giving vets vouchers to use to pay insurers for care. That would throw VA workers whom AFGE represents out of jobs. Some 30 percent are vets.
AFGE delegates vowed to fight for the agency
Against that backdrop, AFGE delegates vowed to fight for the agency. Serving the nation's veterans is "a sacred promise, a promise that will never be violated," said AFGE President J. David Cox, a retired VA psychiatric nurse in its Greensboro, N.C., hospital.
But speakers also discussed how VA could continue to improve its service to veterans.
The agency's top health care official, Dr. David Shulkin, said VA now has top priorities to fix the problems the scandal exposed: Reducing wait times and access problems for vets, developing relationships with community providers – especially in rural areas far from a VA hospital or clinic – and "repairing the trust of our patients and the public."
"We have a commitment that by the end of this year, there will be same-day access to medical care and mental health care in every center," Shulkin said. And since VA facilities, unlike private hospitals and doctors' offices, concentrate all care disciplines and providers in one building or campus, that will improve care, too, he added.
That would be a substantial change from the when scandals over waiting times at the VA hospital in Phoenix, Ariz., first blew the lid off the agency's problems, he noted. Then, there was a 56,000-case backlog for care system wide.
Now, it's down to 1,525 "and that's still 1,525 too many." But "over 89 percent of vets are telling us they're very satisfied with access and with getting appointments," Shulkin said.
Still, there are questions about quality of care, particularly after the vets leave the VA hospitals and approach their own community's providers for follow-up care. Those approaches, and even initial visits to such providers – later reimbursed by VA – were an innovation in the new VA health care law enacted after the scandals broke.
"We need to track the outcomes" of those follow-up visits "so we can make sure the handoffs" are successful, Shulkin said. "When people leave the system today, we lose sight of them, and that's not good."
Still, both AFGE and veterans organization members speaking at the conference lauded the vast improvements in the VA health care system that have occurred in the last two years. They said there is more cutting-edge research, especially on specialized injuries veterans suffer, and more accountability for quality and timeliness of care.
A rapid rise in patient numbers
That's especially important, panelists noted, because the VA health care system is seeing a rapid rise in patient numbers. The Vietnam-era generation of warriors is reaching retirement age – when their medical problems multiply – and increasing numbers of Iraq- Afghanistan veterans are entering the system. They often survive problems, especially head injuries and partial disability from improvised bombs, that killed past soldiers.
"And we can give wraparound services that other health care systems cannot," added Dr. Marsden McGuire, the VA's deputy chief consultant for mental health care. "We handle homelessness, unemployment and veterans in trouble with the legal system. All are connected to mental health issues" that veterans, especially Iraq-Afghanistan veterans, suffer from.
The story of VA's success and rising patient load has not penetrated either the public consciousness or Capitol Hill, Cox and others said afterwards. They urged the media to get the post-2014 success story out, using veterans' personal tales. And they said VA must do so, too.
Public consciousness and Capitol Hill
"We have the opportunity as veterans to shape how we" as a nation "talk about the VA," said Will Fischer, the AFL-CIO Veterans Affairs Council's executive director. "The more we can communicate with these vets to stand with the VA and communicate with their members of Congress, the better off we'll be." Added Cox, who is also the veterans council chair: "Most VA employees are doing a great job. We're not doing a great job on focusing on those folks."
"We're trying to inform people on the Hill" about improvements in the VA and planned further improvements, said Garry Augustine, executive director of the Disabled American Veterans, who also spoke on the panel of vets. "Some (lawmakers) are receptive and are trying to develop legislation to improve accessibility."
"Dealing with the Hill, ideology drives what some members do," said Dr. Kenneth Kizer, a former VA Undersecretary for Health who now runs a health institute at the University of California at Davis. "In some cases, it's so strong that it won't be driven by the facts or the reality. But most are open to them.
"But Congress makes policy based on stories. And most often, it's based on a story that didn't go well. So people with good stories" about VA's health care for vets "have to go out there. For every bad story, we need 10 or 20 good ones."
Photo: VA workers rally in prior days to protest privatization plans and other schemes. The workers, members of AFGE, plan 38 anti-privatization rallies coast to coast on June 30. AFGE photo via PAI Photo Service.