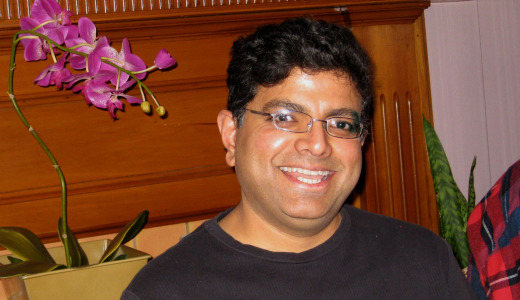 DETROIT – "War is subverting the domestic agenda," Dr. Prasad Venugopal told peace activists here. "There is no room for despair in the peace movement because a lot of lives depend on it."
Venugopal is a leading member of the Detroit Area Peace and Justice Network, and served two terms on the national steering committee of United for Peace and Justice. He is an associate professor of physics at the University of Detroit Mercy.
Speaking at a People's World forum here, Venugopal said it is "very, very important to have two conversations. One, we do need long-term changes in U.S. foreign policy. At the same time, we need to win victories now. We have to find ways to broaden the conversation and link the fight for health care, the Employee Free Choice Act and jobs to the spending on war."
U.S. military action in Afghanistan is doomed from the get-go because of the ongoing corruption and economic crisis there and the instability in neighboring Pakistan, said Venugopal, who has written numerous articles and spoken widely on foreign policy issues, including Iraq, Afghanistan, India-Pakistan and global nuclearization. "Stability needs to come from surrounding neighbors, not U.S. troops," he said.
The recent Afghan election did nothing to change the situation as election fraud was widespread and it has left the country fractured, Venugopal said.
He also noted the corrupting influence of the drug trade. Drug money fuels the Taliban insurgency in Afghanistan and Pakistan and its reach extends to the highest levels of government including President Karzai's brother.
Further dooming a military response, the people in Afghanistan are facing a dire economic situation with a high rate of poverty and lack of food. To survive, ordinary farmers are growing poppy which the Taliban and corrupt leaders convert to heroin. Venugopal said 90 percent of all heroin in Europe, a little less in the United States, comes from Afghanistan.
Finally there is the insurgency. Of Afghanistan's 34 provinces, Venugopal said the Taliban have a visible presence or more – including outright control – in 33. He indicated that in the short term, there may be no solution to the Afghan situation. "It is possible to withdraw now," which Venugopal supports, "and find the Taliban back in power, or withdraw in four years and find them back in power," he said.
"I have tremendous faith in the ability of the Afghan people to solve problems themselves," he said. He noted that terrorism and the Taliban are not Afghan creations but grew because of outside forces from Pakistan, Saudi Arabia and, yes, the United States.
But the U.S. policy of sending in private contractors will prevent ordinary Afghans from having jobs and learning skills. "Afghans need to be in charge of rebuilding, not outside contractors from the U.S," he said.
Venugopal expressed concern that since the president's announcement of a troop exit beginning in the summer of 2011, there has been backpedaling on that plan. Republicans are accusing Obama of "cut and run." Both his national security advisor, Gen. Jim Jones, and Secretary of State Hillary Clinton have said the U.S. will be there for a long time.
A member of the audience noted that although the Cold War is over, our economy has seen no "peace dividend." He asked, "Can we still make the argument that money for a domestic agenda can come from cutting military spending?"
Venugopal said such a peace dividend will not happen without a struggle. "But when you look at the people who have elected Obama and many Democrats you find a progressive grouping," he said. "Grassroots movements exerting their power through the democratic process can force change."
Another participant noted that the struggle today is taking place on a much higher political level. "Look at the proliferation of peace and health care movements," she said. "The potential is there to be a force."
Another member of the audience commented on the critical role of women in Afghanistan. "If you want to improve a country you need to support its women," she said. Venugopal noted that when Communists were part of Afghanistan's leadership, and even under the earlier monarchy, women had indeed played an important role and held positions of importance in government and society, in contrast to the current situation.
A labor activist challenged the notion that our soldiers have volunteered to go and fight in Iraq and Afghanistan. "It is an actual draft of young working class people who have no choice," she said. "It is a class issue," she said, highlighting the importance of connecting the war to domestic issues.
Photo: Prasad Venugopal. (PW/John Rummel)