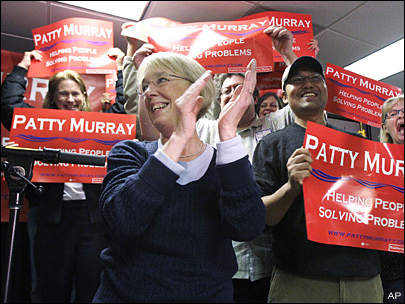 Washington, D.C. – The AFL-CIO, women's rights groups and their allies – on and off Capitol Hill – are praising a new White House-led campaign to pressure Congress to enact a paid family and medical leave law.
And the campaign got two extra boosts in March, one from the Obama administration's Labor Department and the other from the U.S. Senate.
The GOP-run Senate, in the midst of its marathon Mar. 26-27 "vote-a-rama" on its version of the federal budget blueprint, endorsed paid family leave by a bipartisan 61-39 margin. The vote is non-binding, however.
And DOL's Office of Federal Contract Compliance Programs (OFCCP) set a new deadline of April 15 for public comments on its update of 44-year-old rules to prevent federal contractors from sexually discriminating on the job. OFCCP has received 43 comments so far, almost all of them favorable.
President Obama (D), senior White House adviser Valerie Jarrett and Obama's Labor Secretary Thomas Perez rolled out the "Lead on Leave" campaign in late March. It's designed to get constituents to lobby lawmakers to approve the paid leave bill, sponsored by Rep. Rosa DeLauro, D-Conn. – its champion for years – and Sen. Kirsten Gillibrand, D-N.Y.
DeLauro congratulated Sen. Patty Murray, D-Wash., on the Senate paid sick leave vote win, and said she looks forward to getting the paid leave law, the Healthy Families Act, through the Senate. To push it, Perez, Jarrett and Sen. Elizabeth Warren, D-Mass., are touring the country during the current congressional recess and beyond.
"The AFL-CIO is encouraged by the persistence being shown by the White House to pass a comprehensive paid sick leave law," said federation Secretary-Treasurer Liz Shuler, the highest-ranking woman in the movement.
"The 'Lead on Leave' road show being headed by Secretary Perez and Senator Warren is exactly the type of leadership that working people need," she added.
"Too many people are still being forced to choose between getting a paycheck and taking care of a loved one. It is time for Congress to put politics aside and pass a law that will provide relief."
Debra Ness, executive director of the National Partnership for Women and Families – the group that has lobbied for paid leave for years and that helped DeLauro and her former boss, Sen. Chris Dodd, D-Conn., draft the current U.S. unpaid family leave law – called the White House-led campaign "exciting news."
It also "comes amidst strong, widespread demand and support for paid leave," she said. "And the announcement by Microsoft that it will require many suppliers to offer a minimum standard of paid leave to their employees is very welcome and meaningful progress that demonstrates employer and employee interests are aligned. We heartily applaud both new initiatives. As a nation, we are primed and ready for 21st century leave policies."
Ness noted states and cities are taking the lead, since DeLauro's legislation has been marooned in Congress.
"California, New Jersey and Rhode Island have paid family leave programs in place, and Hawaii and New York join them in also having temporary disability insurance programs that provide paid medical leave," she noted. And 21 cities have or will soon pass paid leave ordinances, she added. "The momentum around these policies is undeniable."
She also praised an Obama budget proposal to have DOL fund pilot projects in the states to advance their own paid leave policies.
"These proposals are sound, tested and ready for approval. And voters across party and demographic lines have shown time and again that they want these common sense policies. In the November 2014 election, voters in Massachusetts and three cities approved paid sick days laws, following in the footsteps of voters in several other cities.
"In a national election poll, 81 percent of voters said it is important for lawmakers to consider new laws like paid sick days and a family and medical leave insurance system. People know these policies are good for them, their families, communities and the economy," Ness said. "It's clear that America's families, lawmakers and employers are ready for action to advance paid sick days and paid leave policies."
"The U.S., shockingly, stands alone as the only industrialized nation on the planet where paid family leave is not the law of the land," Perez said in opening the administration's campaign. "Other countries recognize paid leave is good economic policy and good family policy. We should be giving parents the tools to be both attentive parents and productive employees. Forcing people to choose between the job they need and the family they love is wrong."
In explaining its new rules – which would apply to the approximately one-fourth of all U.S. firms that have federal contracts of some type – the Labor Department's OFCCP said that even with changes in law and practices, women still face sexual discrimination on the job. And while two-thirds of current covered employers (those with at least 25 workers) provide unpaid leave for workers to care for themselves, only 11 percent provide paid leave, it added.
"While changes in policies and practices show a measure of progress, there is no doubt that sex discrimination remains a significant and pervasive problem. Indeed, the percentage of total annual EEOC charges that allege sex discrimination has remained nearly constant at around 30 percent since at least 1997," its notice said.
Photo: Dem. Sen. Patty Murray. | AP