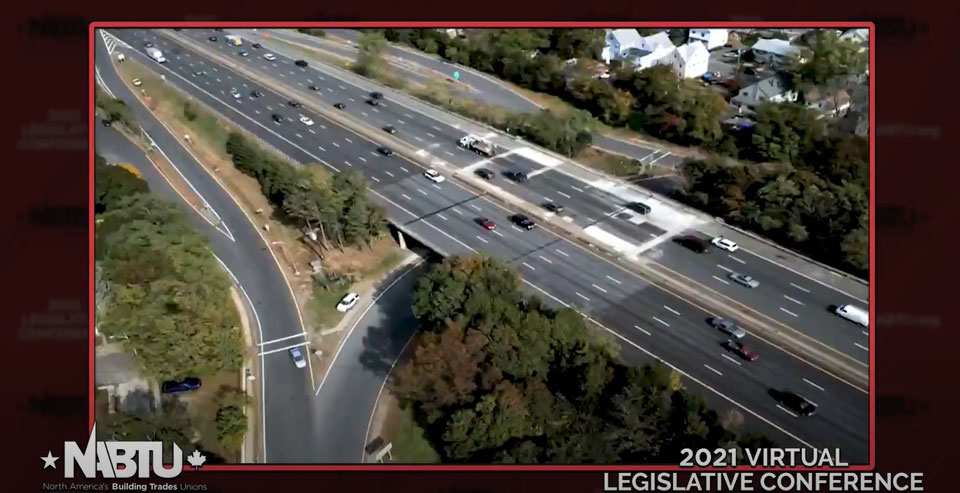 WASHINGTON —Aware that the pressure must be raised for passage of President Biden's proposed infrastructure plan, the AFL-CIO's building trades unions, at a 1-day virtual legislative conference, backed the president's original $2.2 trillion plan.
"This year has been unlike any other," National Association Building Trades Unions President Sean McGarvey declared on June 5, referring to the coronavirus pandemic, which sent unemployment soaring, hampered construction work, and forced the conference itself, like so much else, onto Zoom.
But it also presented a giant opportunity that the 14 NABTU unions and their members can take advantage of, McGarvey said. He lauded their past work in convincing lawmakers to insert pro-worker provisions into congressional rescue acts and urged them to keep at it.
The virus helped bring Biden—and his comprehensive infrastructure plan—to the Oval Office to succeed GOPer Donald Trump, who talked an infrastructure game, personally touting it to NABTU four years before, but never followed through.
Biden is now trying in a since-trimmed $2.2 trillion five-year infrastructure bill. His proposal had traditional projects, rebuilding the nation's elderly railroads, roads, and airports, updating creaky subways, switching away from aging to new busses, replacing lead-lined water pipes, and strengthening power grids against both natural disasters and cyberattacks, for example.
His measure also includes new types of infrastructure: Wiring the whole nation for broadband, retrofitting two million homes, plus schools and public buildings to make them "green" and energy-efficient, building new child care centers, and paying those workers decent wages so parents, including construction workers, can go off to their jobs without having to worry about taking care of the kids, and more.
Instead of Trump's rhetoric, "You got a seat at the table," with Biden and Vice President Kamala Harris, McGarvey said. Building trades unions leaders have not only met the two face-to-face, but Biden "removed a (Trump) General Counsel" from the National Labor Relations Board "who put Project Labor Agreements in peril," he said.
"You heard rhetoric from the last administration. This administration has stood with unions every step of the way."
Workers' lobbying and contacts with lawmakers at home pave the way for NABTU and construction union contacts and effectiveness on Capitol Hill to lobby for Biden's bill, McGarvey said. He also gave out a phone number, 202-951-8059, for workers to call, via NABTU, to contact lawmakers.
The Republicans have countered with, now, their own $978 billion plan, most of it funded by yanking away cash set aside to help restore the economy after the coronavirus pandemic's carnage. And the GOP's line in the sand is against Biden's proposal to partially fund his infrastructure plan by repealing much of the Trump-GOP tax cut for the rich and corporations. Republicans also want to restrict the legislation to traditional infrastructure, dumping green projects, retrofitting, child care center construction, and similar aims.
And the Republican bill has only $348 billion in new spending, NABTU legislative representative Jim Brewer said later. That's not enough when the U.S. needs $2 trillion just to get current infrastructure up to snuff, according to the American Society of Civil Engineers.
"We're not going to agree on everything" with Biden, McGarvey admitted, citing the president's decision, in his first days in office, to yank the construction permits for the environmentally controversial Keystone XL pipeline, a key NABTU cause. On the other hand, Biden "just gave the green light to a 320-mile (oil) pipeline in Alaska, which includes an airstrip, a gravel mine, and 570 miles of roads," he pointed out.
"If you compare the record of the prior 60 years" of inaction "to that of the last four months, it's astounding."
There's still a lot of work to do, and much of it revolves around the infrastructure bill, speakers said.  That includes lobbying not just for Biden's bill, but also ensuring all federally funded infrastructure—traditional, green, or otherwise—includes strong worker protections.
"The American Jobs Plan," Biden's bill, "will continue to put workers first," House Speaker Nancy Pelosi, D-Calif., vowed in the first of a series of videos. "It includes $620 billion for roads, railroads, public transit, ports, and subways."
It will also mandate use of the Davis-Bacon Act prevailing wage rules and Project Labor Agreements for federally funded construction, she said. Those are two labor protections the building trades are lobbying for, said NABTU's legislative leaders, Brewer and Ross Maradian.
"Extensions of tax incentives for green energy must be accompanied by high labor standards," another speaker, Rep. Richard Neal, D-Mass., agreed. He chairs one of Congress' two tax-writing panels, the House Ways and Means Committee. Sen. Ron Wyden, D-Ore., who chairs the other, the Finance Committee, said his panel just approved "the Clean Energy Tax Incentives Act, including a requirement to pay prevailing wages" on projects getting that break.
Other requirements NABTU is pushing in a final infrastructure bill include required company neutrality in union organizing campaigns at sites of federally funded infrastructure construction, "local hire" requirements, which would benefit the increasing numbers of working construction women and people of color, and a Buy America mandate.
NABTU is also pushing a legislative ban on anti-union apprenticeship training. Trump's Labor Department approved such schemes, called IRAPs. Biden dumped them on entering the Oval Office. And NATBU wants to extend Project Labor Agreements to construction worth under $25 million.
"For all intents and purposes, there will be no IRAPs in construction," said Maradian.  "And we don't want to repeat the mistakes of the past" by having lower Davis-Bacon prevailing wage requirements for energy-efficient construction projects, they said.
That's also important because Biden has vowed the new construction would be "green" construction by union workers.
"We got the Congressional Progressive Caucus, the Blue Dog Caucus, the New Democrats and Rep. Susan Wild," D-Pa., "co-leader of the House Climate Change Task Force, to sign a letter to the speaker to ensure public acknowledgment of requiring these labor standards" to projects "receiving whatever type of (federal) financial assistance," Brewer said.
That includes aid to nuclear power. Biden Energy Secretary Jennifer Granholm noted the nation's nuclear-powered electric plants are 98% unionized. Biden's "green" energy construction includes both retrofitting and extending the licenses of those plants while engaging in R-&-D for new, cheaper, and even safer nuclear development. Tax credits can encourage such construction, said Granholm.
NABTU unions strongly back the continued use of nuclear power as part of "green" energy infrastructure. But other Biden "green" group backers in the environmental movement, don't.
Pensions were the one non-infrastructure topic that got a lot of time and attention. There, McGarvey and other speakers lauded the American Recovery Act, the $1.9 trillion initial Biden coronavirus rescue plan lawmakers approved on party-line votes. It included the Butch Lewis Act, named for a worker in a failing multi-employer pension plan.
After his death, the plan trustees, acting under current law, cut his dependents' benefits by more than 40%. The Lewis Act, pushed by Sen. Sherrod Brown, D-Ohio, sets up new ways to restore financial solvency to such multi-employer plans, which cover millions of workers nationwide, many of them in the building trades. Actuaries spent an hour explaining its details.
The new methods feature long-term federal loan guarantees to the multi-employer plans, conditioned on strong oversight and a requirement that current benefits stay unchanged. Like the rest of the recovery act, it passed on party-line votes—all Democrats and independents for, all Republicans against—in both the House and the Senate.
Despite that split, Brewer emphasized the Building Trades have bipartisan support. "We have over 40 strong Republican supporters for the prevailing wage," he said.  "The opportunities are always there to have Republicans come along."